FIRST SCHEDULE OF CRIMINAL PROCEDURE CODE (CRPC)
I am extremely preoccupied and busy with other bare acts and other maintenance works for this website. I had begun the process of making tables for first schedule of CrPC but this is a very time taking process so I will be doing it in future. Until then here I have sourced first schedule if CrPC from a government of India website – indiacode.nic.in
This is presented on WritingLaw according to fair usages and to be helpful for readers of WritingLaw and reach maximum people. Laws and rules should be know to all. I do not put contribution links on such posts which are sourced from other government websites.
DOWNLOAD 1st SCHEDULE of CrPC
Read the terms and condition and if you agree, click download.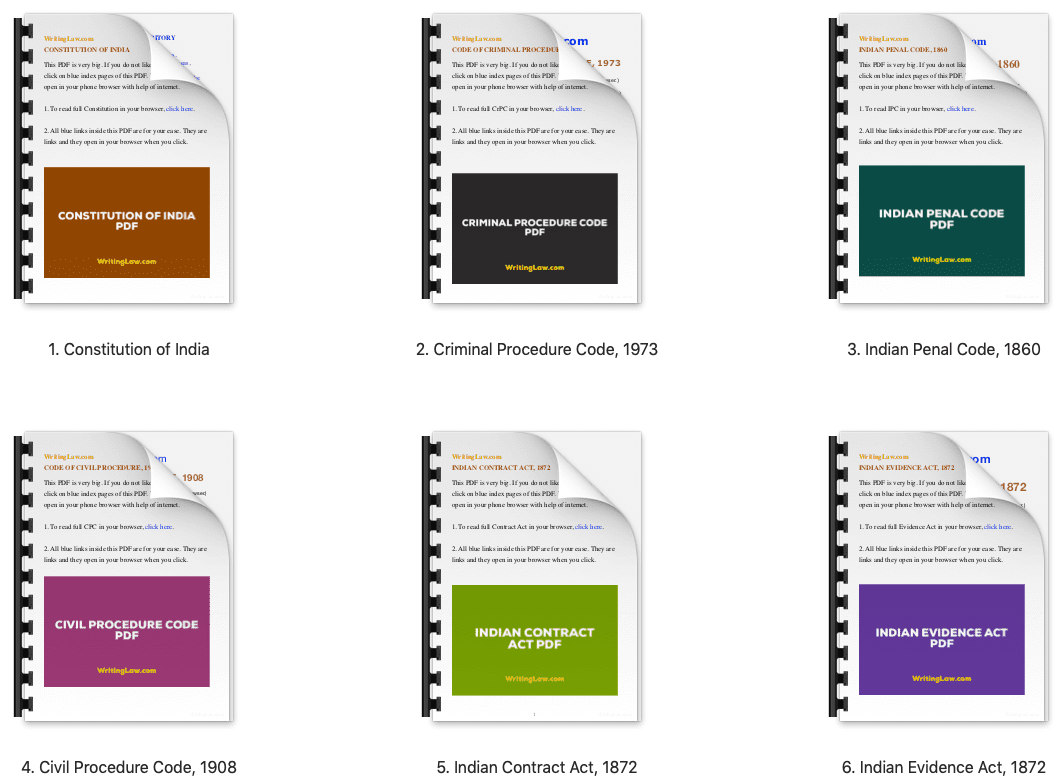 The PDF you are about to download is not created by me but from the official .gov.in site. Mistake or mistype (if any) is beyond my control. Thanks.
(230 KB)
ALSO MUST DOWNLOAD
(88 KB)
This 7 page amendment PDF has amendments for IPC, Evidence, CrPC and Protection of Children from Sexual Offences Act, 2012. CrPC Schedule amendment is from page 5 to 6.
Next,
Second Schedule of CrPC.
---
BEST BOOKS FOR CrPC
CrPC by Ratanlal and Dhirajlal
CrPC Q&A
CrPC Bare Act
CrPC by SC Sarkar, PC Sarkar and Sudipto Sarkar
CrPC by SC Sarkar
---
OTHER IMPORTANT BARE ACTS
The following bare acts (and many other) are not in PDF format but in a very systematic way with direct article/section headings, different colour for explanation, case names, illustrations etc. Click on the preferred link below and see for yourself.
Criminal Procedure Code
Constitution of India
Indian Penal Code
Civil Procedure Code
All Bare Acts
WritingLaw » Criminal Procedure Code, 1973 » First Schedule of CrPC