These Law PDFs and MCQ Tests are on important subjects and topics that are essential for law students, advocates, judges, and people in the legal field. Let me tell you all the details.
Note: Due to slow internet, if some of the images below don't load on your phone, kindly refresh this page once.
LAW PDFs
Bare Acts are the backbone of law. Every law note, question and answer, legal essay, and mock test have their origin in Bare Acts.
When you join any law coaching, the first and at many times, the only thing they will teach you are the important Bare Acts.
Just like everything is made up of atoms. In law, everything is made up of Bare Acts.
Law PDFs are excellent, and thus they are paid. In ₹499 ₹340, you get everything you see below.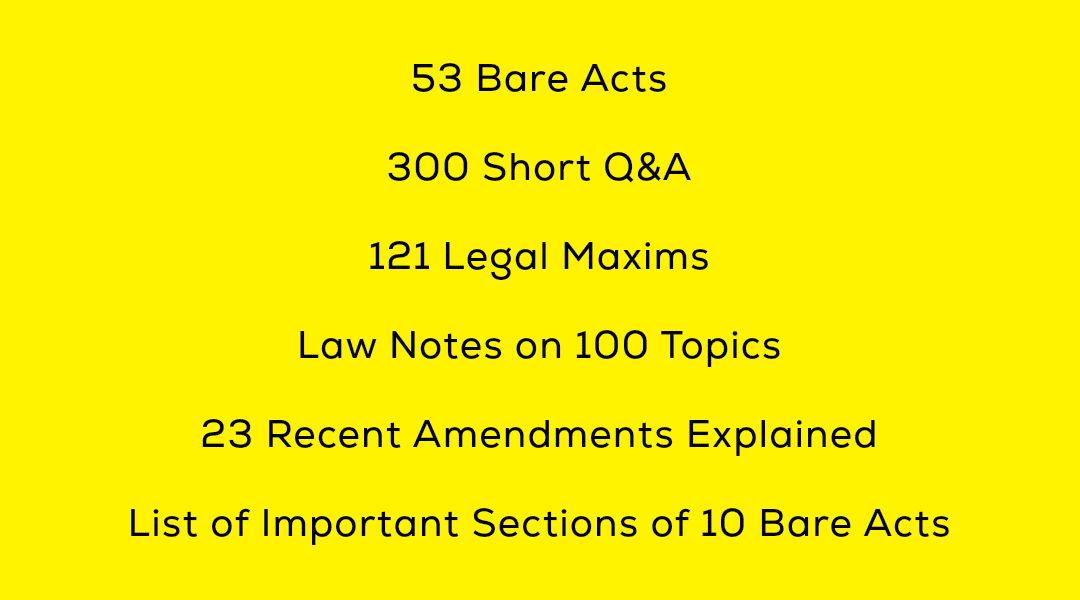 53 BEAUTIFUL BARE ACTS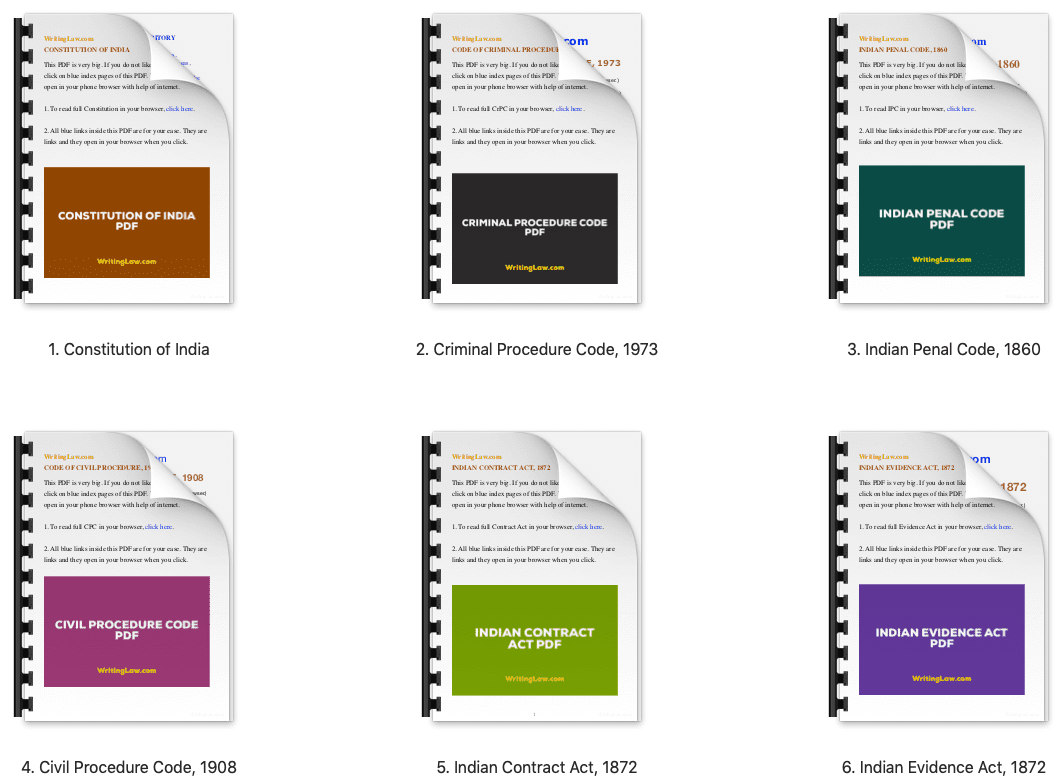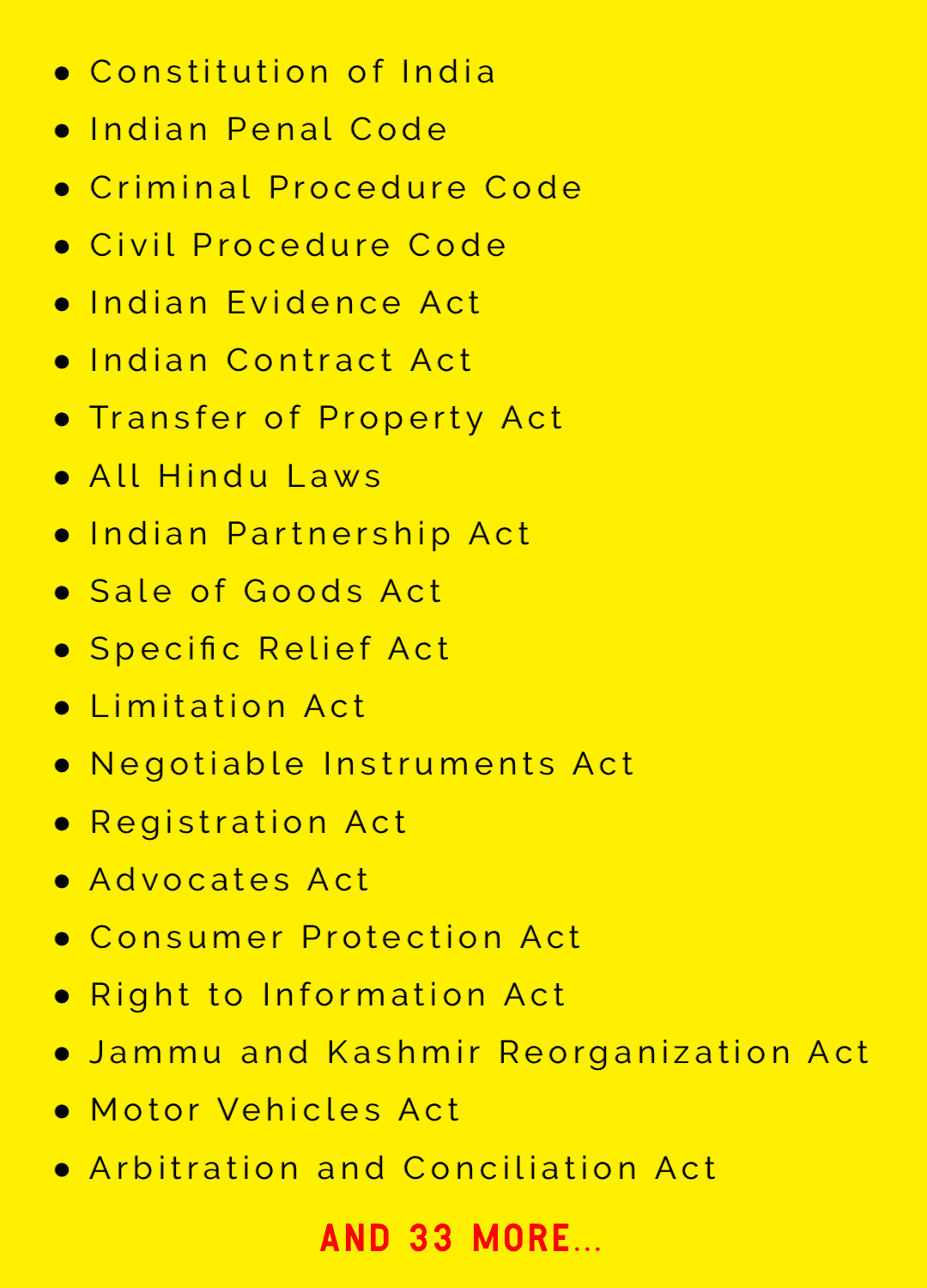 Updated: Bare Act PDFs are full, actual, and updated.
Colourful: Case names in Bare Acts are highlighted in green colour. The headings are shown in orange. Section names are made bold. All these make them delightful to read.
Big Fonts: The text of these Bare Act PDFs are big, and thus they feel comfortable in your eyes. You will be able to read Bare Acts from these PDFs for long durations.
Quick Links: Bare Acts from WritingLaw have blue internal links! In just one click, you can read that related section in your browser. It is beneficial, time-saving, and does not break your reading flow.
Language: All PDFs and MCQ Tests are in the English language.
Finally: You will not find these features anywhere else! See the actual screenshot of a Bare Act PDF below.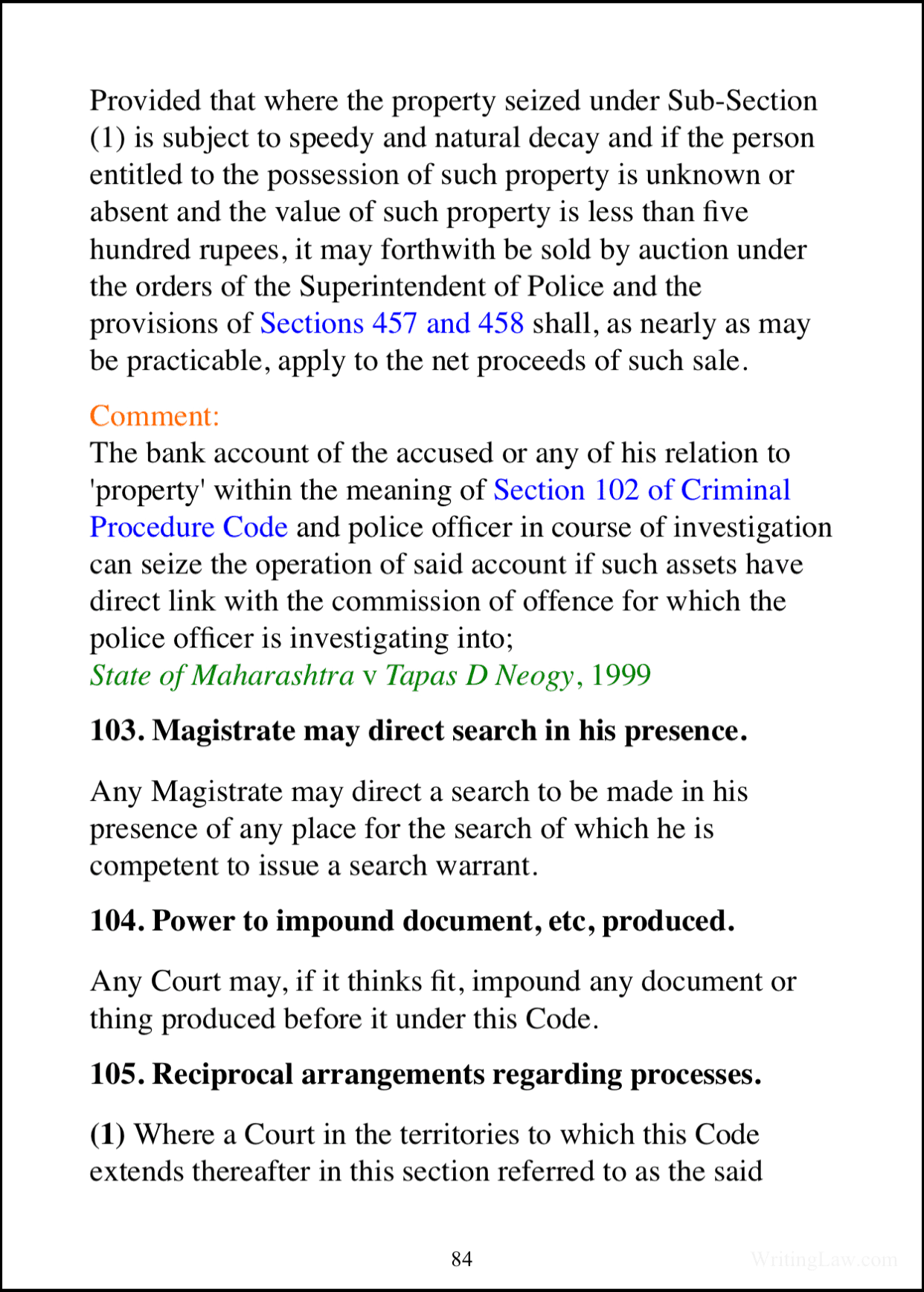 Have you seen a more beautiful Bare Act?
100 IMPORTANT LAW NOTES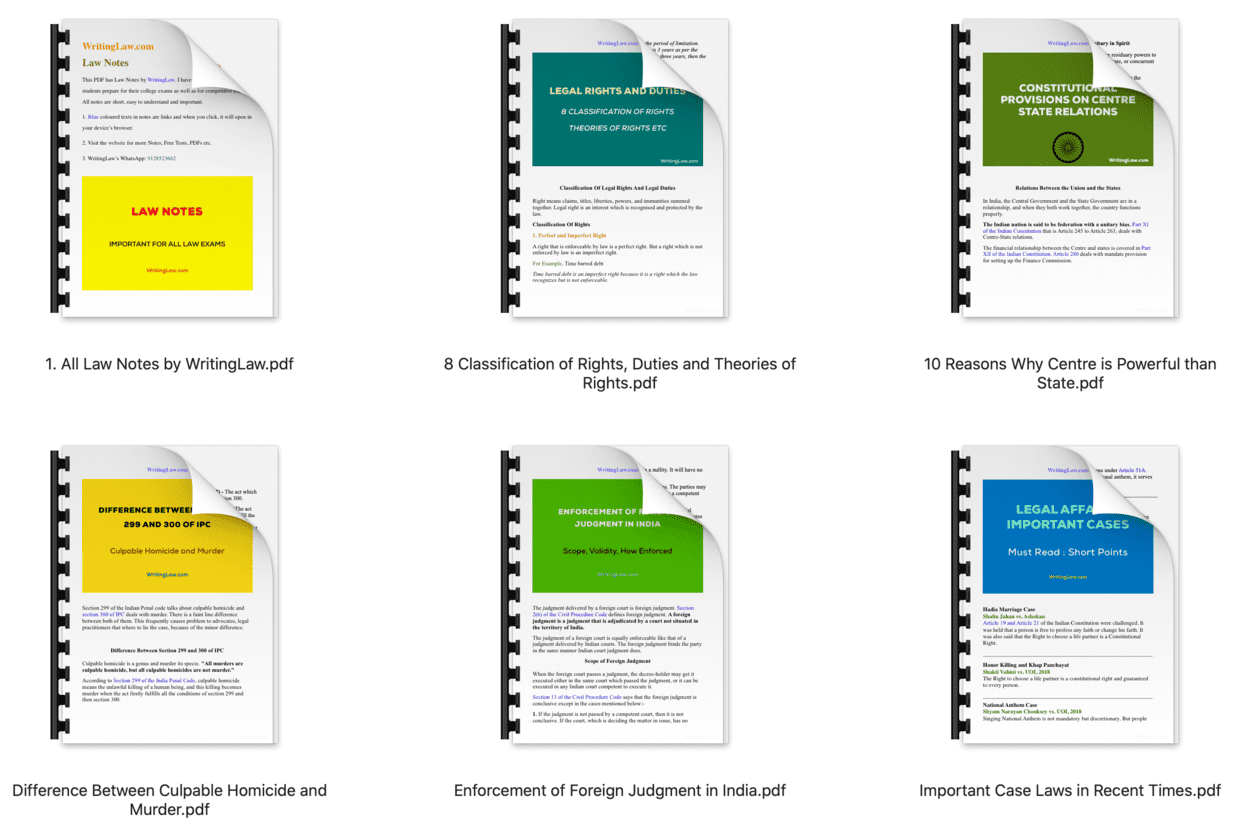 All 100 law notes are on 100 essential law topics. They are asked in almost all law exams like CLAT, AIBE, Judiciary, college exams, etc.
These notes are also helpful for an advocate. This is because they cover essential topics that people on any level in the legal field should know about.
Out of 100 topics, few topics are from Constitution, few are from CrPC, few from IPC, few from Civil Procedure Code, few from Contract Act, few from Partnership Act, few from Evidence Act, few from Muslim Law, and so on.
Wherever necessary, the law notes have appropriate case names with short explanations.
All short notes are to-the-point and written in such a way that it is easy to understand them. These are great for reading as well as for last-minute revision.
All law notes PDFs are neatly typed with no ads. There are beautiful colours and images in the PDF. It looks professional. You will enjoy reading from these.
HELPFUL IMPORTANT SECTIONS LIST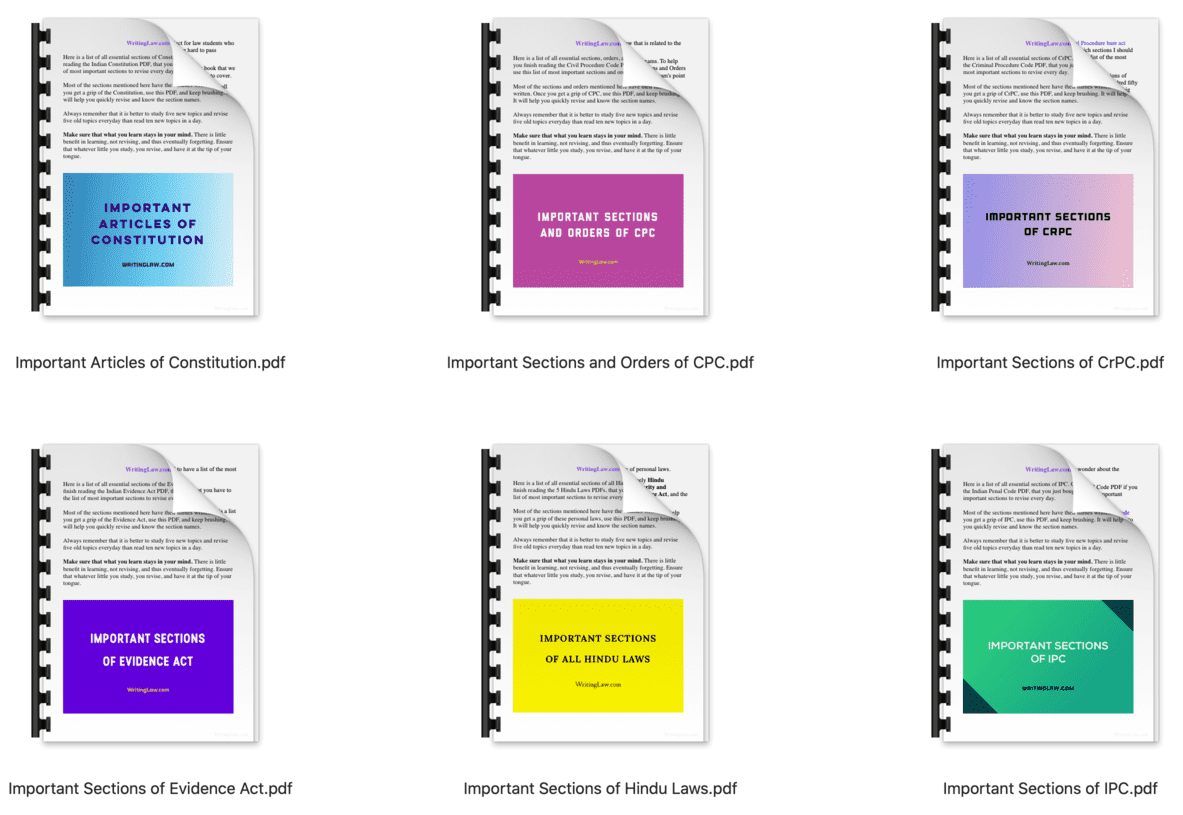 Ten separate PDFs have a list of important sections and articles of the most essential law subjects – Constitution, IPC, CrPC, CPC, Evidence Act, Contract Act, Sale of Goods Act, Transfer of Property Act, Specific Relief Act, and Hindu Laws. These subjects are compulsory for almost all law exams and advocacy.
Before and after you read a Bare Act, you can use these to revise and refresh important section names daily.
Also, when you are short on time for your exam preparation, you may take help from these PDFs and focus most of your time only on important sections.
MORE LAW PDFs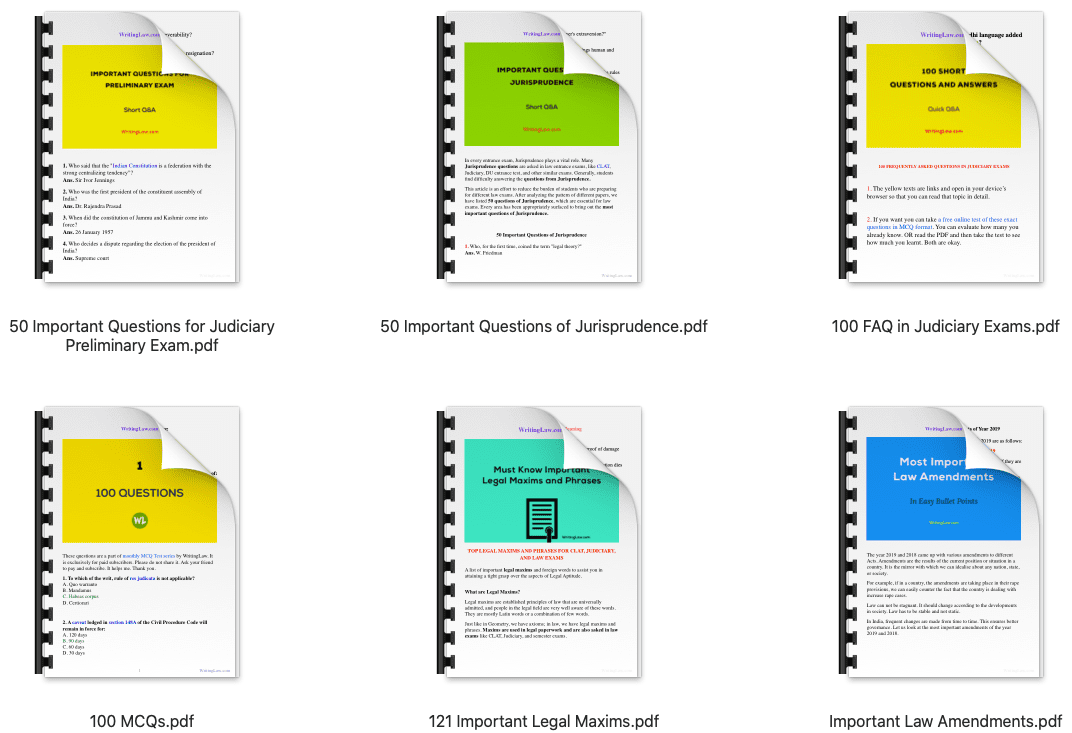 You will get a PDF having 121 legal maxims with their easy English meaning. These are used a lot in courts, legal paperwork and asked in all law exams as MCQ.
Another PDF has twenty-three important law amendments of the years 2022, 2021, 2020, 2019, and 2018 explained in simple, easy-to-understand words. It is useful even for non-law exams.
Three hundred short Questions and Answers that are useful for prelims in Judiciary, CLAT, AIBE, and other such exams. These important questions have one-word or one-sentence answers.
Important

: On 11th August 2023 (Friday), three new Bills were introduced in the Indian Parliament:
Bharatiya Nyaya Sanhita, 2023

(IPC)

Bharatiya Nagarik Suraksha Sanhita, 2023

(CrPC)

Bharatiya Sakshya Bill, 2023

(Evidence Act)
After these Bills pass and become laws, we will have their nice Bare Act PDFs, and you will receive them for

free

if you purchase All Law PDFs today or have purchased them ever in the past. Thank you.
.
ALL LAW PDFs: ₹340
53 Full Bare Acts

+

300 Short Q&A

+

121 Legal Maxims

+

100 Law Notes on 100 Important Topics

+

23 Important Recent Amendments Explained

+

List of Important Sections of 10 Essential Bare Acts.
Less than the cost of 2 Bare Act books.
or
How will you receive everything? Immediately after payment, you'll get everything on your email address and also on your WhatsApp. Plus, there will be easy instructions to help you in case you need them. You can read these PDFs on Android phone, iPhone, iPad, Windows PC, Mac, or any other device that supports PDFs.

MCQ TESTS

There are 30 amazing Law MCQ tests. These will help you in all law exams like Judiciary, CLAT, AIBE, College semester exams, University entrance exams, and more.
For advocates and judges, the MCQ tests help you learn, revise, prepare, evaluate, and stay knowledgeable in your work.
Each test is in English and has 100 important questions that are of the judiciary exam level. This makes them useful for all other lower law exams too.
These MCQ Tests are excellent, and thus they are paid.
20 Subject-wise MCQ Tests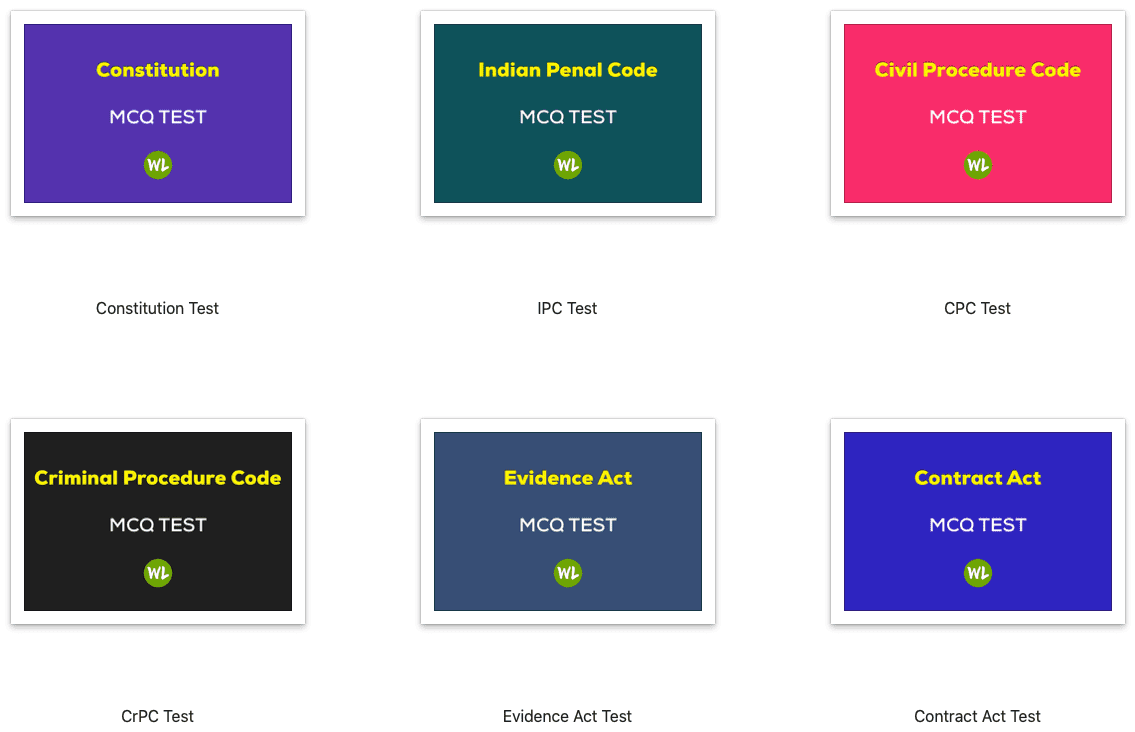 Twenty subject-wise MCQ tests only have questions from that particular law subject.
For example, in one Constitution test, there are 100 multiple-choice questions only from the Constitution of India. Similarly, in an IPC test, there are 100 MCQs from it. And so on for other subjects.
These subject-wise tests will help you master these Bare Acts and law subjects to perfection.
MCQ TEST SUBJECTS
»

Criminal Procedure Code
»

Arbitration and Conciliation Act
»

Negotiable Instruments Act
»

Transfer of Property Act
Note: To make sure that you learn more, all 10 mixed exam-like MCQ Tests and all 20 subject-wise MCQ Tests have different questions.
10 Exam-like MCQ Tests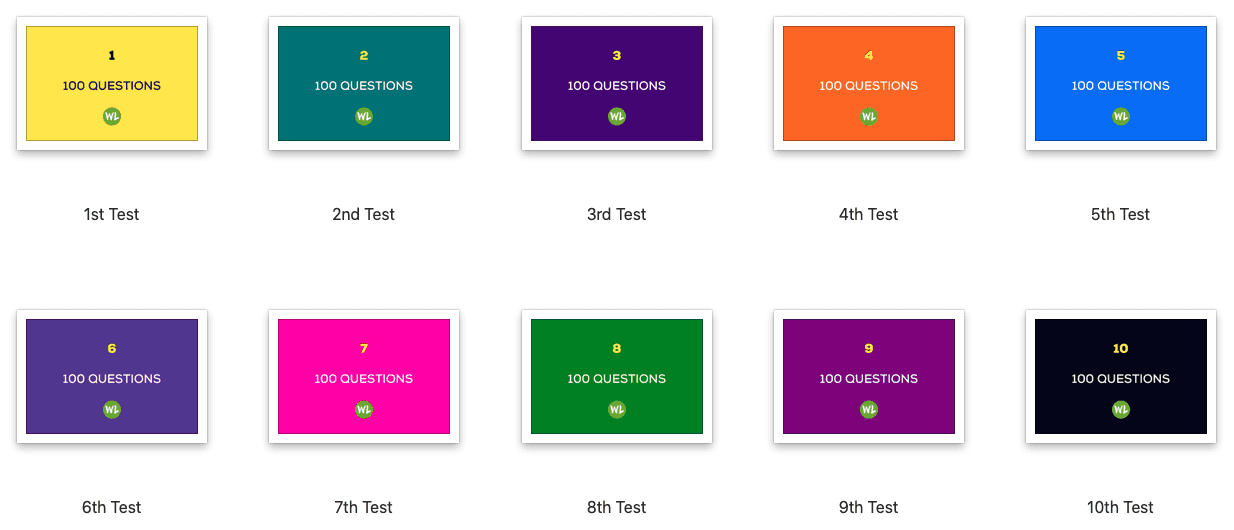 Ten tests have mixed questions from various law subjects like the Constitution of India, Indian Penal Code, Criminal Procedure Code, Civil Procedure Code, Indian Evidence Act, Torts, Jurisprudence, Transfer of Property Act, Specific Relief Act, Limitation Act, Family Laws like Hindu Laws, Muslim Law, and so on. These tests are exactly like actual law exams!
Our Seven-Stage Process
Every test question has gone through seven stages of preparation:
Handpicking important topics
Planning
Finalising
Preparing the questions and their right answers
Checking everything
Penultimate evaluation
And multiple cross-checks by different authors
You will find the tests challenging, helpful, and profoundly educative.
Test Details
You will get a total of thirty tests. Immediately after payment, you can take the tests using your phone, tablet, or computer.
According to your convenience and preference, you can appear in these tests multiple times in the next twelve months.
You have to solve each test of 100 MCQs in 90 minutes. To help you, there is a small, non-distracting timer at the bottom of the test page.
Law Test Scores
Once you finish the test, you will instantly see your result. After that, you can see which questions you answered correctly or incorrectly. While scrolling, you will also see the right answers for all the test questions.
Beautiful Test PDFs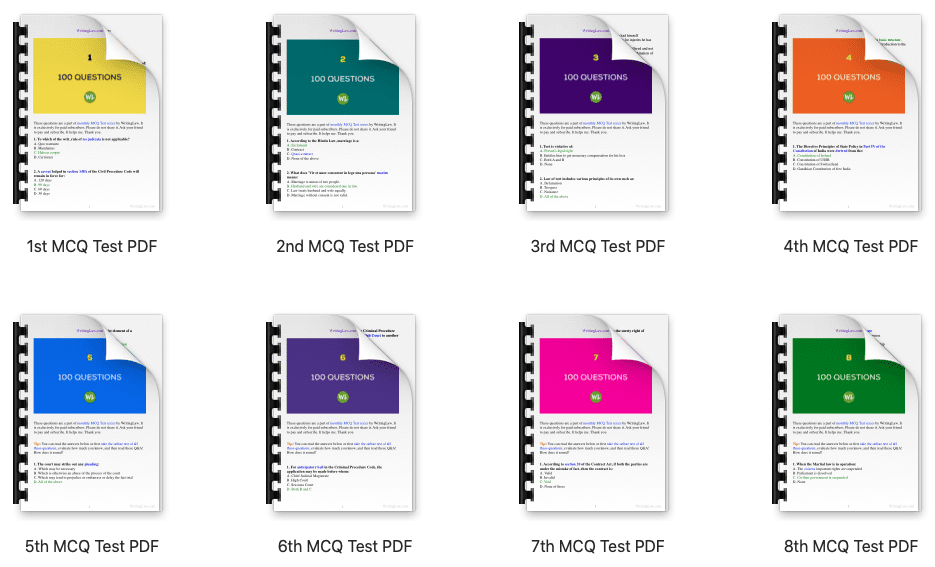 All 30 online tests have their separate accompanying PDFs, which you can keep forever. Each test PDF has all the 100 test questions with their right answers.
Just like WritingLaw's Bare Act PDFs, these test PDFs also have hyperlinks for sections or topic names. If you want to read it in detail, you can click on it to open it in your web browser. This is time-saving and makes things easy.
You can use these test PDFs to learn, revise, and memorise the questions & answers.
Tip: If some students and advocates do not do well in a test, they read from the provided test PDF and re-appear multiple times in it.
Summary
»
These MCQ tests are for law students, exam candidates, advocates, judges, and people in the legal field.
»

The tests are helpful and important for Judiciary, CLAT, AIBE, college exams, and all legal competitive exams.
»

For advocates, judges, and people working in the legal field, these tests help you evaluate, strengthen, and stay on track with law knowledge.
»
Mixed exam-like tests give you a taste of the actual exam.
»
Subject-wise tests help you master that subject to perfection.
»
You can take the tests whenever you are comfortable – day, night, anytime you want.
»
You can also retake the tests multiple times.
»

You can effortlessly take these tests on your Android phone, Android tablet, iPhone, iPad, and computer.
»
Along with the tests, you also get the test PDFs. These PDFs have the same test questions with their correct answers.
.
LAW MCQ TESTS: ₹1550
30 online tests

+

30 Test PDFs having all test questions and their correct answers. You can take the tests as many times as you want.
Helps you learn and regularly evaluate yourself.
or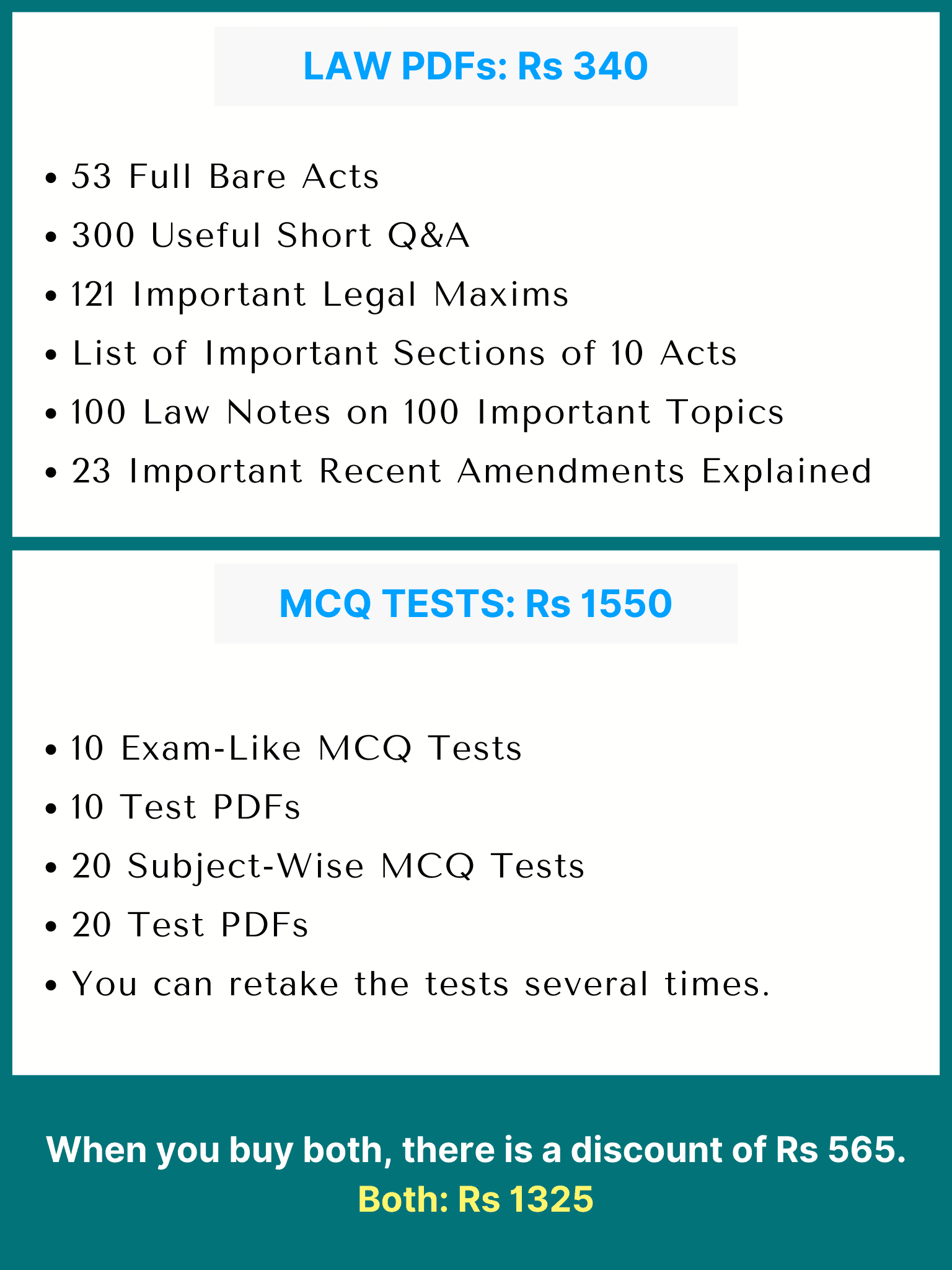 BOTH: ₹1325
In Rs 1325, you get all the Law PDFs and all the Law MCQ Tests. Separately, both cost Rs 340 + Rs 1550 = Rs 1890. But when you buy together, there is a discount of Rs 565.
Less than 2% of what you spend in a law coaching.
or
.