Bare Acts are essential in law. They form the base. At the same time, there are certain topics that require an easier explanation.
For such topics, it would help if you have something different from the Bare Act's language. This is where good law notes come in.
The PDFs below are excellent, and thus, they are paid (₹220).
100 LAW NOTES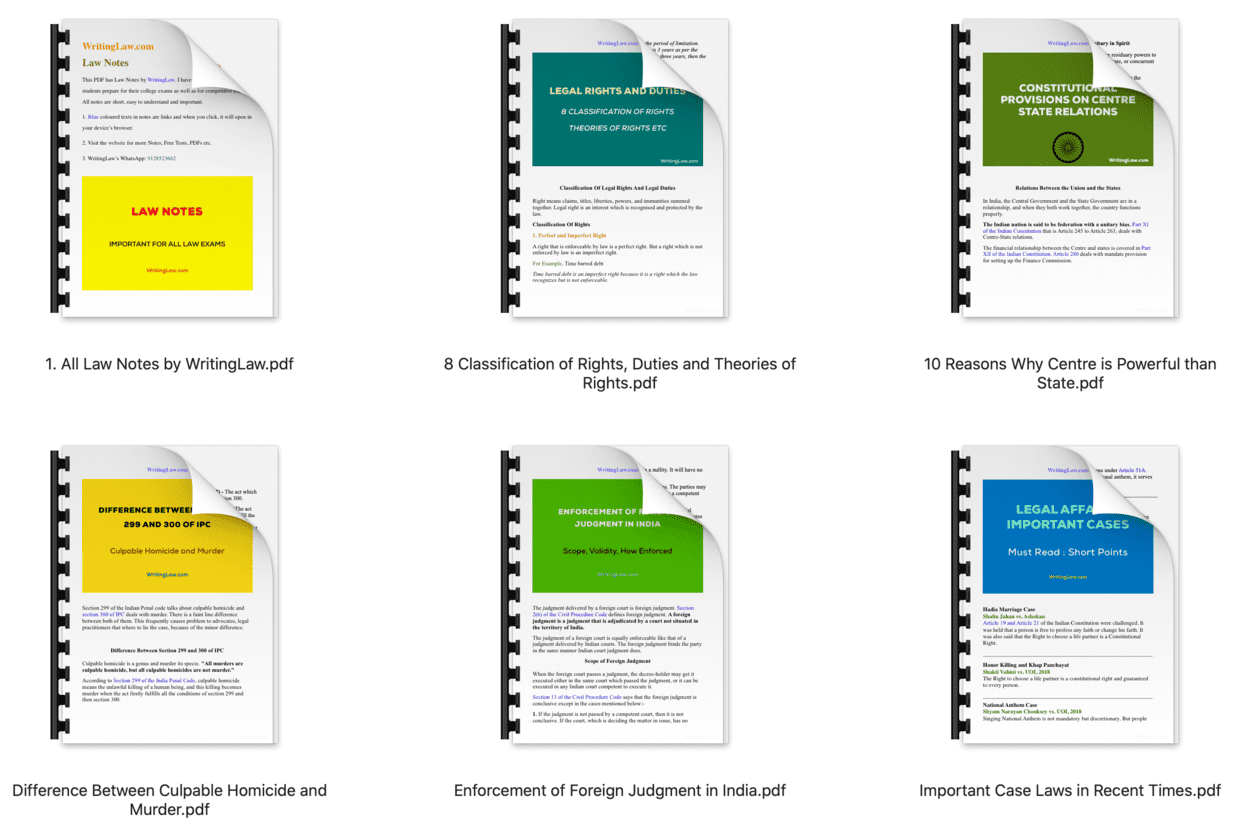 For All Law Exams: WritingLaw has law notes on one hundred important topics. These topics are essential for all law exam in India, be it of any state, university, or other legal body like the Bar Council.
Besides law students, these are also beneficial for everybody in the legal field – like an advocate, law professor, etc.
Important Topics: Out of 100 topics, some are from Constitution, some from Civil Procedure Code, some from Indian Penal Code, some from Criminal Procedure Code, some from Evidence Act, Muslim Law, Hindu Law, Contract Act, Transfer of Property Act, and so on.
Easy To Understand: All 100 law notes are well written and easy to understand. If you know basic English, you are good to go. You will feel comfortable reading from these. The notes also have case names in them wherever necessary.
101 PDFs: There are 100 small PDFs that have one law topic each. And then, there is one main big PDF. It has all 100 hundred law notes beautifully one after another.
Everything is neatly typed in a pleasant font type and size. The PDFs are beautiful with images, colours, proper headings, and no ads.
100 LAW NOTES: Rs 220
Important
:
All these 100 law notes are

already included

in the Rs 340 pack. So, please, do
not
buy both.
.
FULL STUDY MATERIAL PDFs

:

₹340
53 Full Bare Acts

+

100 Law Notes on 100 Important Topics

+

300 Short Q&A

+

121 Legal Maxims

+

List of Important Sections of 10 Essential Bare Acts

+

Explanation of 23 Important Recent Amendments.