The best mode of learning is revision and practice. Solving questions and analyzing yourself are the most important things.
These affordable MCQ tests are extremely helpful for law students of any year or semester. They will help you prepare for all law exams in the near future or distant future.
They are also beneficial for advocates and other legal professionals. You will be able to revise and brush up your knowledge.
10 Exam-Like MCQ Tests
Every test has 100 excellent, important competitive-exam level questions. Questions are mixed from various law subjects like IPC, CrPC, CPC, Evidence, Torts, Jurisprudence, Constitution, TPA, Limitation Act, Family Laws, etc.
This will give you the feeling of an actual law exam. You can take the tests anytime according to your convenience in the next twelve months.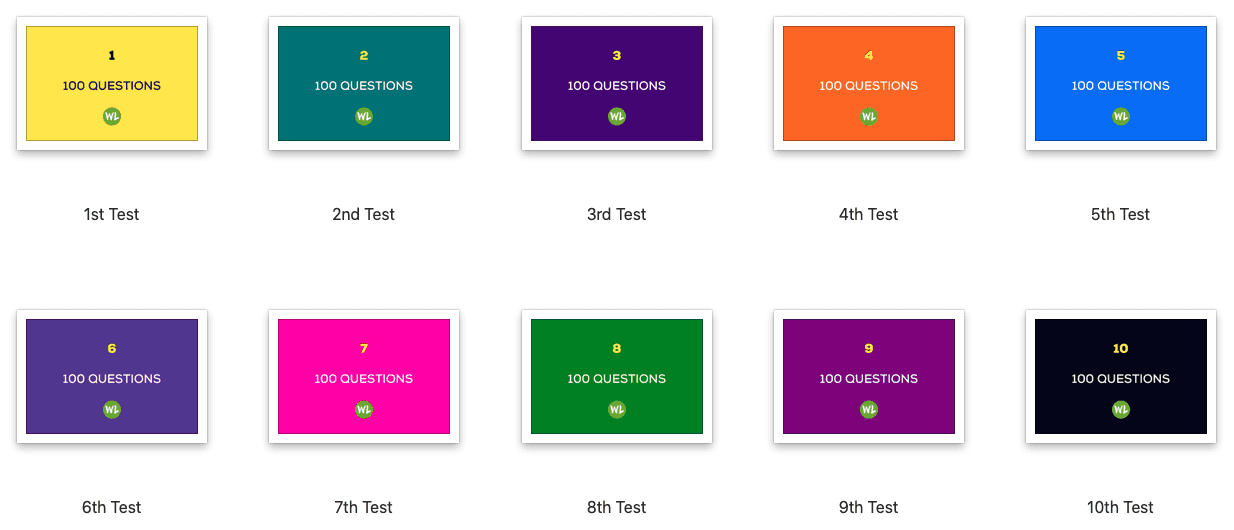 Duration of Each Test
You have to solve these 100 MCQs in 90 minutes. There is a small running timer to help you keep track of the time. You will love appearing in these tests.
Marks
Once you finish the test, you will immediately see your score.
Then you can scroll down and see the correct answers for all the questions you answered incorrectly.
Beautiful Test PDFs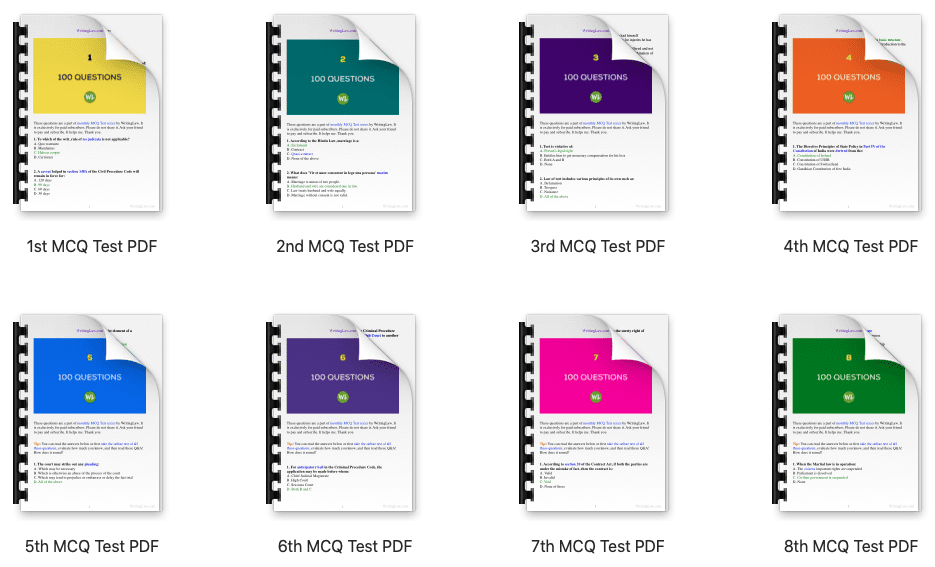 After every test, you will get a beautiful PDF of all 100 questions and their correct answer. This will help you memorise and revise from them in the future. You can keep all test PDFs forever and learn from them.
Tip: Some students give the test, and if they do not score well, they read from the PDF and reappear in the test after a few days. It helps them evaluate their memory and gives an idea of how fast they can memorise things.
Overall, besides giving actual knowledge, these tests also help you prepare mentally for competitive law exams.

20 Subject Wise MCQ Tests
All the details like the number of questions in each test, test PDFs, etc. are the same as above.
The only difference is that in these subject-wise MCQ Tests, each test has questions only of that particular subject.
For example,
in one Constitution Test, there will 100 multiple choice questions only from the Constitution of India. Similarly, in one IPC test, there will be 100 MCQs from it. And so on for other subjects.
You will get 20 subject-wise tests. Each test has 100 important, excellent questions. The subjects are:
○ Constitution of India
○ Indian Penal Code
○ Criminal Procedure Code
○ Civil Procedure Code
○ Indian Evidence Act
○ Indian Contract Act
○ Arbitration and Conciliation Act
○ Hindu Laws
○ Indian Partnership Act
○ Jurisprudence
○ Law of Torts
○ Limitation Act
○ Muslim Law
○ Negotiable Instruments Act
○ Registration Act
○ Sale of Goods Act
○ Specific Relief Act
○ Transfer of Property Act
Important: 10 exam-like MCQ Tests and 20 subject-wise MCQ Tests, have totally different questions. This ensures you learn more. 😊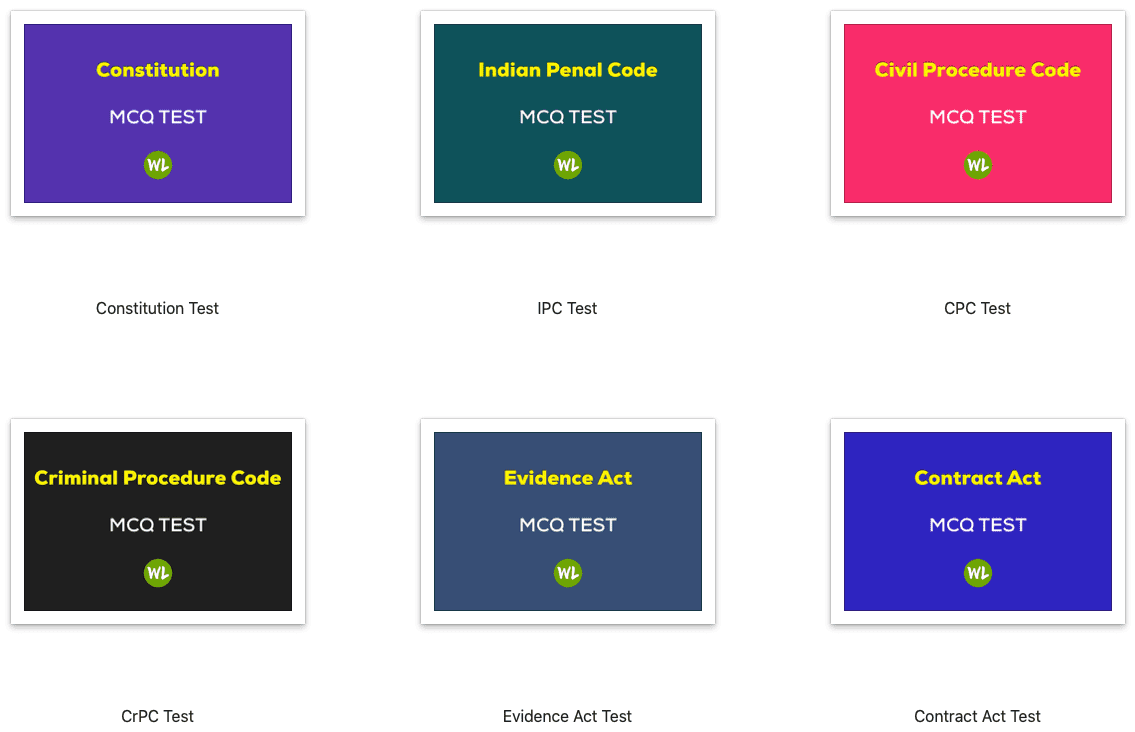 Fraction of what you spend in law coaching!

Buy using WhatsApp: 9128523662
o
LAW STUDY MATERIAL PDFs

:

₹340
53 Full Bare Acts

+

100 Law Notes on 100 Important Topics

+

300 Short Q&A

+

121 Legal Maxims

+

List of Important Sections of 10 Essential Bare Acts

+

Explanation of 18 Important Recent Amendments.
o
EVERYTHING: ₹1325
In Rs 1325, you get all the Law PDFs, all the ten exam-like MCQ Tests, and all the twenty subject-wise MCQ Tests.
All these separately cost Rs 340 + Rs 1550 = Rs 1890. But when you buy together, there is a discount of Rs 565.
o
Unable to decide what to get?
1. If you are an existing or passed out law student who hasn't focused much on law, or if you are a law student looking to start your preparation, then buy only the Law PDFs. It has essential bare acts and important notes that you must start studying as soon as possible. Do not buy the MCQ Tests.
2. If you are seriously preparing for judiciary exams and other competitive law exams, you must not miss the MCQ Tests.
3. If you are a law student who fits in the above two categories, an advocate looking to learn and revise law, a professor in a law college, or someone similar, then it would be beneficial to buy both the Law PDFs and all the Law MCQ Tests.