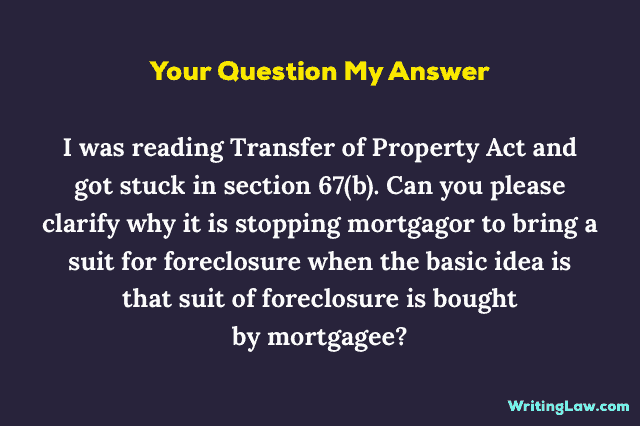 Question asked by a Law Student:-
I was reading Transfer of Property Act and got stuck in section 67(b). Can you please clarify why it is stopping mortgagor to bring a suit for foreclosure when the basic idea is that suit of foreclosure is bought by mortgagee?
Answer by WritingLaw:-
The right of foreclosure is available to mortgagee under section 67 of Transfer of Property Act to recover his money due on mortgagor.
This right can be exercised only when-
The debt amount has become due for payment.
There should be no other contract contrary to the mortgage deed, else the terms and conditions of contract will suffice.
Where mortgagor has not got a degree of redemption under section 60.
So basically, nullifying the right of mortgagor to redeem the property by a suit for redemption, is called a suit for foreclosure.
"Suit of foreclosure acts as a sword for mortgagor right to redemption."
Clause (b) says that if a person (mortgagor) other than the mortgagor who is a party to suit, is acting as legal representative of mortgagee then he cannot file suit for foreclosure but can only proceed to sue for sale in the court.
WritingLaw » Interesting Law Q&A » Suit for Foreclosure of Mortgage Meaning