CHAPTER XXXVII, Section 474 to 484

of CRIMINAL PROCEDURE CODE (CRPC)

– MISCELLANEOUS
474. Trials before High Court.
When an offence is tried by the High Court otherwise than under section 407, it shall, in the trial of the offence, observe the same procedure as a Court of Sessions would observe, if it were trying the case.
475. Delivery to commanding officers of persons liable to be tried by Court-martial.
(1) The Central Government may make rules consistent with this Code and the Army Act, 1950 (46 of 1950), the Navy Act, 1957 (62 of 1957), and the Air Force Act, 1950 (45 of 1950), and any other law, relating to the Armed Forces of the Union, for the time being in force, as to cases in which persons subject to military, navel or air force law, or such other law, shall be tried by a Court to which this Code applies or by a Court-martial, and when any person is brought before a Magistrate and charged with an offence for which he is liable to be tried either by a Court to which this Code applies or by a Court-martial, such Magistrate shall have regard to such rules, and shall in proper cases deliver him, together with a statement of the offence of which he is accused, to the commanding officer of the unit to which he belongs, or to the commanding officer of the nearest military, naval or air-force station, as the case may be, for purpose of being tried by a Court-martial.
Explanation-
In this section-
(a) "unit" includes a regiment, corps, ship, detachment, group, battalion or company.
(b) "Court-martial" includes any tribunal with the powers similar to those of a Court-martial constituted under the relevant law applicable to the Armed Forces of the Union.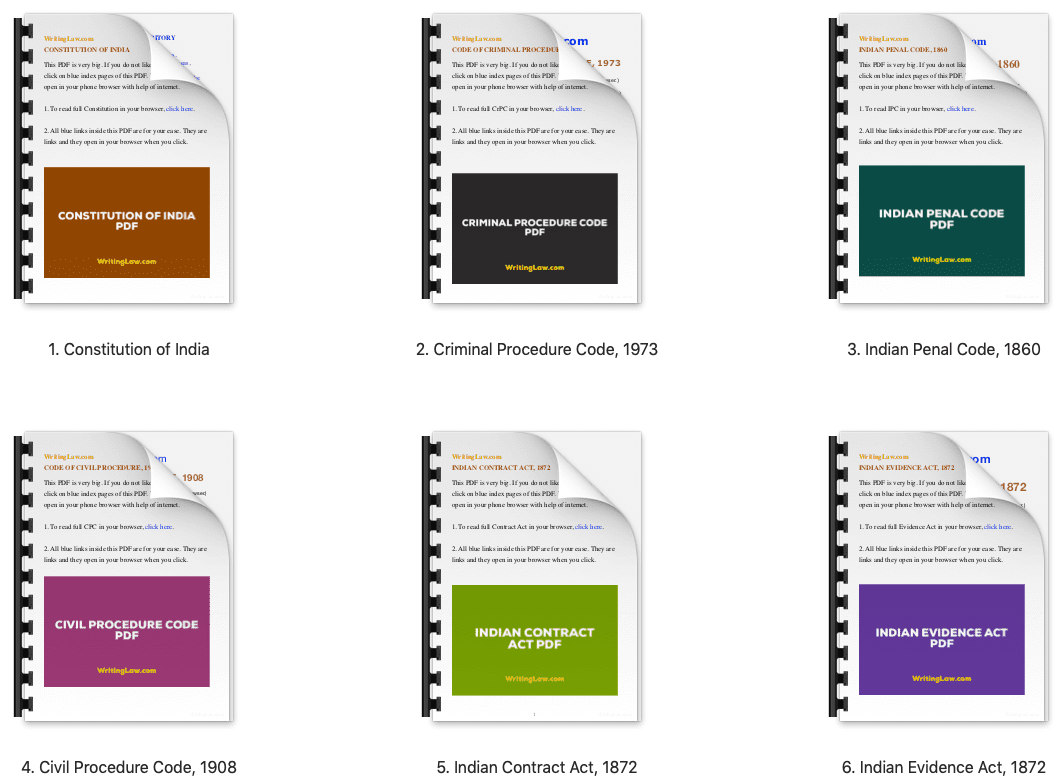 (2) Every Magistrate shall, on receiving a written application for that purposes by the commanding officer of any unit or body of soldiers, sailors or airmen stationed or employed at any such place, use his utmost endeavours to apprehend and secure any person accused of such offence.
(3) A High Court may, if it thinks fit, direct that a prisoner detained in any jail situate within the State be brought before a Court-martial for trial or to be examined touching any matter pending before the Court-martial.
476. Forms.
Subject to the power conferred by Article 227 of the Constitution, the forms set forth in the Second Schedule, with such variations as the circumstances of each case require, may be used for the respective purposes therein mentioned, and if used shall be sufficient.
477. Power of High Court to make rules.
(1) Every High Court may, with the previous approval of the State Government, make rules-
(a) as to the persons who may be permitted to act as petition-writers in the Criminal Courts subordinate to it;
(b) regulating the issue of licences to such persons, the conduct of business by them, and the scale of fees to be charged by them.
(c) providing a penalty for a contravention of any of the rules so made and determining the authority by which such contravention may be investigated and the penalties imposed;
(d) any other matter which is required to be, may be, prescribed.
(2) All rules made under this section shall be published in the Official Gazette.
Comments:
Rules and orders for the guidance of the criminal Courts in a state are issued by the High Court in exercise of its powers conferred by Article 227 of the Constitution of India and section 477 of the Code of Criminal Procedure;
K. Umapathy v. Superintendent of Jail, (1997) 2 Crimes 609 (AP)
478. Power to alter functions allocated to Executive Magistrates in certain cases.
If the Legislative Assembly of a State by a resolution so permits, the State Government may, after consultation with High Court, by notification, direct that references in sections 108, 109, 110, 145 and 147 to an Executive Magistrate shall be construed as references to a Judicial Magistrate of the first class.
STATE AMENDMENT
Maharashtra:
In section 478 for the words "to an Executive Magistrate shall be construed" the words "to an Executive Magistrate in the areas of the State outside Greater Bombay shall be construed" shall be substituted.
Vide Maharashtra Act 1 of 1978 (w.e.f. 15-4-1978)
479. Case in which Judge or Magistrate is personally interested.
No Judge or Magistrate shall, except with the permission of the Court to which an appeal lies from his Court, try or commit for trial any case to or in which he is a party, or personally interested, and no Judge or Magistrate shall hear an appeal from any judgment or order passed or made by himself.
Explanation-
A Judge or Magistrate shall not be deemed to be a party to, or personally interested in, any case by reason only that he is concerned therein in a public capacity, or by reason only that he has viewed the place in which an offence is alleged to have been committed or any other place in which any other transaction material to the case is alleged to have occurred and made an inquiry in connection with the case.
480. Practising pleader not to sit as Magistrate in certain Courts.
No pleader who practises in the Court of any Magistrate shall sit as a Magistrate in that Court or in any Court within the local jurisdiction of that Court.
481. Public servant concerned in sale not to purchase or bid for property.
A public servant having any duty to perform in connection with the sale of any property under this Code shall not purchase or bid for the property.
482. Saving of inherent power of High Court.
Nothing in this Code shall be deemed to limit or affect the inherent powers of the High Court to make such orders as may be necessary to give effect to any order under this Code, or to prevent abuse of the process of any Court or otherwise to secure the ends of justice.
Comments:
(i) When the investigation of the case had been handed over to the CID because of unsatisfactory investigation by the police, the quashing of charges under section 302 read with section 120B, IPC against the accused in exercise of powers under section 482 by the High Court on the conclusion of the inadequacy of evidence was unwarranted as at the stage of framing of charges, meticulous consideration of evidence and material by the Court was not required;
Radhey Shyam v. Kunj Behari, (1990) Cr LJ 668 (SC) : AIR 1990 SC 121
(ii) In exercising jurisdiction under section 482 High Court would not embark upon an enquiry whether the allegations in the complaint are likely to be established by evidence or not;
State of Bihar v. Murad Ali Khan, (1989) Cr LJ 1005: AIR 1989 SC 1
(iii) To prevent abuse of the process of the Court, High Court in exercise of its inherent powers under section 482 could quash the proceedings but there would be justification for interference only when the complaint did not disclose any offence or was frivolous vexatious or oppressive;
Dhanlakshmi (Mrs.) v. R. Prasana Kumar, (1990) Cr LJ 320 (DB): AIR 1990 SC 494
(iv) Where there was some discrepancy mainly in regard to the implications of respondent by name in the FIR and the statement of the witnesses recorded during the investigation, the practice of prejudging the question by the High Court without affording reasonable opportunity to the prosecution to substantiate the allegations have on more than one occasion been found fault with by the Supreme Court, Thus there is no justification by the High Court to interfere with the prosecution at the preliminary stage;
State of Bihar v. Raj Narain Singh, (1991) Cr LJ 1416 (1417) (SC)
(v) If the allegation made in the First Information Report are taken at their face value and accepted in their entirety do not constitute an offence the criminal proceedings constituted on the basis of such FIR should be quashed;
State of Uttar Pradesh through CBI, SPE Lucknow v. R.K. Srivastava, (1989) Cr LJ 230: AIR 1989 SC 2222
(vi) It amounts to abuse of the process of the Court if without prima facie case having been made out a person is summoned to face trial in a criminal proceeding;
Laloo Prasad v. State of Bihar, (1997) 2 Crimes 498 (Pat)
(vii) It is well settled that the inherent powers under section 482 can be exercised only when no other remedy is available to the litigant and not where a specific remedy is provided by the statute. Further, the power being an extraordinary one, it has to be exercised sparingly. If these considerations are kept in mind there will be no inconsistency between sections 397(2) and 482 of this Code;
Basudev Bhoi v. Bipadabhanjan Puhan, (1997) 2 Crimes 331 (Ori)
(viii) If the prosecution has been instituted within six months of Bengal Excise Act, 1909 under section 92 alleged there is no question of producing any sanction as the Magistrate would then be free to take cognizance under the Act. Reasoning adopted by the learned Single Judge that steps for obtaining sanction should have been adopted before the expiry of first six months period has no support in section 92. Quashing of proceeding not proper;
State of West Bengal v. Rashmoy Das, AIR 2000 SC 228
(ix) Necessary ingredients of offence of cheating or criminal branch of trust have not been made out but the attendant circumstances indicate that the FIR was lodged to prompt the filing of criminal complaint against the informant under section 138 N.I. Act Quashing of FIR was proper to avoid the abuse of process;
Sunil Kumar v. Escorts Yamaha, AIR 2000 SC 27: 2000 Cr LJ 174 (SC)
(x) FIR lodges to preempt the filing of criminal complaint against the informant under section 138 N.I. Act Quashing of FIR proper, (See also AIR 1992 SC 1815);
Sunil Kumar v. Escorts Yamaha Motors Ltd., AIR 2000 SC 27: 2000 Cr LJ 174 (SC)
(xi) So far as the quashing of complaints and inquiry on the basis of FIR registered by the complainant are concerned the High Court was not justified in interfering with the same and quashing the proceeding by an elaborate decision on the merit of matter and in coming to conclusion that section 195 of CrPC will be a bar it was a premature conclusion. Order quashing the two complaint set aside;
Manohar v. Ashoka, AIR 2000 SC 202
(xii) The extra-ordinary power under section 482 of Code have to be exercised sparingly and should not be resorted to like remedy of appeal or revision;
Kavita (Smt.) v. State, 2000 Cr LJ 315 (Del)
(xiii) In absence of any allegation in complaint that the petitioner was a director on the date when cheque was issued by company or that he was incharge of and was responsible to company, the complaint is liable to be quashed;
M. Chockalingam v. Sundaram Finance Service Ltd., 2000 Cr LJ 137 (Mad)
(xiv) When the provisions under section 37 of N.D.P.S. are applicable and operative with non-obstanate clause, the powers of High Court remains restricted by limitation under section 37 (1)(b) of Act in considering bail application of accused charged for offence under N.D.P.S. Act, then the accused not entitled to grant of interim bail;
Islamuddin v. State of Delhi, 2000 Cr LJ 108 (Del.)
(xv) In absence of any valid ground, the F.I.R. lodged against immigration consultant for violating sections 10, 16 of Emigration Act by issuing advertisement, High Court can not interfere at the stage of F.I.R.;
M.D.K. Immigration Consultant, Chandigarh v. Union of India, 2000 Cr LJ 252 (P&H)
483. Duty of High Court to exercise continuous superintendence over Courts of Judicial Magistrates.
Every High Court shall so exercise its superintendence over the Courts of Judicial Magistrates subordinate to it as to ensure that there is an expeditious and proper disposal of cases by such Magistrates.
Comments:
When alternative remedy is available, inherent powers cannot be exercised;
Alimuddin Khan v. Nasiran Bibi, 1998 Cr LJ 1811 (Ori)
484. Repeal and savings.
(1) The Code of Criminal Procedure, 1898 (5 of 1898), is hereby repealed.
(2) Notwithstanding such repeal,-
(a) if, immediately before the date on which this Code comes into force, there is any appeal, application, trial inquiry or investigation pending, then, such appeal, application, trial, inquiry or investigation shall be disposed of, continued, held or made, as the case may be, in accordance with the provisions of the Code of Criminal Procedure, 1898 (5 of 1898), as in force immediately before such commencement (hereinafter referred to as the Old Code), as if this Code had not come into force:
Provided that every inquiry under Chapter XVIII of the Old Code, which is pending at the commencement of this Code, shall be dealt with and disposed of in accordance with the provisions of this Code;
(b) all notifications published, proclamations issued, powers conferred, forms prescribed, local jurisdictions defined, sentences passed and orders, rules and appointments, not being appointments as Special Magistrates, made under the Old Code and which are in force immediately before the commencement of this Code, shall be deemed, respectively to have been published, issued, conferred, prescribed defined, passed or made under the corresponding provisions of this Code.
(c) any sanction accorded or consent given under the Old Code in pursuance of which no proceeding was commenced under that Code, shall be deemed to have been accorded or given under the corresponding provisions of this Code and proceedings may be commenced under this Code in pursuance of such sanction or consent;
(d) the provisions of the Old Code shall continue to apply in relation to every prosecution against a Ruler within the meaning of Article 363 of the Constitution.
(3) Where the period prescribed for an application or other proceeding under the Old Code had expired on or before the commencement of this Code, nothing in this Code shall be construed as enabling any such application to be made or proceeding to be commenced under this Code by reason only of the fact that a longer period therefor is prescribed by this Code or provisions are made in this Code for the extension of time.
STATE AMENDMENT
Uttar Pradesh:
In sub-section (2) of section 484, after clause (d), the following clause shall be inserted and be deemed always to have been inserted, namely:— 
"(e) the provisions of the United Provinces Borstal Act, 1938 (U.P. Act VIII of 1938) the United Provinces First Offenders Probation Act, 1938 (U.P. Act VI of 1938), and the Uttar Pradesh Children Act, 1951 (U.P. Act 1 of 1951) shall continue in force in the State of Uttar Pradesh until altered or repealed or amended by the competent Legislature or other competent authority, and accordingly, the provisions of section 360 of this case shall not apply to that State, and the provisions of section 361 shall apply with the substitution of references to the Central Act named therein by references to the corresponding Acts in force in the State."
(Vide U.P. Act 16 of 1976, sec. 10 (w.e.f. 1-5-1976))
In sub-section (2) of section 484, in clause (a) after the proviso, the following further proviso shall be inserted, namely:—
"Provided further that the provisions of section 326 of this Code as amended by the Code of Criminal Procedure (Uttar Pradesh Amendment) Act, 1976 shall apply also to every trial pending in a Court of Session at the commencement of this Code and also pending at the commencement of the Code of Criminal Procedure (Uttar Pradesh Amendment) Act, 1983".
Vide U.P. Act 1 of 1984, sec. 11 (w.e.f. 1-5-1984)
Source/Inspiration- http://www.icf.indianrailways.gov.in/
Backup related link for Schedule and Forms – Classification of Offences- http://ecourts.gov.in/
---
BEST BOOKS FOR CrPC
CrPC by Ratanlal and Dhirajlal
CrPC Q&A
CrPC Bare Act
CrPC by SC Sarkar, PC Sarkar and Sudipto Sarkar
CrPC by SC Sarkar
WritingLaw » Criminal Procedure Code, 1973 »