Every statute contains hundreds of sections. Memorising all of them is a big challenge. It is next to impossible. Also, every person can't be a master in numbers. At some point, there arises confusion, and then you start thinking that it would have been better if I had opted for engineering or MBBS instead of law.
Learning sections make you irritated, and you doubt your capability. Hold yourself back from doing this. Every problem has a solution.
The very first thing to do is to focus most of your time on only important sections and articles. Bare Acts are enormous. Allotting full concentration to all parts and sections is not possible. So, first, know where to give your maximum energy. Once you do that, here are some tips to help you remember the bare act sections and articles, in 2023 and beyond.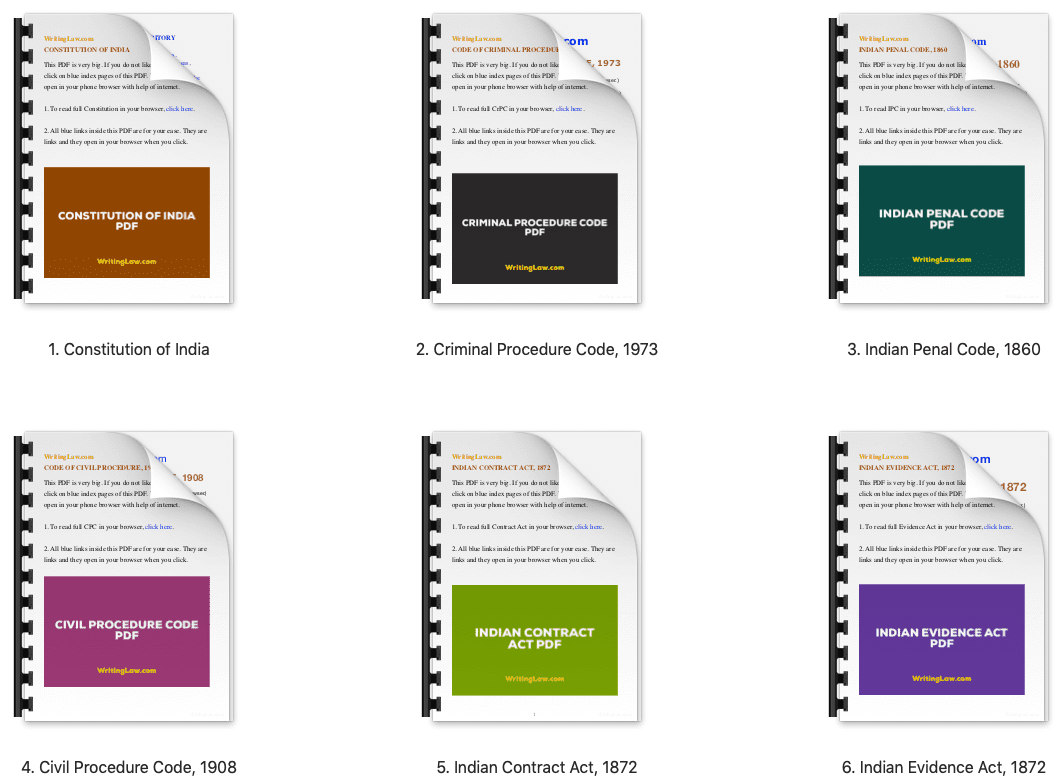 How to Memorise Bare Act Sections
1. Go through the contents or index page of the bare act in the morning.
2. Make sure you try to learn ten sections a day.
3. Always make a habit of revising at least fifteen sections every day. If you want, just learn five new sections a day, but increase the revision number to twenty.
4. Write the section and article names in a notebook. Practice it multiple times during your law course. Slow and steady, you will have them engraved in your mind.
5. Reading the full bare act text repeatedly helps in remembering section numbers.
6. If you are reading Section 125 of CrPC, that is maintenance, then just close your eyes and try to recall the maintenance provisions given in other statutes as well. Like Sections 24 and 25 of the Hindu Marriage Act, and section 18 of the Hindu Adoption and Maintenance Act.
7. Try to make mnemonics of sections to remember them for the long term. Any word, phrase, or line can make you remember so many sections. Refer to the illustration given below. You can understand and get an idea, how you can make a word to remember such lengthy provisions. Here is how:
Illustration
Please know that this is a personal trick. You may make your own according to what helps you understand and remember.
Section 41 CrPC – When police may arrest without warrant.
(1) Any police officer may without an order from a Magistrate and without a warrant, arrest any person-
Trick: CIP²SODER²
(a) who has been concerned in any cognizable offence, or against whom a reasonable complaint has been made, or credible information has been received, or a reasonable suspicion exists, of his having been so concerned; or
(b) who has in his possession without lawful excuse, the burden of proving which excuse shall lie on such person, any implement of house-breaking; or
(c) who has been proclaimed as an offender either under this Code or by order of the State Government; or
(d) in whose possession anything is found which may reasonably be suspected to be stolen property and who may reasonably be suspected of having committed an offence with reference to such thing; or
(e) who obstructs a police officer while in the execution of his duty, or who has escaped, or attempts to escape, from lawful custody; or
(f) who is reasonably suspected of being a deserter from any of the Armed Forces of the Union; or
(g) who has been concerned in, or against whom a reasonable complaint has been made, or credible information has been received, or a reasonable suspicion exists, of his having been concerned in, any act committed at any place out of India which, if committed in India, would have been punishable as an offence, and for which he is, under any law relating to extradition, or otherwise, liable to be apprehended or detained in custody in India; or
(h) who, being a released convict, commits a breach of any rule made under sub-section (5) of section 365; or
(i) for whose arrest any requisition, whether written or oral, has been received from another police officer, provided that the requisition specifies the person to be arrested and the offence or other cause for which the arrest is to be made, and it appears therefrom that the person might lawfully be arrested without a warrant by the officer who issued the requisition.
---
The small phrase CIP²SODER² has one starting word for the most important points of the sub-clauses of section 41 of CrPC. C for cognizable, I for information, P for possession, another P for proclaimed, and so on.
Such a trick may help remember long sections.
---
Remembering Bare Act Sections
During the LL.B. course, a student has to study almost thirty subjects, which makes the schedule hectic and burdensome. A well-known saying is that, a law student always remains a student. There is no end to learning in the field of law. He needs to be updated with new sections and the latest amendments. The more you learn, the more you gain.
Make a proper studying schedule and stick to it. Do you see how a person with a job has to sit for eight or nine hours regularly? Adopt a similar strategy for legal studies. After all, the work you do now will reflect in your career.
Arushi, WritingLaw's editor has written this post.
WritingLaw » How To Be Successful In Law »