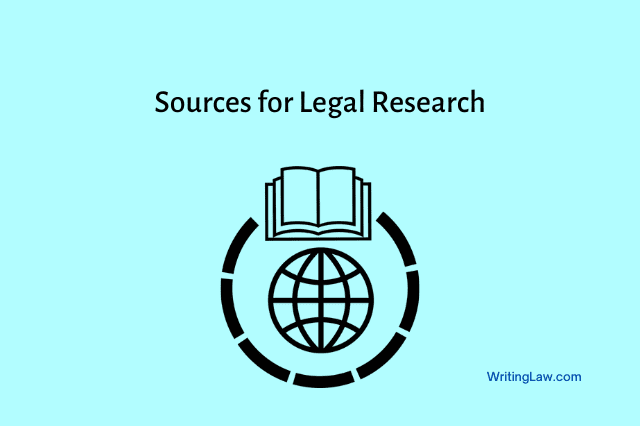 The source of law is the basic focal context from which law derives its origination, not its validity but the matter of which it is composed. Legal sources of law are authoritative and recognised by the law itself. Legal research sources are divided into two types: Print sources of legal research and electronic sources of legal research.
The article discusses the different sources available for conducting legal research, both in print and electronic formats.
Print Sources for Legal Research
Various literature is available in the form of books, journals, and encyclopedias, which may enlighten a person about general problems and issues in a specific branch of law. In addition, many standard textbooks and journal articles discuss interesting and academic issues that may form the basis for selecting a research topic.
1. Books
Books written by eminent jurists and legal luminaries. There are several books on different subjects of law.
2. Journals
Articles in law journals are another essential and indispensable source of information for a researcher. Journals (Legal Periodicals) provide articles on various law topics. Legal periodicals are of two types:
Index to Indian Legal Periodicals: All India Reporter, Aligarh Law Journal, Banaras Law Journal, Punjab Law Reporter (Chandigarh), Supreme Court Cases (SCC) (Lucknow and Madras), Supreme Court Journal (SCJ), etc.
Index to Foreign Legal Periodicals: American Journal of Corporative Law (the University of California, Berkeley since 1952), Journal of Law and Economics (University of Chicago Law School, Illinois since 1958), etc.
They may help the researcher find the article relevant to his research and locate the journal's name, volume, and number in which that has been published.
3. Legal Encyclopedias
Legal encyclopedias are multi-volume sets that provide information on many topics of law that are arranged alphabetically. Social Sciences, Encyclopedias Britannica, Corpus Juris Secundum, Halsbury's Law of England, etc., are helpful.
4. Legal Dictionaries
Legal dictionaries give definitions of words related to law. The words are arranged alphabetically. One standard legal dictionary is Black's Law Dictionary. In addition, Ramanatha Aiyer's Law Lexicon is a legal vocab collective that is handy enough.
5. Legal Reports
Supreme Court Reports is a monthly publication that reports cases decided by the Supreme Court. Indian Law Reports (ILR) are the official monthly publications for the state High Courts, such as ILR Allahabad, ILR Madras, etc., which give judgments of the concerned state High Courts.
6. Annotations
An annotation is a collection of case summaries on a specific topic. A significant set of annotations is called American Law Reports. Each annotation is based on a full-text court opinion called a principal case, which is contained in the same American Law Reports volume as the annotation.
7. Treatises
Treatises are a rich source of legal information on various topics. Highly respected authors often write them.
8. Restatements
Restatements provide summaries of rules of law on such topics as the conflict of law, contracts, foreign relations, judgments, property, torts, and trusts. These rules are followed by comments, illustrations, and appendix volumes.
9. Citators
Citators help us update our legal research by giving us the subsequent history, treatment, and parallel sources of cases or other research materials. They provide lists of cases and other sources that cite particular cases or statutes. It is instrumental in determining whether a case has been upheld or overturned. For example, "Shepard's Citators" include US Supreme Court cases, other federal cases, and federal statutes.
10. Legislation
The sovereign power of the nation makes the supreme legislation. In democratic countries, Parliament is sovereign. It is considered not only leading but legally omnipotent. However, there may be certain constitutional restrictions upon its power.
11. Precedent
A precedent is a previous instance or case that may be an example of a rule for subsequent cases or by which some similar act or circumstances may be supported or justified.
12. Customary Law
Customs are the significant sources of law. Customs originated in the practices of the people as also in what is imposed upon them by the rules. Customs having sanctions are those customs which are enforced by the state. Legal customs operate as the binding rule of law. The courts recognise them and have become a part of the law of the land. The courts enforce them.
13. Statutory Interpretation
The law which comes into being through legislation is called statute law. It is for the courts to apply these formulas to specific cases. The court has to ascertain the meaning of the letters and expressions of the enactment of its application. The process of ascertaining the meaning of the letters and expressions by the courts is called statutory interpretation.
14. Codifications
Codification means the promulgation, compilation, collection and systematisation of the body of law coherently by an authority in a competent state.
In India, there are Manu, Yajnavalkya, Narada codes, etc. In modern times, the Indian Law Commission drafted several codes, such as the Indian Penal Code, Criminal Procedure Code, and Civil Procedure Code.
15. Case Laws
Case law consists of the rules and principles stated and acted upon by the judges in making decisions. They are the evidential source for the arguments in deductive analysis. Lawyers, judges, and researchers use case laws for their logical argumentation.
16. Government Publications
The government publications, whether of the state or central, in the form of reports of various committees and commissions such as the Law Commission of India, the Commission for Scheduled Castes and Scheduled Tribes, the Commission for Backward Classes, the Commission on Public Undertaking, Pay Commission, Finance Commission, Planning Commission, etc.
17. Administrative Material
Administrative laws are laws that administrative agencies make. They are part of the executive branch of the government. They include the administrative codes the administrative agencies make under the legislature's authority.
18. Newspapers
Legal newspapers like Legal Eagle, Daily Legal News, and Legal Intelligence provides information related to law topics.
19. Magazines
Legal magazines include ABA Legal Magazine, Legal Era Monthly, The Lawyer Magazine, Lawyer Monthly, etc.
Electronic Sources for Legal Research
All the legal research materials, which have been discussed above, can be found very up-to-date on electronic sources. Electronic sources include fee-based search engines such as westlaw.com, lexis.com, scconline.com, manuputra.com, sweetandmaxwell.com.uk, butterworths.com.uk, etc.
1. Lexis-Nexis
Lexis-Nexis is one of the most comprehensive online sources of full-text legal information retrieval systems. It covers information regarding case law and legislation from UK and Ireland, Canada, Australia, New Zealand, USA, Commonwealth countries etc. It carries primary sources (cases, statutes, administrative materials), secondary sources (law reviews, annotations), and related materials such as newspapers, magazines, patents, and medical and financial information. In addition, Shepard's citation is available through it.
2. Westlaw
Westlaw is one of the leading online legal search services, providing one of the broadest collections of legal resources, news, business, and public records information, cases and statutes, administrative materials, law reviews and treatises, attorney profiles, news and business information, and forms. It contains nearly 15,000 databases. KeyCite is the competing version of Shepard's citation.
KeyCite is a legal research tool used by lawyers and legal professionals to determine the current status of a case or legal issue. It is a citation service offered by Thomson Reuters Westlaw, a leading online legal research platform. KeyCite allows users to track the history of a case or statute and provides a colour-coded system to indicate whether the case or statute is still good law, has been overruled, superseded, or otherwise invalidated. It also provides information about subsequent cases and other legal materials that have cited the case or statute, which can be useful in determining the impact and relevance of the case or statute.
3. Butterworths
Butterworths make available a variety of legal databases. They include All England Direct, which provides access to the full text of All England Law Reports from 1936. England Direct makes available the full text of all Acts, rules, and general application regulations in England. Halsbury's Laws Direct is an online version of Halsbury's Laws of England.
Halsbury's Laws Direct is an online legal research tool provided by LexisNexis, a leading provider of legal information and research services. It provides access to the complete text of Halsbury's Laws of England, which is a comprehensive legal encyclopedia covering all areas of English law. Halsbury's Laws Direct allows users to search for specific legal topics, statutes, cases, and other legal materials and provides access to commentary, analysis, and primary source materials, including case law and legislation. The tool is used by legal professionals, academics, and students to research and understand English law and its application in practice. In addition to its comprehensive coverage of English law, Halsbury's Laws Direct also includes a range of practical tools and resources, such as forms, precedents, and checklists, as well as access to legal news and analysis.
4. Sweet & Maxwell
Sweet & Maxwell's Current Legal Information service (CLI) provides access to several databases, which access the Current Law citators in electronic form, together with the Legal Journals Index. The CLI databases provide a precious means of locating cases and legislation changes and access to the electronic version of the main indexes to law journals published in UK Sweet & Maxwell.
5. SCC Online
SCC Online is one of the leading Indian legal research services, providing the broadest collection of Supreme Court cases and various state High Courts cases. In addition, it includes primary sources (statutes, cases, regulations), digests, treatises, etc.
6. Manuputra
Manuputra is also one of the most comprehensive Indian legal research services. It includes cases, research papers, statutes, journals, etc.
7. JUDIS
JUDIS is a service that provides information regarding judgments of the Supreme Court and various High Courts of India. The National Information Centre and the Ministry of Law and Justice maintain the service.
8. Other websites
Importance of Sources of Legal Research: Print & Electronic
Legal research sources can be broadly classified into print and electronic. Both of these sources are crucial for conducting comprehensive legal research. Below are some points highlighting the importance of both print and electronic sources in legal research:
Importance of Print Sources
Print sources are the traditional legal research sources that have been used for centuries. They include books, journals, law reports, and legal encyclopedias.
These sources provide a wealth of information on legal doctrines, cases, and legislation unavailable online.
Print sources are often more reliable than electronic sources, as they are subject to rigorous editorial processes and peer review.
They are precious for historical research, as they contain materials that may not be available online.
Print sources are also helpful when electronic sources are unavailable, such as during power outages or when there is limited internet access.
Importance of Electronic Sources
Electronic sources include online databases, legal search engines, and digital libraries.
They provide instant access to a vast amount of legal information from all over the world.
Electronic sources are often more convenient and efficient than print sources, allowing faster and more targeted searches.
They are particularly useful for staying up-to-date with changes in the law, as they can be updated in real-time.
Electronic sources are also generally more cost-effective than print, as they do not require physical storage or distribution.
Thus, print and electronic sources are essential for comprehensive legal research. Print sources offer reliability, historical value, and access to materials that may not be available online. Electronic sources provide convenience, efficiency, and up-to-date information while being cost-effective. Therefore, it is recommended that legal researchers use both print and electronic sources to ensure they have access to the most comprehensive and reliable legal information.
Challenges Related to Sources of Legal Research: Print & Electronic
Sources of legal research can also present some challenges for legal researchers, whether they are print or electronic. Below are some points highlighting the challenges related to both print and electronic sources in legal research.
Challenges Related to Print Sources
Print sources can be expensive, especially for students or researchers with limited budgets.
They may not be readily available in all locations, particularly in remote or less developed areas.
Print sources may be outdated, as they are subject to delays in publication and may not be updated regularly.
Physical copies of print sources may be subject to wear and tear or damage, leading to missing or incomplete information.
Print sources can be challenging to navigate, particularly for beginners, due to their complex indexing and formatting.
Challenges Related to Electronic Sources
Electronic sources may contain inaccurate or incomplete information, mainly when sourced from unreliable websites or search engines.
They may not always be accessible due to internet connectivity issues, power outages, or hardware malfunctions.
Electronic sources can be challenging to verify, as it is often unclear who created the content or when it was last updated.
They may require specialised software or hardware to access, which can be costly or time-consuming to obtain.
Electronic sources may be subject to hacking or other security breaches, potentially leading to the loss or theft of information.
Conclusion
Sources of legal research material, print or electronic, are beneficial for any legal research. They provide direction to the researcher.
However, both print and electronic sources present challenges to legal researchers. Therefore, legal researchers must be aware of these challenges and take steps to address them, such as using reliable sources, verifying information, and having backup plans for accessing data in case of technical difficulties.