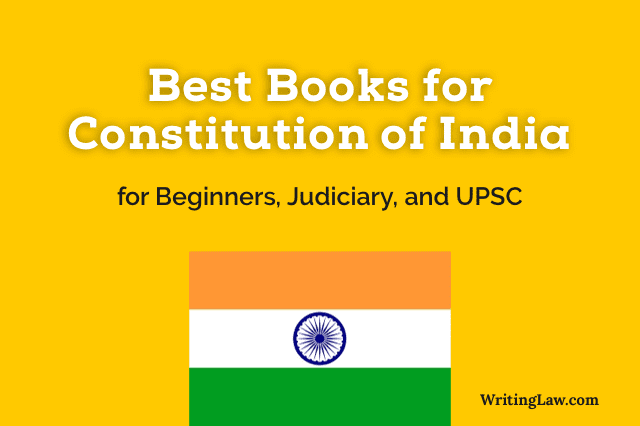 The Constitution is the source of all laws in India. Every statute derives its roots from the Constitution. It is equally important for all Indian citizens as it is for a law student, lawyer, legal advisor, or judge.
Every beginner in the law field finds it difficult to decide which book is the best book for Constitution. Students read multiple books but feel helpless in understanding concepts. Sometimes studying from various sources at a particular point in time creates confusion in the mind of readers and makes a simple concept difficult.
As a result, students often want to know about the best law books for covering the Indian Constitution. Well, here are some finest recommendations according to the situation and exam.
All links below are Amazon affiliates. They support WritingLaw without increasing any burden on your pocket.
Best Book of Indian Constitution for Beginners
Many students ask on various platforms which is the best book to read the Constitution of India for beginners. Firstly you must know that there are wide varieties of books in the market for a single subject, but you need to pick the wise one or the most reliable one.
For beginners, one must refer to the Constitutional Law of India by J.N. Pandey. It is the most straightforward book with easy-to-understand concepts. A beginner must start with the book from which he is able to get clarity on different topics.
Why J.N. Pandey and Not D.D. Basu for Constitution of India?
J.N. Pandey describes every topic in simple language and is to the point. It does not elaborate much. It is a friendly book for people who are reading Constitution for the first time.
Introduction to the Constitution of India by D.D. Basu is quite a good book and preferable for students who want to develop good analytical skills. It is best for students who are preparing for competitive exams.
Which is the Best Book of Constitution for Judicial Preparation?
For the preparation of the judicial services exam, the approach needs to be strategic. Aspirants are required to read good law books which can nourish them with in-depth conceptual knowledge.
There are many recommended books by serving judges for preparing Constitution, like Indian Constitutional Law by M.P. Jain, Constitution of India by D.D. Basu, and Constitution of India by V.N. Shukla. You may refer to any one of these books while preparing for the judiciary.
M.P. Jain is in detailed form for a complete reading.
Which is the Best Book of Constitution for UPSC Preparation?
The area and level of questions for civil services examination are quite different. The questions require good conceptual clarity and in-depth knowledge of the concerned topics. You must know the ins and surroundings of that topic.
In civil services preparation, the area of Constitution is covered under the subject named Polity. It is a separate subject and carries a good weightage of marks. One can easily score good marks in Polity by having good knowledge of the Constitution.
The recommended books for Constitution during UPSC preparation are Indian Polity by M. Laxmikanth and Our Constitution by Subhash C. Kashyap.
You may refer to any one of these books for a better understanding. They are even recommended by serving IAS officers in their interviews. These books helped them in preparation for prelims as well as mains. Both books serve good insight into polity topics, which is essential for the UPSC exam.