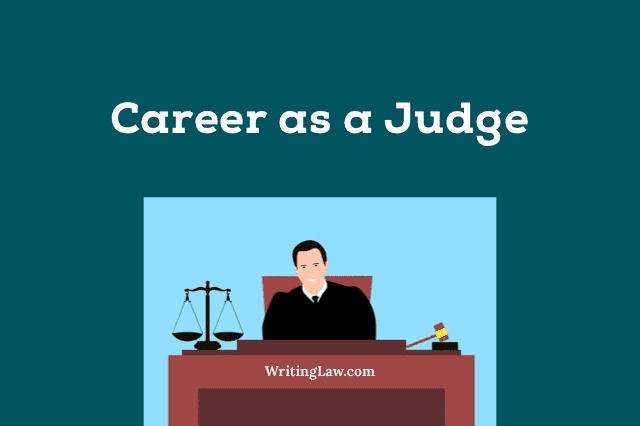 The Indian judicial system is an organised mechanism for dealing with issues in society. It gives the young generation a wide range of opportunities to get involved in this system and contribute to the best possible service to the country.
Law graduates are eligible to hold positions in all three branches of government: legislature, executive, and judiciary. Other graduates may hold positions in the legislature and executive branch but not in the judiciary. Due to this reason, it is rightly said that a law degree can open the door to a wide range of careers that other degrees may not.
Many statutes, including the Code of Civil Procedure, the Indian Penal Code, and the Code of Criminal Procedure, define the term "judge".
Judges ensure a fair trial and pronounce the verdict after the case. Judges safeguard the court's dignity in society without being biased or putting themselves in a risky position.
Let us discuss whether becoming a judge will be a fruitful career for you or not.
Positive and Negative Aspects of a Career as a Judge
Judge is a very reputed position in the Indian judiciary. But, everything present on this planet has both negative and positive aspects.
The pros and cons of being a judge are listed below that can help you identify whether this career option suits you or not:
Advantages of Career as a Judge
It is a job with a high level of responsibility and is a very reputed position.

You can serve the nation by becoming a judge.

A career as a judge will surely give you financial and job security.

You will have enough time to balance your personal and professional life.

It is a powerful job with lots of perks.

It gives the power to erode the evils existing in society. A power that can protect people.
Disadvantages of Career as a Judge
It requires a lot of hard work to become a judge.

It is a sitting job, and you'll be doing the same work every day.

Massive competition for growth.

Mental pressure or stress will be quite often due to different reasons.

There can be threats if the decision by a judge is not favourable for a party or section of people. Any seat of a high position carries risk. But things can be handled with courage and determination to do good for society.

Eligibility for Becoming a Judge
Indian judiciary follows the three-tier structure, i.e., the union judiciary (Supreme Court), state judiciary (High Courts and courts subordinate to it), and subordinate judiciary (District Courts).
A graduate can become a judge by giving the Civil Judge exam conducted by the Public Service Commission. This exam is conducted state-wise. Moreover, the states decide the eligibility and time for conducting the judge exams according to the vacancies available.
Union Judiciary
The Supreme Court of India comprises one Chief Justice of India and 33 other judges. The appointment of judges depends upon the vacancies available.
Eligibility for becoming a Supreme Court judge is:
A person appointed as a judge of the Supreme Court must be a citizen of India and possess a degree of Law from a recognised university.

He must have served as a judge of a High Court for at least five years or two or more High Courts in a row, or

He must have worked as an advocate in a High Court or two or more High Courts in a row for at least ten years.

He shall be a respected jurist, according to the Indian president.

The individual appointed as a Supreme Court Judge will remain in office until he reaches the age of 65.
State Judiciary
Every High Court consists of one Chief Justice and other judges as may be required from time to time.
Eligibility for becoming a High Court judge is:
The person must be an Indian citizen.

He or she must have previously worked in a judicial capacity in India for at least ten years, or

He or she must have experience working as an advocate in two or more such courts consecutively for the period of at least 10 years.

The person appointed as a High Court judge can serve as a judge until he attains the age of 62 years.
Subordinate Judiciary
There are mainly two types of judges in district courts – District Judge/Sessions Judge and Civil Judge (i.e., the magistrate). The appointment procedure or eligibility criteria for a District Judge and a Civil Judge are different.
Eligibility criteria for becoming an Additional District Judge is:
The person must be an Indian citizen.

For at least seven years, the person must be an advocate.

The individual must be at least 35 years old (age differs from state to state).

The person must pass the test administered by the judicial service.
Eligibility criteria for becoming a Civil Judge or a magistrate is:
The person must be an Indian citizen.

He or she must be of age group between 21 to 35 years (age differs from state to state).

The person must pass the state judicial service test.
Judicial Service Examination
The judicial service examination is an entry-level exam for Civil Judges organized by every state public service commission and High Court for law graduates. Students can directly give the judicial service exam after graduation to become a member of the subordinate judiciary.
Eligibility Criteria for Judicial Service Examination
There are two categories of judicial service exams, and the eligibility criteria for both are different.
Lower Judiciary Services: To appear for the judicial services examination, you must have a bachelor's degree in law. Under the Advocates Act, 1961, the person must have enrolled or qualified to be enrolled as an advocate. It does not require any prior experience, and even students studying in the final year of their law schools can apply for the same as some states allow appearing in exams in the final semester of law. Moreover, it is the state which determines the age limit, and it is usually between the age of 21 to 35.
Higher Judiciary Service: Candidates for the higher judiciary services must be law graduates with a minimum of seven years of litigation experience.
Stages of Judicial Service Exam
The judicial service exam has three phases, i.e., preliminary, mains, and interview.
The preliminary examination is an MCQ-based paper, and the person qualifying for this exam will be entitled to appear for the mains examination.
Mains examination is a subjective paper. There are three to four papers in this exam, and the candidates selected in this exam shall be called for an interview round. The number of candidates selected in this round depends upon the vacancies available at that time. Candidates called for interviews are three times the number of vacancies available.
Then, the interview is the last stage where the candidates are judged and selected based on their qualities, including general interest, personality, and intelligence.
Must See: How to Write the Best Answer in Judiciary Mains Exam
All India Judicial Services Examination
AIJS exam is a step in which the exam for the recruitment process of additional judges and district judges will be held on the central level. As the UPSC exams are conducted for the whole country, in the same way, AIJS will be conducted for the judges on the central level.
In the Government's view, a properly framed All India Judicial Service will significantly strengthen the overall justice delivery system. This will offer an opportunity to select suitable qualified fresh legal talent through a proper all-India merit selection system. It shall also address the key issue of social inclusion by enabling suitable representation to marginalised and deprived sections of society. The exam will promote the right talent from lower levels to higher levels.
Duties of a Judge
These are the essential duties of a judge:
A judge must be fair and impartial, doing everything for the sake of justice and nothing for the benefit of friends or family.

When addressing a counsel, litigant, or witness, a judge should avoid using a controversial tone or attitude.

A judge must hear both the parties (prosecution and defence).

A judge must determine the guilt or innocence of criminal defendants in criminal court and impose punishments on those found guilty.
Benefits and Allowances of a Judge
Apart from the monthly salary, a judge is entitled to a lot of monthly allowances given below:
House rent allowance

Travel allowance

Electricity bill

Phone bill

Vehicle maintenance

Pension after retirement
Executive Magistrate vs Judicial Magistrate
The executive magistrate is the district magistrate of a particular area. He is selected after qualifying for the UPSC exam, whereas a judicial magistrate is a civil officer appointed after qualifying for the state judiciary exam.
The primary difference between a judicial magistrate and an executive magistrate is that a judicial magistrate can handle all the cases and grant punishment for up to 3 years. In contrast, an executive magistrate can take matters related to public peace, maintaining law and order, etc.
Conclusion
While concluding, I want to state that being a judge is an excellent career option for law graduates. It gives power, reputation, a chance to serve the nation, and various monetary and non-monetary benefits. Still, on the other hand, this profession requires a lot of hard work and dedication, from preparing for the judicial examination to becoming a judge.
Read Next:
1. Best Answer Writing Tips for Law Exams
2. How to Study and Prepare for Judiciary Exam
3. 10 Legal Jobs and Career Options After Law