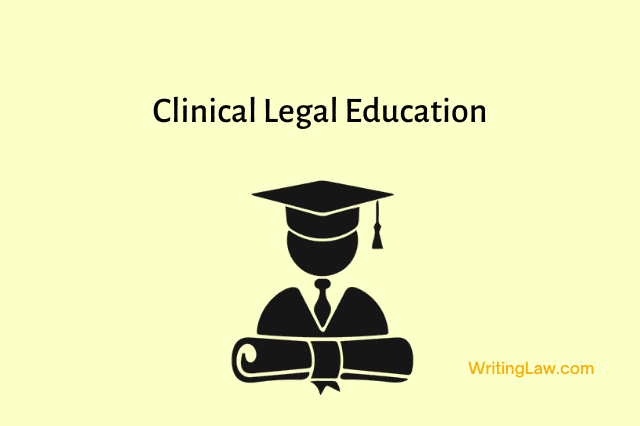 Clinical Legal Education (CLE) is more than just a means of learning about law and the legal profession. Clinical Legal Education should be developed and implemented to give law students a more comprehensive and relevant understanding of the law. The subjects to be taught in a clinical course or programme can be given in traditional classes, and the clinical teaching approach can be used in courses outside the usual clinical subject areas.
Clinical Legal Education has its origins in India's legal aid and legal education reform movements. In India, formal legal education began in 1855. Numerous commissions and committees have been established to promote clinical legal education. Legal education has progressed through several phases.
In this law article, we discuss the nature, need, characteristics, advantages, and disadvantages of Clinical Legal Education.
Nature of Clinical Legal Education
Clinical Legal Education is practical training in the genuine sense of the term. It is concerned with the social value of the law. The legal profession's professional nature necessitates problem-solving training. Law schools have now established legal aid centres or programmes to provide clinical legal education.
Certain components of traditional educational approaches, such as Moot Court and practical training under the supervision of lawyers, are also included in this education. Clinical Legal Education is a valuable instrument for law students to gain practical experience with lawyering skills and to provide legal services to the underprivileged. It covers various components of the legal procedure, such as negotiation and counselling.
Clinical education includes interviewing, fieldwork, a literacy programme, and Lok Adalat. It also includes crucial features such as social interest litigation and moot trial self-learning. For a long time, students were unable to put what they had learned in class into reality. Attachment programmes, which force law students to attach themselves to a lawyer and the courts for legal assistance in exchange for practical experience, have recently been implemented in the course. As part of their training, they are expected to take a more systematic approach, such as Lok Adalat, legal literacy programmes, professional ethics, Moot Court, drafting, and so on.
Need for Clinical Legal Education
Before the Advocate Act, law students were required to complete procedural subjects and obtain practical training. Practical training can be obtained for up to a year under an apprenticeship in a senior advocate's chamber. Practical or procedural subjects like CPC, CrPC, and Evidence Act were lecture-based, with no practical or clinical activity for the students.
Clinical Legal Education was never mentioned in the literature. In these functional fields of jurisprudence, the significant gap between law in the books and law in practice will be brought to light, notably through the use of the empirical research technique.
The issue of how to strike a balance in the curriculum between traditional legal courses and the newly emerging functional field of legal activity to prepare future lawyers for a wide variety of duties will continue to be a concern for legal educators worldwide.
In 1982, the Bar Council of India reformed legal education. Even though practical training became a requirement of the LL.B programme, no defined methodology or material was provided.
The nature of society is determined by the values taught in any educational institution. When taught in any educational institution, the study of the law becomes a passive monologue when it is devoid of social meaning and separated from the reality of human existence. The practice of law is the subject of clinical legal education. The separation between legal education and the legal profession is the reason behind this.
In political and economic change, the legal system plays an important role. A mix of professionalism and value-oriented conventional knowledge is required for effective legal education.
Judges, lawyers, and anyone with relevant experience are invited to participate. Teachers must illustrate how courts work, how a government entity functions, and how to prepare plaints, written statements, decrees, and other necessary documents in clinical legal education. The legal process, negotiation, and counselling are all part of this.
Clinical educators are in a unique position, and as a result of that position, they have a special responsibility to bridge the gap between law and its traditional conservatism and the frankly pragmatic, spiritual idealism of many of its practitioners, including the future lawyers who sit at the feet of clinical educators/professors/trainers for several years of law school.
The professional nature of legal education necessitates a greater focus on the practical side of the law. The doctrinal method of teaching essential ideas through statutes and court decisions is insufficient in the current setting. Law must be conceived in the framework of social dynamics and analyzed in the context of social dynamics. This necessitates a wide range of techniques and skills from legally trained individuals, the teaching of which should be a goal of legal education, whether in the form of a profession or otherwise. More than ever before, lawyers and other legal professionals need to be able to create policies, evaluate them, and integrate them into the social process.
Characteristics of Clinical Legal Education
1. Clinical Legal Education and clinical teaching methodologies are two different things. They are so intertwined that they are hardly talked about independently.
2. A clinical methodology can be used to teach a theoretical subject, and a traditional teaching technique can be used to teach a clinical course subject.
3. Learning through doing, or teaching through students' direct participation in various aspects of the legal process under faculty leadership and supervision, is the most common description of this clinical style.
4. Its worth is frequently emphasized in terms of providing students with a deeper grasp of the function and job of lawyers than can be achieved in the classroom.
5. Clinical technique, like legal education, is not a novel notion in medical education. Medical students learn diagnosis and treatment strategies through doing during their internship. As juniors in law school, students learn procedural law under the supervision of lawyers.
6. The clinical methodology's ultimate purpose is to include students in real-life situations, allowing them to make their own decisions while being informed of how the legal system works.
Advantages of Clinical Legal Education
1. Practical Approach: It takes a unique approach to learning the law. It includes learning as well as experimentation. The scope of the client's problem is determined, and recommendations are made. It instils confidence in students by emphasizing that their achievement is based on their efforts rather than external forces. It enables pupils to explain why they are acting in specific ways and discuss and reevaluate their choices. Students can delve deeper into legal and social issues.
2. Inspiration and growth of students: Students are self-disciplined and dedicated to their studies. Students are more accountable than previous generations.
3. Acquiring skills: A lawyer's ability to acquire certain abilities is critical. Clinical Legal Education is centred on a hands-on approach, which aids in the development of skills. Skills like research, communication, client and witness interviews, counselling, drafting, negotiating, and problem-solving, among others, may be required. These abilities are crucial for a lawyer.
4. Professional ethics and responsibility: Ethics, as well as the professional responsibility and conduct of lawyers, must be studied. Clinical Legal Education now incorporates practical training, which has increased in recent years.
5. Involvement with the local community: By making the law school more relevant to the community, a law clinic can help to eliminate isolation. It can provide residents with guidance and assistance, as well as aid in the reduction of isolation. There are numerous advantages to this. Students may also be able to comprehend the challenges of people from various generations and backgrounds. This experience can help them have a better knowledge of other people's perspectives in society, as well as maturity and a sense of responsibility.
Must Read (Case about advocate fees and ethics): B. Sunitha vs State of Telangana – Case Explained
Disadvantages of Clinical Legal Education
1. The Clinic's integration into the law school: There is a risk that the clinic may become an isolated outpost of the law school rather than being integrated into its mainstream activities. To avoid students becoming distracted from the rest of their legal education, it is critical to establish obvious ties between substantive law courses and clinic work.
2. Resources: Extra resources must be dedicated to the clinic's education and administration. This can be a source of frustration for traditional academics who are less involved in skills training, and it's another reason why support and participation in the law school's clinic are required. The difficulties imposed by the large caseload may have a negative impact on both staff and students' morale. If the clinic has an open-door policy and tries to handle all cases that come in off the street, resources can be stretched even further. As a result, access must be restricted in some way.
3. Supervisory and assessment difficulties: Supervising students in the clinic is a demanding endeavour. It is critical to integrate quality assurance tests into the supervision system.
4. Relationship with the local legal profession: Some may be concerned that a legal clinic providing free legal services will jeopardize the law school's relationship with the local bar.
Conclusion
Clinical Legal Education is practical training in the genuine sense of the term. It is concerned with the value of law in society. The legal profession's professional nature necessitates problem-solving practice. Law schools now provide clinical legal education by establishing legal aid centres or projects. Certain parts of traditional educational approaches, such as Moot Court and practical training under the supervision of lawyers, are also part of this education. Clinical Legal Education is an important instrument for law students to gain practical experience with lawyering abilities and to provide legal services to the underprivileged.
Read Next:
1. 9 Best Novels for Law Students and Advocates
2. Different Duties of an Advocate
3. Art of Cross-Examination in Court