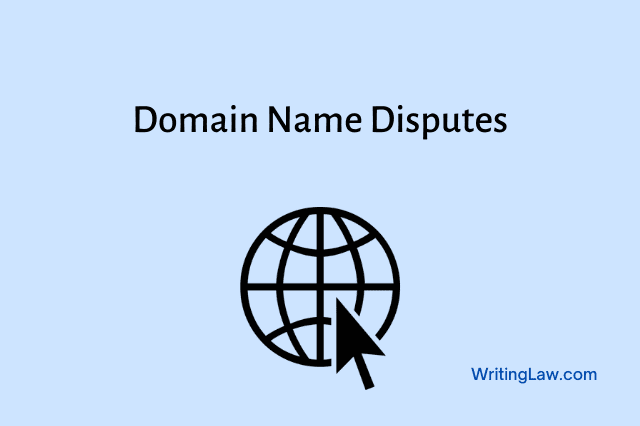 Introduction
During the early stages, the businesses gave little or no importance to domain names. They are treated as simply being a web address. As the usage of the internet expanded, more users and businesses joined the competition, making it necessary for businesses to thrive with a unique identity. Hence came the necessity of having the domain names registered.
Domain name disputes arose as a company decided to register its trademark as a domain name and found out that the same domain name is being used by someone else. Thus the question was raised as to whether or not domain names are to be considered as trademarks.
People argue and differentiate the same by standing on both extreme ends. One side argues that domain names are unique indicators, and it is not just the address of the homepage of a given website but also a specific indicator.
However, as in the case of many developed countries, India does not have a separate law for dealing with domain name disputes. Therefore, domain name disputes and cybersquatting are dealt with under trademark law.
This article deals with domain name disputes and their various aspects, including the remedies available and the role of WIPO in dispute resolution.
What Is a Domain Name?
IP address stands for Internet Protocol. It is the unique address of the website or a device that helps identify that website or device on the enormous worldwide web or a local network. In other words, just like your home address which is specific to you, an IP address is the unique address of a website or device like your phone, laptop, etc.
IP addresses are strings of numbers, and it is impossible to identify or remember them easily. For example, 192.158. 1.38 is an IP address.
A domain name is used to recognise IP addresses (IP – Internet Protocol). In other words, a domain name is a simpler way to remember, type and access websites.
IP address includes a personal computer accessing the internet, a server computer that hosts a website or a website itself. It refers to any alphanumeric designation registered with any registrar, registry, or other domain name registration authority that is part of an electronic address on the internet.
For example, our domain name is WritingLaw.com, and it's registered with GoDaddy (an ICANN recognised organisation that lets you register domain names). Google.com, Apple.com, Wikipedia.org, YouTube.com, India.gov.in, Facebook.com, and FB.com are all domain names.
What Is Cybersquatting?
Cybersquatting refers to the practice where names of well-known, reputed and significant companies are registered as domain names to resell them for profits. People do such acts with the ill faith of trading the same for profits.
Domain Name Dispute Resolution in India
A person can register domain names in India. The Internet Corporation for Assigned Names and Numbers (ICANN) approved Uniform Domain Name Dispute Resolution Policy in 1999 (UDRP or UDNDRP). Uniform Domain Name Dispute Resolution Policy provides for the procedures that are to be adopted for a fast, seamless and convenient redressal of Domain Name Disputes.
On the lines of this policy, the ".IN" Registry formulated the IN Domain Name Dispute Resolution Policy (INDRP). Thus, the INDRP sets out the guidelines, terms and conditions for resolving a domain name dispute issue.
When an issue as to domain name dispute arises, the complainant being a registrant (one who has registered and is the holder of.IN internet domain name), can lodge a complaint with the ".IN " registry.
Uniform Domain Name Dispute Resolution Policy (UDRP or UDNDRP)
The Internet Corporation for Assigned Names and Numbers (ICANN) approved UDRP in 1999. UDRP mainly deals with the provisions concerning domain name dispute resolution. This acts as a role model policy that deals with e-commerce. This policy is formulated to resolve disputes between the registrars and the domain name holders or registrants.
As per this policy, the registrars are bound to add a provision in their agreement that makes the registrants bound to follow UDRP and adhere to the consequences. The Uniform Domain Name Dispute Resolution Policy (UDRP) aims to resolve the disputes through alternative remedies, which is to not depend on court litigation every time.
Differences in the Functioning of UDRP and INDRP
IN Domain Name Dispute Resolution Policy (INDRP) only deals with the disputes arising out of a domain name registered and which is being used in the ".in" internet domain name. Whereas Uniform Domain-Name Dispute-Resolution Policy (UDRP) deals with the disputes arising out of any domain name. Moreover, UDRP deals with the instances in which domain names are cancelled, transferred and changed. INDRP does not provide for the same. Thus, domain name disputes are dealt with internationally using UDRP and nationally using INDRP.
Remedies Available Through UDRP
These are the remedies available under Uniform Domain-Name Dispute-Resolution Policy:
A complaint can be brought before the ADR (Alternate Disputes Resolution) providers of UDRP:
If the domain name is the same or is similar to that of the complainant's trademark, or

If the domain name has been registered and is being used with an ill intention to resell the same, or

If the current domain name holder has no connection or legitimate interest in the same.
Two remedies are available under UDRP:
Cancelation of the domain name, and

Transferring of the domain name.
The most common remedy is the transfer of the domain name. The reason is that the cancellation will lead to the domain name being available for use again on the internet for registration.
Role of WIPO in Domain Name Dispute Resolution
World Intellectual Property Organisation (WIPO) is a specialised agency of the United Nations. It took the mandate to promote the protection of intellectual property worldwide. After consultations with the members, WIPO prepared a detailed report containing recommendations for domain name issues. Based on the recommendations so provided, ICANN decided to adopt the UDRP.
World Intellectual Property Organisation also acts as a provider for dispute resolution mechanisms. The arbitration and mediation centre of WIPO provides time and cost-effective methods. WIPO has dealt with more than 50,000 cases.
Conclusion
As stated above, the law relating to domain name dispute and cybersquatting is dealt with under the trademark law. As in the case of developed countries, India is also in need of a more specific law. Both INDRP and URDP follow similar processes, but there are many procedural differences as well.
Domain names are indeed one of the key elements of e-commerce. Moreover, domain names act as an identity and create awareness as to what the brand value of the company is. It creates credibility and mobility for businesses.
In People Interactive Pvt. Ltd. vs Vivek Pahwa and Ors (2016), it was held that the domain names are just like the terrestrial or physical addresses. It directs a user to a particular part of the web. Therefore, domain name registration is really important for a safe and secure trade activity or e-commerce activity.
Read Next:
1. Smell Marks – Scope and Development in the Indian Trademark Law
2. 4 Lessons for Law Students From "To Kill a Mockingbird"