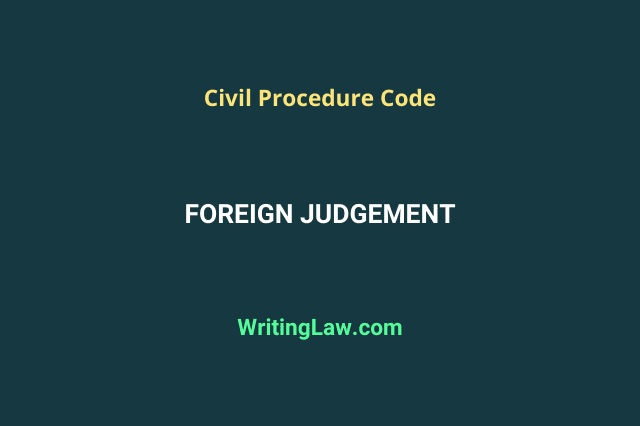 Sections 13 and 14 of the Civil Procedure Code enact (put into practice) the rule of res judicata in the case of foreign judgements. These CPC provisions represent the principle of private international law that a judgement given by a foreign court of competent jurisdiction can be enforced by an Indian court and acts as res judicata (a matter judged or a thing decided) between the parties.
The rule under section 13 of the Civil Procedure Code is substantive law, not just a procedural rule.
This CPC law note tells you the meaning of foreign judgement and when a foreign judgement is not enforceable in India.
What Is a Foreign Court as Per CPC?
The term foreign court is defined in section 2(5) of the Civil Procedure Code as a court situated outside India and not established or continued by the authority of the Indian central government.
What Is a Foreign Judgement as Per CPC?
The term foreign judgement has been defined in section 2(6) of the Civil Procedure Code as a judgement of a foreign court.
Jurisdiction of a Foreign Judgement
In Sankaran Govindan vs Lakshmi Bharathi (1974), the Supreme Court held that it is a well-established proposition in private international law that unless a foreign court has international jurisdiction, a judgement that's delivered by that court will not be recognised or enforced in India.
Foreign Judgement When Not Binding
According to the Code of Civil Procedure, a foreign judgement is conclusive as to any matter directly adjudicated on by it between the same parties or between parties who claim to litigate under the same title.
However, there are some situations when a foreign judgement is not conclusive in India, and these situations are:
1. Foreign Judgement Not by a Competent Court
It is a fundamental principle of law that a judgement or order passed by a court with no jurisdiction is null and void. Thus, for a foreign court's decision to be binding on the parties in India, it must be rendered by a court of competent jurisdiction.
2. Foreign Judgement Not on Merits
A foreign judgement on the merits of the case must have been rendered for it to serve as res judicata. A judgement is said to be given on merits when, after taking evidence and applying mind to the truth or falsity of the plaintiff's case, the judge decides the case one way or the other.
3. Foreign Judgement Against International or Indian Law
A decision based on an incorrect understanding of international law or a refusal to recognise Indian law where such law is applicable is not conclusive (which cannot be contradicted). However, the error must be visible on the surface of the proceedings.
4. Foreign Judgement Opposed to Natural Justice
A court's decision must be obtained after the proper judicial procedure has been followed. The minimum requirements of natural justice must be met, such as the judgement being delivered fairly, without bias, in good faith, and after both parties have been heard. A judgement rendered without giving the defendant notice of the suit or allowing him a reasonable opportunity to present his case is contrary to natural justice.
5. Foreign Judgement Obtained by Fraud
A well-established principle of private international law is that a foreign judgement obtained through fraud will not serve as res judicata. It is a well-known proverb that fraud and justice never coexist.
6. Foreign Judgement Founded on a Breach of Indian Law
If a foreign judgement is based on a violation of any law in force in India, that foreign judgement would not be enforced in India. Every case heard by an Indian court must be resolved in accordance with the Indian laws.
In Satya vs Teja Singh (1974), the Supreme Court of India held that it is implicit (implied or understood) that foreign law and foreign judgement would not offend against the Indian public policy.
Presumption as to Foreign Judgement
Section 14 of the Civil Procedure Code states that upon producing any document purporting to be a certified copy of a foreign judgement, the court shall presume that a court of competent jurisdiction pronounced such judgement unless the contrary appears on the record or is proven.
Read Next:
1. What Is International Law and Why People Should Respect It?
2. Trial of Offences Committed Outside India Explained Under CrPC