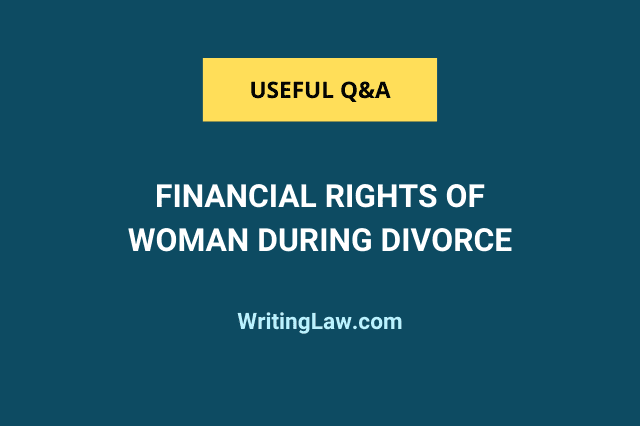 Often women have to sacrifice their careers to look after their husbands and children. Due to all these, at the time of divorce, a woman is provided with some financial rights to fulfil her basic needs. These rights are provided under Hindu Law which includes:
1. Right to Streedhan
Section 14 of the Hindu Succession Act, 1956 provides absolute ownership to the woman on all the movable and immovable gifts like jewellery, property, etc., which she receives from her parents, friends or in-laws before, during or after her marriage. It is her absolute right to do whatever she wants to do with her Streedhan. Streedhan is given voluntarily out of love and affection.
2. Right to Property
At the time of divorce, the woman can claim property that she and her husband jointly own. In the case of ancestral and self-acquired property of the husband, no right is provided to a woman after divorce. She can claim right only on property owned jointly.
3. Right to Maintenance
Under section 125 of the Criminal Procedure Code, 1973 woman is entitled to maintenance after divorce. Also, section 24 and section 25 of the Hindu Marriage Act give the right to maintenance to a husband (and wife too) if he is incapable of earning an independent income. The quantum of maintenance depends on the facts and circumstances of the case.
Note: This paragraph has mentioned section 24 and section 25 of the HMA, which deal with the right to maintenance provided to a husband. Maintenance could be pendente lite (during the proceedings) as well as permanent lifetime maintenance. So combining sections 24 and 25, "Maintenance provided to husband is permanent maintenance during lifetime as well as pendente lite." See section 24 of HMA, for more.
4. Right to Child Custody
In case of divorce, a woman also has a right to claim for child's custody, even if she is not earning any income. In fact, the husband is entitled to provide maintenance to both wife and children.
You'll also like:
1. 13 Ways of Divorce in Muslims
2. Hindu Succession Act, 1956
3. What is Muta Marriage?
4. 12 Most Important Legal Rights of Indian Women
5. Women Land Rights – Laws, Lack of Rights, and More