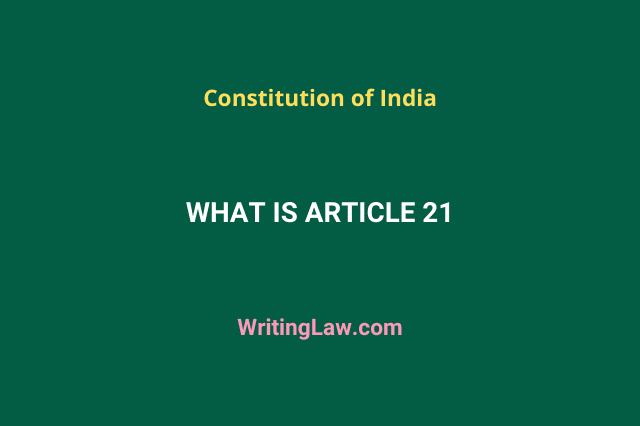 Article 21 is said to be the heart of the Indian Constitution. It is also essential for democracy because Article 21 applies to all people, not just citizens. Every person, whether a citizen or an alien, has this right. As a result, anyone, including a foreigner, can claim this right.
In this law note, we will discuss everything about Article 21 of the Constitution of India with the help of important case laws.
Scope of Article 21
Article 21 protects the life and personal liberty of the citizens. It states that no one will be deprived of their life or personal liberty unless according to the procedure established by law.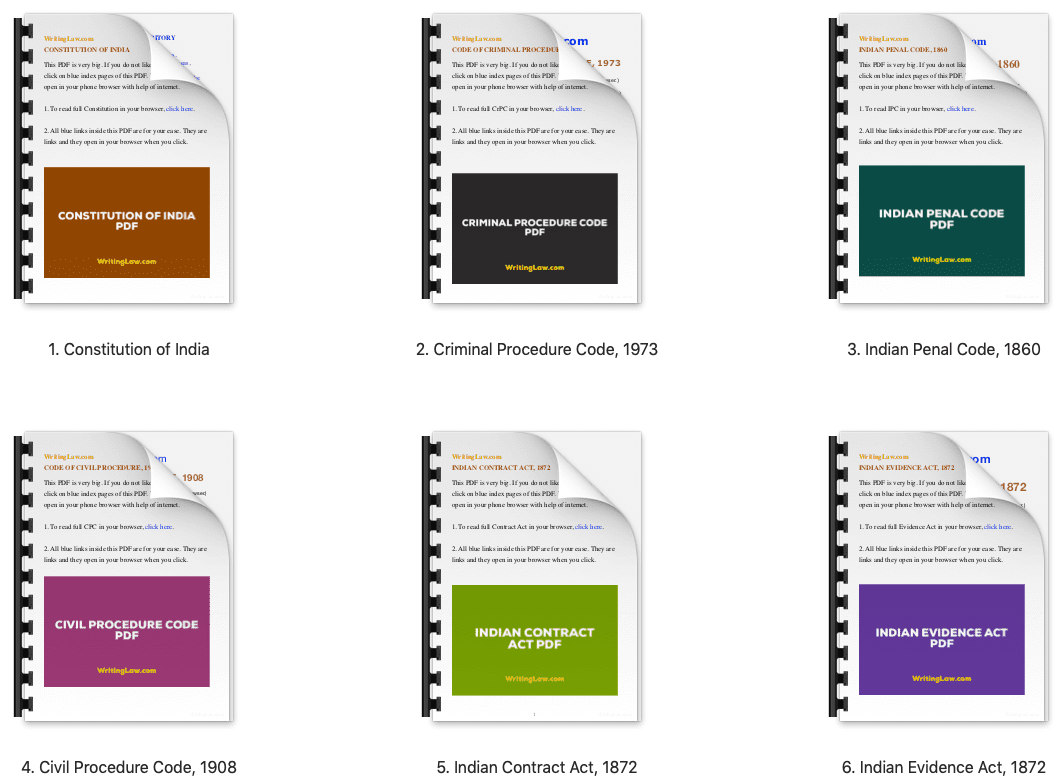 Due Process of Law
Due process is the concept that the government must respect a person's legal rights as defined by the law. It gives wide scope to the court to grant protection of rights to its citizens and checks whether the law which is questioned is fair and not arbitrary in any case.
Procedure Established by Law
'Procedure established by law' indicates that a law that has been duly adopted by the legislature or by the body on whom the question is raised is valid if the method for enacting it has been followed correctly.
AK Gopalan vs State of Madras (1950)
AK Gopalan was a communist leader arrested under the Preventive Detention Act of 1950. He challenged his detention on the grounds that his civil liberties were being harmed, but the Supreme Court ruled that he was taken into custody while following the legal procedures.
Must See: Rights and Safeguards of Arrested/Accused Person Under Indian Laws
Personal Liberty
A person cannot be arrested or convicted without letting him know the reason for his arrest, and the person must be told about his rights, such as the right to have a lawyer, right to bail, etc. After that, a person can be arrested only after following the procedure established by law.
Maneka Gandhi vs Union of India (1978)
The passport of Maneka Gandhi was seized under section 10(3)(c) of the Passport Act, 1967. She was not given any reasons for seizing her passport. Without a passport, one cannot travel outside of India. So, Maneka Gandhi filed a writ petition under Article 32 of the Indian Constitution for violating her liberty under Article 21.
According to a 7-judge panel, Articles 14, 19 and 21 of the Indian Constitution go hand in hand. This is why we call Articles 14, 19, and 21 the "golden triangle of the Indian Constitution".
Supreme Court overruled A.K. Gopalan case and ruled that a law should be 'just, fair and reasonable'. Moreover, Article 21 of the Constitution can be invoked against arbitrary, executive, as well as arbitrary legislative action if the action is not 'just, fair and reasonable.
Maneka Gandhi case was a landmark decision that widened the scope of Article 21 considerably.
Must Read: Maneka Gandhi vs Union of India Explained in Simple Words
Meaning of Life
In the case of Francis Coralie Mullin vs Union Territory of Delhi (1981), the Supreme Court said that life is not merely breathing. It is living with choice and dignity.
Facets of 'Life and Liberty'
Right to life includes various other rights as well. Some important legal rights related to the right to life are discussed below:
Right to Live with Human Dignity
It states that everyone has the absolute right to a dignified life free of discrimination. They have the right to expect equal respect from both the state and other people.
Occupational Health and Safety Association vs Union of India (2014)
This case has led down the essential conditions for a worker to live with human dignity. They are:
Protection of health and strength of workers.

Access to just and humane conditions of work.
Navtej Singh Johar vs Union of India (2018)
Section 377 of the IPC was held unconstitutional as it criminalises homosexual acts between consenting adults. Human dignity is an important consideration of this judgment as it is not just a simple concept. Instead, it includes all the rights and freedoms that allow individuals to live their lives without sacrificing their self-respect, pride, or safety.
Right to Self-Determination of Gender Is Fundamental Right
The right to select one's gender identity is a vital part of the right to a decent quality of life and hence falls under the purview of the Indian Constitution's right to life.
Right to Livelihood
The right to livelihood is an equally vital aspect of the right to life because no one can exist without a source of livelihood. Basic shelter, food, education, employment, and medical care are all examples of livelihood.
Right to Health and Medical Assistance
Under Article 21 of the Constitution of India, every person has the right to have proper healthcare and medical assistance, which includes support in case of a medical emergency.
Parmanand Katara vs Union of India (1994)
Supreme Court held that doctors (private or government) are obliged to extend medical assistance to injured immediately without asking for legal formalities.
Right to Privacy
Article 21 also protects the rights to privacy of an individual, and the person has the whole sole right to keep his or her information private.
People's Union for Civil Liberties vs Union of India (1997)
Telephone tapping is a violation of Fundamental Rights unless reasonable grounds exist for doing the same.
Justice K.S. Puttaswamy (Rtd.) and Anr. vs Union of India (2019)
Aadhaar (Targeted Delivery of Financial and Other Subsidies, Benefits and Services) Act, 2016 was held to be constitutional, but some individual sections violating Fundamental Rights were struck down.
Right to Sleep
In the landmark case of Ramlila Maidan vs Home Secretary, Union of India (2012), the right to sleep was recognised as a Fundamental Right under Article 21 of the Indian Constitution.
Right to Education
The Constitution 86th Amendment Act, 2002 introduced Article 21A into the Indian Constitution, making it a Fundamental Right to offer free and compulsory education to all children between six to fourteen years of age in such a manner as the state may think appropriate according to the law.
Mohini Jain vs State of Karnataka (1992)
The right to education at all levels was held to be a Fundamental Right.
Right to Die
The concept of the right to die is attached to the concept of euthanasia. Therefore, let us understand the term euthanasia and its kinds.
Euthanasia
The painless killing of a patient suffering from an incurable and terrible illness or in an irreversible coma or vegetative state is known as euthanasia. It is also referred to as mercy killing. There are two sorts of euthanasia:
Active Euthanasia: It is the killing of a person by using active methods to bring him to death. For example: Giving some drugs or medicines to a person so that he can die.
Passive Euthanasia: In this, all the supporting instruments of the person are removed, which are keeping him alive, and the person dies automatically. For example: The supporting instruments such as oxygen will be removed, and the person will die automatically.
Aruna Ramchandra Shanbaug vs Union Of India & Ors (2011)

also called

Aruna Shanbaug Case

A nurse named Aruna Shanbaug worked in a hospital in Mumbai in 1973. She was sexually assaulted by a ward boy and went into a coma. She was in a coma for 37 years, and her body started shrinking. Therefore, a petition was filed in the Bombay High Court stating that "life" is living with choice and dignity and in this case, there is no choice and dignity in Aruna's life. Therefore, mercy killing, i.e. euthanasia, was prayed before the court.

Bombay High Court denied the petition, and the case was brought in front of the Supreme Court.

The Supreme Court said there are two types of euthanasia, i.e. active euthanasia and passive euthanasia. In this case, the court granted passive euthanasia, which was the first time passive euthanasia was allowed in India.

Read Next:
1. 14 Famous Cases Related to Article 21
2. Right to Freedom of Religion Under the Indian Constitution
3. What Is the Mini Constitution of India and Changes It Added

ABOUT OUR AUTHOR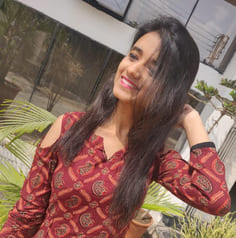 Anushka Saxena is pursuing B.A.L.L.B (3rd year) from the Indore Institute of Law. She is hard-working, dedicated and committed to her work. She loves to explore new things and gain knowledge.
WritingLaw » Law Notes »