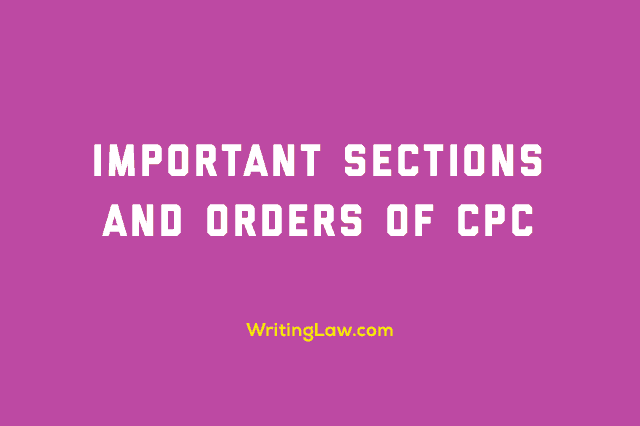 Civil Procedure Code of 1908 is a procedural law that is related to the administration of civil proceedings in India. This is an important subject that is a part of all law exams. To help you prepare better, here is a list of the most important sections, Orders & Rules of the Civil Procedure Code. These are from an exam's point of view in 2023.
Important Sections of the Civil Procedure Code
The sections of CPC provide provisions that are related to general principles of jurisdiction.
Section 2. Definitions.
Section 6. Pecuniary jurisdiction.
Section 9. Courts to try all civil suits unless barred.
Section 10. Stay of suit.
Section 11. Res-judicata.
Section 12. Bar to further suit.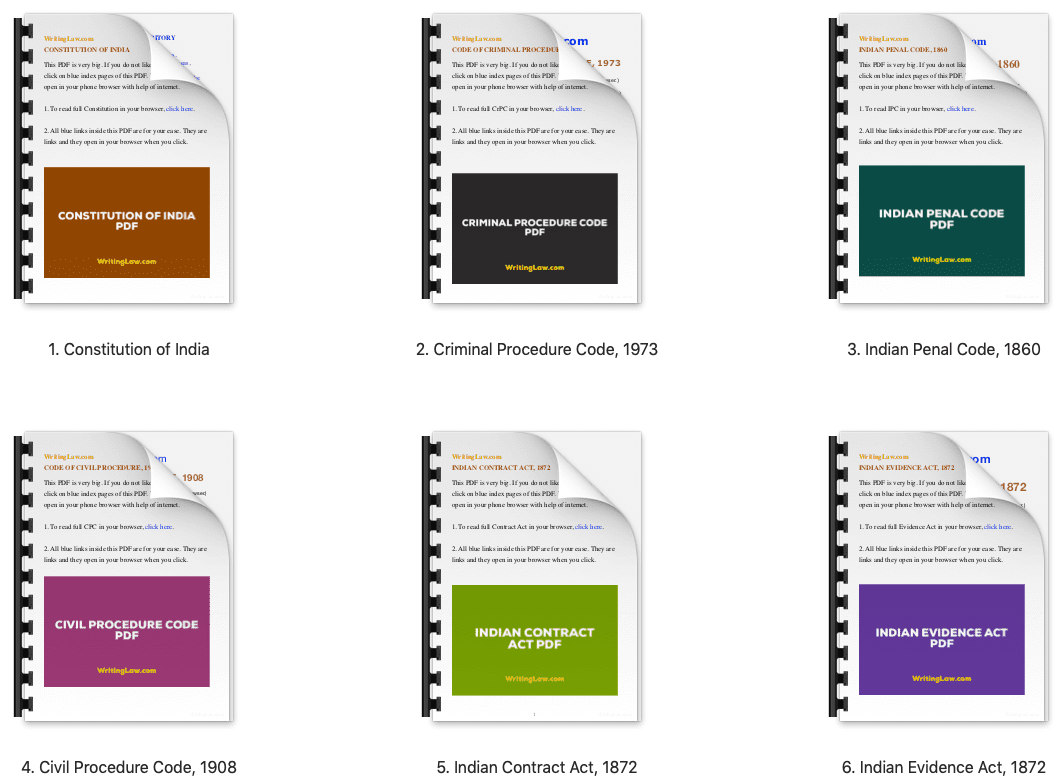 Section 13. When foreign judgment not conclusive.
Section 14. Presumption as to foreign judgments.
Section 15. Court in which suits to be instituted.
Section 16. Suits to be instituted where subject-matter situate.
Section 17. Suits for immovable property situate within jurisdiction of different Courts.
Section 18. Place of institution of suit where local limits of jurisdiction of Courts are uncertain.
Section 19. Suits for compensation for wrongs to person or movable.
Section 20. Other suits to be instituted where defendants reside or cause of action arises.
Section 21. Objections to jurisdiction.
Section 21A. Bar on suit to set aside decree on objection as to place of suing.
Section 22. Power to transfer suits which may be instituted in more than one Court.
Section 23. To what Court application lies.
Section 24. General power of transfer and withdrawal.
Section 25. Power of Supreme Court to transfer suits, etc.
Section 26. Institution of suits.
Section 27. Summons to defendants.
Section 28. Service of summons where defendant resides in another State.
Section 29. Service of foreign summonses.
Section 30. Power to order discovery and the like.
Section 31. Summons to witness.
Section 32. Penalty for default.
Section 33. Judgment and decree.
Section 34. Interest.
Section 35. Costs.
Section 39. Transfer of decree.
Section 46. Precepts.
Section 52. Enforcement of decree against legal representative.
Section 55. Arrest and detention.
Section 56. Prohibition of arrest or detention of women in execution of decree for money.
Section 60. Property liable to attachment and sale in execution of decree.
Section 77. Letter of request.
Section 78. Commissions issued by foreign Courts.
Section 79. Suits by or against Government.
Section 80. Notice.
Section 82. Execution of decree.
Section 89. Arbitration.
Section 91. Public nuisances and other wrongful acts affecting the public.
Section 92. Public charities.
Section 96 to Section 112 – Appeals.
Section 113 to Section 115 – Reference, Review and Revision.
Section 144. Application for restitution.
Section 148. Enlargement of time.
Section 148A. Right to lodge a caveat.
Section 151. Saving of inherent powers of Court.
Section 152. Amendment of judgments, decrees or orders.
Section 153. General power to amend.
Important Orders and Rules of Civil Procedure Code
The Orders and Rules of Civil Procedure Code prescribe procedures and methods that govern civil proceedings in the country.
Rule 1. Who may be joined as plaintiffs.
Rule 3. Who may be joined as defendants.
Rule 9. Mis-joinder and non-joinder.
Rule 10. Suit in name of wrong plaintiff.
Rule 13. Objections as to non-joinder or mis-joinder.
Rule 1. Frame of suit.
Rule 3. Joinder of causes of action.
Rule 7. Objections as to mis-joinder.
Rule 1. Suit to be commenced by plaint.
Rule 2. Register of suits.
Rule 1. Summons.
Rule 3. Court may order defendant or plaintiff to appear in person.
Rule 9. Delivery or transmission of summons for service.
Rule 9A. Summons given to the plaintiff for service.
Rule 15. Where service may be on an adult member of defendant's family.
Rule 17. Procedure when defendant refuses to accept service, or cannot be found.
Rule 20. Substituted service.
Rule 24. Service on defendant in prison.
Rule 28. Service on soldiers, sailors or airmen.
Rule 30. Substitution of letter for summons.
Rule 1. Pleading.
Rule 2. Pleading to state material facts and not evidence.
Rule 3. Forms of pleading.
Rule 16. Striking out pleadings.
Rule 17. Amendment of pleadings.
Rule 18. Failure to amend after order.
Rule 1. Particulars to be contained in plaint.
Rule 4. When plaintiff sues as representative.
Rule 10. Return of plaint.
Rule 11. Rejection of plaint.
Rule 14. Production of document on which plaintiff sues.
Rule 1. Written statement.
Rule 1A. Duty of defendant to produce documents upon which relief is claimed or relied upon by him.
Rule 6. Particulars of set-off to be given in written statement.
Rule 6A. Counter-claim by defendant.
Rule 6B. Counter-claim to be stated.
Rule 1. Parties to appear on day fixed in summons for defendant to appear and answer.
Rule 3. Where neither party appears, suit to be dismissed.
Rule 5. Dismissal of suit where plaintiff after summons returned unserved, fails for one month to apply for fresh summons.
Rule 6. Procedure when only plaintiff appears.
Rule 8. Procedure where defendant only appears.
Rule 13. Setting aside decree ex-parte against defendant.
Rule 14. No decree to be set aside without notice to opposite party.
Rule 1. Ascertainment whether allegations in pleadings are admitted or denied.
Rule 1A. Direction of the court to opt for any one mode of alternative dispute resolution.
Rule 3. Substance of examination to be written.
Rule 1. Framing of issues.
Rule 3. Materials from which issues may be framed.
Rule 5. Power to amend and strike out issues.
Rule 1. Parties not at issue.
Rule 2. One of several defendants not at issue.
Rule 3. Parties at issue.
Rule 4. Failure to produce evidence.
Rule 6. Summons to produce document.
Rule 10. Procedure whose witness fails to comply with summons.
Rule 12. Procedure if witness fails to appear.
Rule 1. Court may grant time and adjourn hearing.
Rule 2. Procedure if parties fail to appear on day fixed.
Rule 3. Court may proceed notwithstanding either party fails to produce evidence, etc.
Rule 1. Judgment when pronounced.
Rule 6. Contents of decree.
Rule 6A. Last paragraph of judgment to indicate in precise terms the reliefs granted.
Rule 12. Decree for possession and mesne profits.
Rule 1. Provisions relating to certain items.
Rule 2. Costs to be awarded in accordance with the rules made by High Court.
Rule 3. Lands situate in more than one jurisdiction.
Rule 6. Procedure where Court desires that its own decree shall be executed by another Court.
Rule 9. Execution of High Court of decree transferred by other Court.
Rule 11. Oral application.
Rule 18. Execution in case of cross-decrees.
Rule 19. Execution in case of cross-claims under same decree.
Rule 24. Process for execution.
Rule 26. When Court may stay execution.
Rule 42. Attachment in case of decree for rent or mesne profits or other matter, amount of which to be subsequently determined.
Rule 58. Adjudication of claims to, or objections to attachment of, property.
Rule 1. Cases in which Court may issue commission to examine witness.
Rule 9. Commissions to make local investigations.
Rule 10. Procedure of Commissioner.
Rule 10A. Commission for scientific investigation.
Rule 10B. Commission for performance of a ministerial act.
Rule 10C. Commission for the sale of movable property.
Rule 11. Commission to examine or adjust accounts.
Rule 13. Commission to make partition of immovable property.
Rule 16. Powers of Commissioners.
Rule 19. Cases in which High Court may issue commission to examine witness.
Rule 1. Minor to sue by next friend.
Rule 2A. Security to be furnished by next friend when so ordered.
Rule 4. Who may act as next friend or be appointed guardian for the suit.
Rule 1. Suits may be instituted by indigent person.
Rule 3. Presentation of application.
Rule 4. Examination of applicant.
Rule 5. Rejection of application.
Rule 9. Withdrawal of permission to sue as an indigent person.
Rule 1. Plaint in interpleader-suit.
Rule 5. Agents and tenants may not institute interpleader suits.
Rule 7. Mode of making attachment.
Rule 9. Removal of attachment when security furnished or suit dismissed.
Rule 11. Property attached before judgment not to be re-attached in execution of decree.
Rule 11A. Provisions applicable to attachment.
Rule 12. Agricultural produce not attachable before judgment.
Rule 1. Cases in which temporary injunction may be granted.
Rule 3A. Court to dispose of application for injunction within thirty days.
Rule 1. Appointment of receivers.
Rule 3. Duties.
Rule 2. Grounds which may be taken in appeal.
Rule 5. Stay by Appellate Court.
Rule 37. Certified copy of decree to be sent to Court whose decree appealed from.
Rule 1. Procedure.
Rule 1A. Right to challenge non-appealable orders in appeal against decree.
Rule 1. Who may appeal as an indigent person.
Rule 3. Inquiry as to whether applicant is an indigent person.
Rule 1. Reference of question to High Court.
Rule 4A. Reference to high Court under proviso to section 113.
Rule 1. Application for review of judgment.
Rule 4. Application where rejected.
So these were all the essential and most important Sections and Orders of Civil Procedure Code. However, this does not mean that you completely ignore other sections and orders of CPC.
Civil Procedure Code for Exams
When you are preparing for your exams, it is recommended that you match your syllabus with the content above and proceed accordingly. The list here is only to ease your preparation. This does not mean that everything else in CPC is of no use. You must never appear in an exam without reading a bare act completely. Devote most time to important sections, orders, and rules, but do not abandon the rest.
WritingLaw » Law Notes »