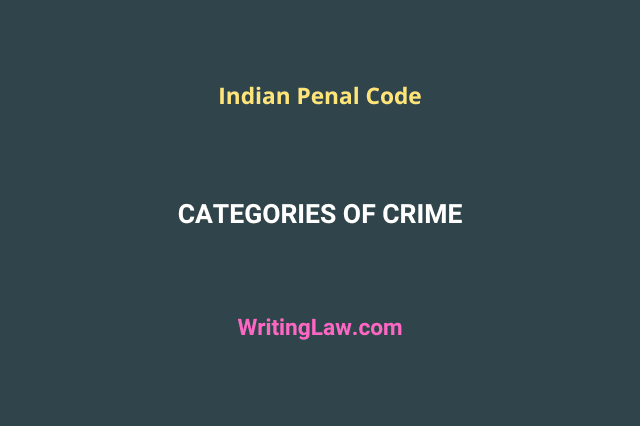 The classification of crimes into different categories is generally based according to their gravity or atrocity.
In English law, they have been placed under two broad categories:
Felonies
Misdemeanours
Felonies refer to more serious offences, whereas misdemeanours refer to less serious offences.
However, in Indian law, that is under the Indian Penal Code, 1860, various offences are classified into seven broad categories:
Seven Categories of Crime as Per IPC
Let us discuss the above categories of crime one by one. To read more about them, use the blue internal links. When you click a link, it will automatically open in a new browser tab.
1. Offences Against the Human Body
Whoever causes any harm or injury to the human body comes under this category. Chapter 16 of the Indian Penal Code contains the offences against the human body, which are considered heinous crimes. They are discussed in sections 299 to 377 of IPC. These include murder, attempt to murder, culpable homicide, dowry death, kidnapping and abduction, etc.
Note: The Indian Penal Code does not include offences against animals, but it covers all the aspects of offences that affect the human body.
2. Offences Against Property
Offences committed against any property, whether movable or immovable, comes under chapter 17 of the Indian Penal Code, which contains the offences against property. They are described from sections 378 to 462 of IPC. These offences include dacoity, preparation for dacoity, robbery, preparation for robbery, extortion, theft, mischief, housebreaking, etc.
3. Offences Relating to Public Tranquillity
In simple terms, whoever disturbs the peace of society, commits the offence relating to public tranquillity. (Tranquillity means free from disturbance; calm.) Offences against public peace are mentioned in chapter 8 of the Indian Penal Code from sections 141 to 160. These include unlawful assembly, rioting, affray, etc.
4. Offences Relating to Document
Chapter 18 of the Indian Penal Code mentions offences relating to documents and property marks. They are covered from sections 463 to 489E of IPC. These include forgery, falsification of accounts, using forged documents or property marks, counterfeiting currency notes or banknotes, etc.
5. Offences Against Women and Children
The Indian Penal Code deals with various offences against women and children. They are covered in different chapters and scattered throughout the IPC. Against women, these offences include grievous hurt by acid attack (section 326A, 326B), attacking modesty of women (section 354), rape (section 376), voyeurism (section 354C), stalking (section 354D), etc. Against children, it includes acts done with causing the death of a quick unborn child (section 316), abandoning a child (section 317), kidnapping (sections 359 to 361), maiming (section 363A), etc.
6. Offences Against the State and Terrorism
The offences that are planned against the Government of India are established by law and considered offences against the state. Chapter 6 of the Indian Penal Code, from sections 121 to 130, deals with crime against the state. These include waging war, sedition, etc.
7. Offences Relating to Elections
Elections are essential to ensure the smooth running of a state, and thus they must be carried out in a fair manner. Chapter 9A of the Indian Penal Code deals with the offences relating to elections. The main aim is to conduct free and fair elections so that nobody is influenced while exercising their legal rights. They are covered under sections 171A to 171I of IPC. These include bribery, personation at elections, undue influence at elections, etc.