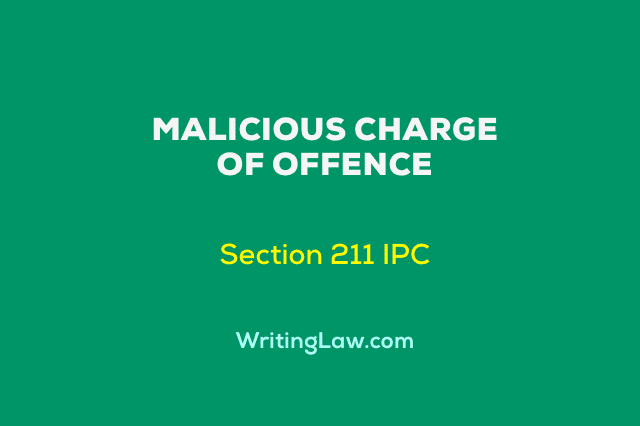 Section 211 of the Indian Penal Code, 1860 states that:
Whoever intentionally causes injury to any person, institutes or causes to institute any criminal proceeding against the person by making/fabricating false charges knowing that there is no lawful ground or proceeding against the person, shall either be imprisoned for a term up to two years or with fine or both.

If the criminal proceeding is instituted on a false and fabricated charge of an offence of capital punishment or imprisonment for a term of a minimum of seven years, shall be punished with imprisonment for a term of a maximum of seven years and a fine.
Introduction
As society is developing at a swift pace, the demand for stricter laws is rising. Laws are made for the safety of society. Still, some anti-social people are involved in wasting the time of courts by making false allegations, harassing the innocents by filing false litigations, etc. Now there is a trend to register false and fabricated FIRs for taking revenge and generating mental fear in the mind of the innocent. The police are bound to register the FIR in all cognizable cases and follow further procedures.
Nature
Section 211 of IPC is a bailable and a non-cognizable offence and is triable in the court of Judicial Magistrate, First Class.
Examples
Below are some examples of fabricated complaints that are viewed on a daily basis-
Matrimonial disputes under section 498A of IPC, Domestic Violence Act, etc., are on the rise in society, where women file false and fabricated complaints against their husbands and their relatives. (

Sheo Nath Singh vs Sujata

)
False complaints by people from SC/ST community under SC/ST Act to harass people from other communities. (

Gorigeh Pentaiah vs State of Andhra Pradesh

)
Love matters where the girl's family complains against the partner for kidnapping and abduction. (

Fazle Gaffar Khan vs State of West Bengal

)
Civil disputes where the lady members of the complainant file false and fabricated FIR/cases against the opposite party male members.
To get undue gains and advantages, different provisions of sexual harassment are followed by women.
What to Do if a False Case or FIR Is Registered Against You?
There is no need to panic, especially for those who are victims at first instance.
Attend the complaints/cases and try to defend them to the fullest.
Apply to session judge or high court for anticipatory bail under section 438 CrPC to apprehend the arrest.
File a writ petition under Article 226 before the High Court to quash the FIR mentioning sufficient grounds.
The most stringent action the victim can take against the complainant is section 211 IPC. But, firstly, the victim needs to be a judgement creditor (after being discharged from the court) to initiate a case under section 211 of IPC.
There are other remedies, including filing a complaint under section 182 IPC, filing the application before the court under section 156(3) CrPC, making a private complaint under section 200 CrPC, etc.
Case Laws – Section 211 IPC
Radhika vs Wilson Sundararaj: The investigating officer can't be charged for false accusation under section 211 of IPC on the acquittal of the accused.
Rajkumar Indarchand Agarwal and Others vs State of Maharashtra and Others: To attract the provision of section 211 of IPC, the period of limitation would start running from the date of the alleged false complaint and not from dismissal or withdrawal of an alleged false complaint.
Conclusion
Every citizen is guaranteed fundamental, constitutional and legal rights by the state to live in society. Some anti-social people use different Acts and statutes against the innocents to harass and blackmail them for unlawful gains. Registration of fake, false and fabricated cases against the innocent is a curse for him as his reputation is damaged. He is seen as a tainted person in the eyes of society. Everyone must refrain from filing false and malicious cases and not burden our already overburdened judicial system.
Read Next:
1. Classification of Offence as Per CrPC
2. Delay in Civil Litigation – Dangers, Causes, and Suggestions