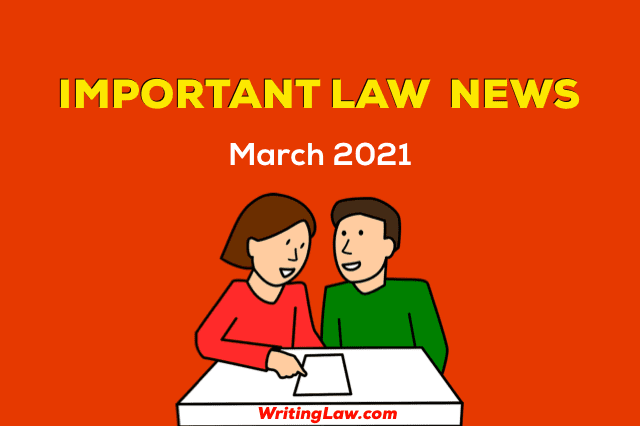 CLICK HERE TO READ THE LATEST LAW NEWS
31st March, 2021 (

Wednesday

)
1. The last three accused of the 2004 Ishrat Jahan's encounter case have been discharged by a special CBI court today. The three accused were Indian Police Service officer G.L. Singhal, State Reserve Police Commando Anaju Chaudhary and retired Director General of Police Tarun Barot. While delivering the order, the Court has stated that the act done by the accused was in the discharge of their duties or implied in the discharge of their duties. Full Story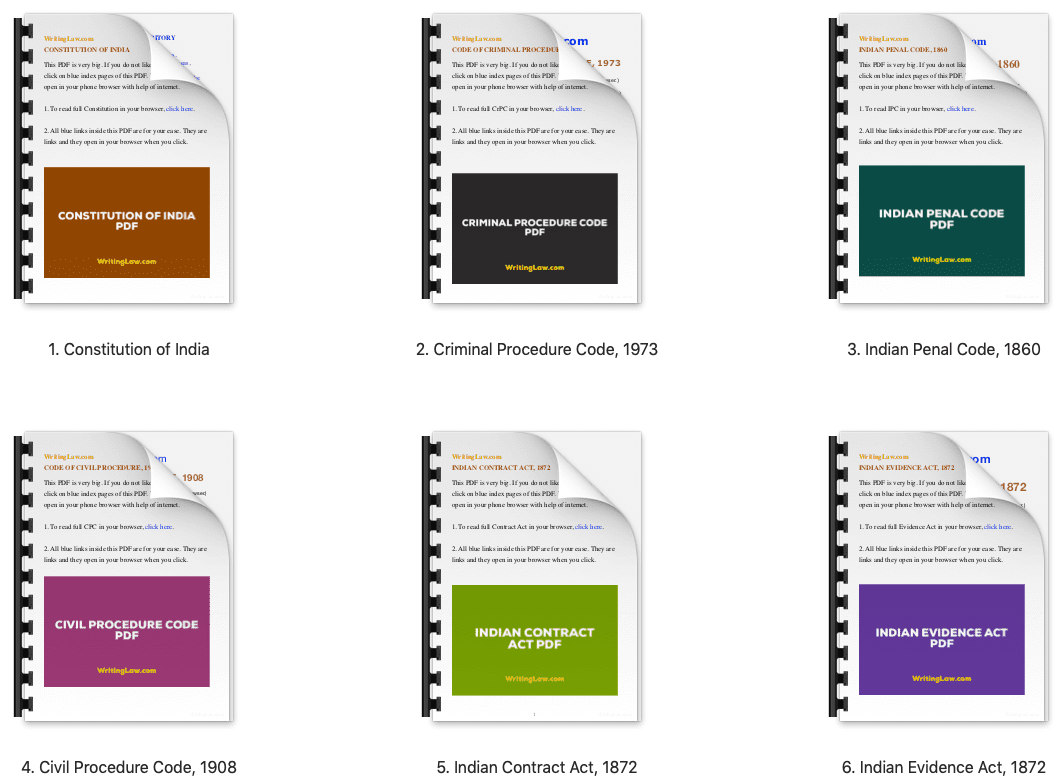 2. Abdul Nazir Maudany has moved to the Supreme Court requesting relaxation of the condition imposed by the Apex Court while permitting him bail on July 11, 2014. He is accused in the 2008 serial bomb blast case. Maudany has sought an exemption to the extent that he be permitted to travel to his hometown in Kerala till the pending period of the trial. Full Story
3. The High Court of Karnataka has instructed the state government to decide on an expression made to it aiming a ban on all forms of online betting and gambling. The petition is adjourned till June 1, 2021. Full Story
4. A plea filed by "Truth Pro Foundation India (TPFI)", a non-government organisation that runs the Kannada news portal Pratidhvani has been adjourned by two-weeks by the High Court of Karnataka. The plea has been filed challenging the recently notified Information Technology (Intermediary Guidelines and Digital Media Ethics Code) Rules, 2021 (IT Rules) which aims at regulating digital news portals. The plea wants to declare the rules as unconstitutional and ultra vires. Full Story
---
30th March, 2021 (

Tuesday

)
1. The Supreme Court has contemplated that a Public Interest Litigation cannot be disposed of only because the petitioner relates to a rival political party. The Court has observed this while providing interim relief to SK Supian, election agent of Bengal CM Mamta Banerjee. Interim relief has been granted to him for the matter of revived FIRs against him in the Nandigram violence case. Full Story
2. A committee has been formed by the Supreme Court to develop a "comprehensive traffic management plan" for Kaushambi, Ghaziabad. A guidance related to this has been passed in a writ petition filed by the President of the Kaushambi Apartments Resident Welfare Association under Article 32 of the Indian Constitution. Full Story
3. The Election Commission has instructed the High Court of Madras that electronic voting machines (EVMs) cannot be altered by any Wi-Fi or radio device and also that electronic devices are not capable of deterring with EVMs. Full Story
4. The High Court of Bombay has called for the petition filed by Dr. Jaishri Laxmanrao Patil with "copy-pasted pleadings" and without giving any clarity on the whereabouts of the petitioner to call upon the extra-ordinary jurisdiction of the Court. Full Story
5. While considering a plea filed by a same-sex couple, Justice N Anand Venkatesh of the High Court of Madras has observed that he is also in the process of unlearning pre-conceived ideas held by him on such matters. Further, the Court has enlisted the assistance of a counsellor who is specialised in working with LGBTQI+ persons with the consent of the couple and their parents. The counselling has been ordered to ensure the couple and their parents resolve differences between them. Full Story
---
29th March, 2021 (

Monday

)
1. The Supreme Court has agreed to investigate a petition filed by a group of academicians and researchers. The petition was filed requesting directions from the Central Government and the State to make guidelines to regulate investigating agencies in the country concerning seizure, examination and protection of personal digital and electronic devices and their contents. Full Story
2. The High Court of Karnataka has stated that under section 138 of the Negotiable Instruments Act, the service of notice through a registered post is proper service of notice, and there is no need to serve the notice under certificate of posting. Full Story
3. The High Court of Madhya Pradesh has called for a medical examination by a qualified doctor or a psychiatrist to know about the mental health of a lawyer, Vijaysingh Yadav, who is charged for sending offensive birthday wishes to a lady judge. The complainant has stated that Yadav has downloaded the judge's picture without any permission and sent the email to her official account. The matter will be further heard on April 15, 2021. Full Story
4. Goa-based restaurateur Jude Lobo has been awarded anticipatory bail by the Supreme Court in a special sitting held on Holi. He has been accused of raping a Delhi woman. A special sitting was held to hear Lobo's plea after the High Court of Delhi had dismissed his petition. Full Story
---
27th March, 2021 (

Saturday

)
1. Out of all states, Goa is the only one with a Uniform Civil Code that ensures a uniform personal law for all its state people irrespective of their religion. Article 44 says that the government shall try to have UCC in all of India. However, Article 44 is not enforceable as it is only a Directive Principle of State Policy. In the future, it may be enforced! This is debatable.
CJI Bobde recently said, "Goa has what the Constitutional framers envisaged for India, a Uniform Civil Code. It applies in marriage and succession, governing all Goans irrespective of religious affiliation. I have heard a lot of academic talk about the Uniform Civil Code. I would request all those intellectuals to simply come here and watch the administration of justice to know what it turns out to be". Full Story
2. The bench of Justices D. Y. Chandrachud and M. R. Shah has granted one final opportunity to Madhya Pradesh DGP to arrest BSP MLA's husband, who is a murder accused. The bench also warned them if the arrest is not made.
The bench said: "We find the affidavit of the Director-General of Police to be completely unacceptable. It defies reason as to how an accused who is the spouse of a sitting Member of the Legislative Assembly has not been arrested despite being arraigned in pursuance of the provisions of Section 319 of the Code of Criminal Procedure, 1973 to face trial for an offence under Section 302 of the Indian Penal Code, 1860″. Full Story
3. The apex court has issued a notice on a PIL filed by BJP Advocate Ashwini Upadhyay. The PIL seeks immediate steps for the deportation of all illegal immigrants and infiltrators. This includes Rohingyas and Bangladeshis living illegally.
His plea says: "Under the Foreigners Act, 1946 and in the exercise of the powers contained therein, the Central Government and State Governments must take concrete steps to detect and deport illegal immigrants". Full Story
---
26th March, 2021 (

Friday

)
1. Supreme Court ruled in favour of Tata Sons in the Tata Consultancy Services Limited vs Cyrus Investments Pvt. Ltd. And Ors. It said, 'We find all the questions of law are liable to be answered in favour of the appellants, Tata Group and the appeals filed by the Tata Group are liable to be allowed and Shapoorji Pallonji group is liable to be dismissed'. Renowned advocates Harish Salve and SN Mookerjee appeared for Ratan Tata. Full Story
2. India's top court, the Supreme Court, dismissed the transfer plea by MLA Mukhtar Ansari and has allowed his transfer from Punjab to UP. He shall be handed over to UP within two weeks and will be kept in Banda jail. Full Story
3. The High Court of Madras has declined to stop the use of the COVISHIELD vaccine without "clinching evidence". A Chennai-based business consultant had filed the petition claiming he suffered severe side effects due to a COVISHIELD dose in its third phase. Full Story
4. Bombay High Court has said to the State government that people with hearing and speech impairment will need special masks as they rely upon lips' movement to identify words. Plus, the court also remarked that why can't there be a uniform policy and penalty for not wearing masks during this pandemic. Full Story
---
25th March, 2021 (

Thursday

)
1. Supreme Court in the Maratha Quota Case said that 'All reservations may go and only EWS (Economically Weaker Sections) may remain, but that's a matter of policy'. Full Story
2. Supreme Court quashed an FIR against Shillong Times Editor Patricia Mukhim over a Facebook post and said that 'Free speech of the citizens of this country cannot be stifled by implicating them in criminal cases unless such speech has the tendency to affect public order'. Full Story
stifled: restrain (a reaction) or stop oneself acting on (an emotion) or make (someone) unable to breathe properly; suffocate
3. The Supreme Court said that there is no bar in considering advocates practicing in the Supreme Court for the judgeship position in High Courts. Full Story
---
24th March, 2021 (

Wednesday

)
1. SA Bobde, the Chief Justice of India, has suggested Justice NV Ramana as his successor to become the 48th Chief Justice of India. The term of SA Bobde is going to expire on April 23, 2021. Full Story
2. Supreme Court observed that 'a mere message or a telephonic message which does not clearly specify the offence, cannot be treated as an FIR'. Full Story
3. To administer and standardise the education and practice of allied and healthcare professionals in India, the National Commission for Allied and Healthcare Professions Bill, 2020 has been passed by the Lok Sabha. The Rajya Sabha has passed it on March 16. Full Story
4. Mob attacked the 19-year Muslim girl who voluntarily converted to the Hindu religion to get married to a 22-year-old boy belonging to the Valmiki community. Post marriage in the late night of March 20, a mob attacked their house, their locality, threatened to kill them and shouted casteist remarks. Delhi HC has granted police protection to the couple, looking after their safety and well-being. Full Story
5. After the case being investigated by SIT (Special Investigation Team), the Sessions Court of Faridabad held the accused Tausif and Rehan guilty in the Nikita Tomar murder case. Full Story
---
23rd March, 2021 (

Tuesday

)
1. The plea filed by Param Bir Singh, Former Mumbai Police Chief, will be heard tomorrow by the Supreme Court. The plea was filed requesting the CBI investigation in the corrupt malpractices of Anil Deshmukh, Home Minister of Government of Maharashtra. He has also challenged the order of government transferring him from the Mumbai Police Commissioner's post. Full Story
2. While hearing a Centre's petition regarding the transfer of pending cases for regulation of OTT platforms, including Netflix, Amazon Prime, ZEE5, etc., in different High Courts, the Supreme Court has stopped the proceedings of all the pending petitions regarding the same. Full Story
3. The imprisonment imposed on Somnath Bharti, Aam Aadmi Party legislator in the AIIMS assault case of 2016, has been confirmed by a Court of Delhi. The order was passed in an appeal by Bharti, which challenged the earlier order convicting him for two years of imprisonment in the case. However, Special Judge Vikas Dhull has partly allowed the appeal. Full Story
4. While declining the mandatory retirement of a judicial officer, the Orissa High Court in Cuttack has made a relevant observation regarding the high standards of integrity determined from the judicial officers. The Court was hearing a petition filed by a judicial officer to quash the order of mandatory retirement from the post of Civil Judge issued by the law department of the Government of Orissa. Full Story
5. While issuing standard operating procedures developed for the hybrid system of hearing, the Supreme Court has closed the proceedings in the writ petition filed by the SCBA (Supreme Court Bar Association), reviewing that the matter cannot be handled by the judicial side of the court. Full Story
---
22nd March, 2021 (

Monday

)
1. Looking for a CBI investigation, former Mumbai Commissioner of Police, Param Bir Singh has filed a petition in the Supreme Court. The plea requests for CBI investigation into "various malpractices" of Maharashtra Home Minister Anil Deshmukh. The petition also challenges the judgement passed on March 17 by the State whereby it ordered the transfer of Singh from the post of Commissioner, Mumbai Police as being violative of Article 14 and Article 21 of the Indian Constitution. Full Story
2. A petition against the judgement of the High Court of Madras has been filed in the Supreme Court. In the judgement, the Court has rejected a plea filed by a rape complainant requesting to say before the Court that her sexual relationship with the petitioner was consensual. The petitioner, against whom the rape complaint was filed has argued before the Supreme Court that the purpose of the Protection of Children from Sexual Offences (POCSO) Act, 2012 is not to punish teenagers who are indulged in consensual sex. Full Story
3. The High Court of Madras has ordered that cutting a cake that has a tricolour map on it and an Ashoka Chakra designed in the centre is not unpatriotic or an insult under the Prevention of Insults to National Honour Act, 1971. Ruling this, the Court has stopped criminal proceedings started by a Magistrate over the 2013 cake-cutting episode. Full Story
4. The hearing on a petition filed requesting to start the criminal proceedings against officials, agencies, contractors or any other persons who were involved in employing manual scavengers which resulted in their death at work has been postponed to August. Full Story
5. Justice DY Chandrachud advised all the Advocates to go through the training program organized by the Supreme Court's E-Committee so that they can develop themselves with the use of technology. Full Story
---
20th March, 2021 (

Saturday

)
1. The Punjab and Haryana High Court has allowed a couple to register their marriage under the Special Marriage Act by allowing the wife, who is from the United States, to appear before the marriage officer via video conference. Full Story
2. The High Court of Delhi has lately denied bail to a man accused in a case in connection with the murder of an old couple on the order of their daughter and her lover. It was disclosed that they had planned the conspiracy to kill the old couple to take their property. Full Story
3. The High Court of Jammu & Kashmir has stated that High Court cannot acknowledge the evidence gathered by the prosecution against the accused while deciding a bail application. The observation was made while declining Amrit Pal Singh's bail application, who is accused of committing a murder. Full Story
4. A court of Delhi has observed a fresh supplementary charge sheet filed against Bilqees Shah, the wife of Kashmiri separatist leader Shabbir Shah in a money laundering case concerning terror funding the state of Jammu & Kashmir. Full Story
---
19th March, 2021 (

Friday

)
1. Fifty-five lawyers have been designated as Senior Advocates by the High Court of Delhi. Satvik Varma, Saurabh Kirpal, Nitya Ramakrishnan, Malvika Trivedi, Trideep Pais, Sanjoy Ghose, Rajshekhar Rao, Jayant Mehta, Chinmoy Sharma, Ramesh Singh, Viraj Datar, Percival Billimoria, Pramod Kumar Dubey and Siddharth Aggarwal, among others, have been granted the senior designation. Full Story
2. The Central Government has confided to the High Court of Delhi that the new privacy policy of WhatsApp infringes the Information Technology Rules of 2011. The Government also said that WhatsApp must be restricted from implementing the new policy until the High Court finally decides the challenge to the validity of the policy. An affidavit to this outcome was filed on 18 March by the Ministry of Electronics and Information Technology. Full Story
3. The Ministry of Law and Justice has notified an amendment in the Supreme Court Judges Rule 1959 to increase lifetime monthly payments of retired judges of the Supreme Court, including India's Chief Justice. According to rule 3B of the Supreme Court Judges Rules, a retired CJI is allowed rupees twenty-five thousand per month during his lifetime. However, this amount has now been increased to Rupees Seventy Thousand per month, according to the Supreme Court Judges(Amendment) Rules 2021 notified on 18 March (Thursday). Full Story
4. A petition requesting the directions to the Election Commission to curb the process of having party symbols on the ballot and Electronic Voting Machines (EVMs) has been filed in the Supreme Court. The petition also contended that party symbols should be replaced with name, age, educational qualification and photographs of contesting candidates. The CJI has stated that he will hear the Attorney General on the matter and postponed the case. Full Story
5. Yesterday, the Supreme Court observed that "At the ad interim stage, the High Courts must include one small paragraph on what weighed with them in granting the relief. We are not saying at all that the High Courts are bereft of this power! But because it is a wide power, it is expected that it is exercised responsibly". The observation was made while examining the outlines of the power of quashing under section 482, CrPC, and the power to permit interim relief by way of bail/anticipatory bail. Full Story
---
18th March, 2021 (

Thursday

)
1. Yesterday, the High Court of Calcutta has ordered the release of a Nepalese man who was detained for nearly 41 years in a correctional home as it was found that he was not mentally fit to proceed with trial back in 1982 in a pending murder case. Full Story
2. The High Court of Delhi has contemplated that the accused can ask to transform summary trial as summons trial in the trial of the offence of cheque dishonour under Section 138 of the Negotiable Instruments Act but only after revealing his petition of defence. Full Story
3. Even after three months of investigation by the Crime Branch of Mumbai Police, nothing substantial has been found against Republic TV Editor-in-Chief Arnab Goswami and Republic TV, observed the High Court of Bombay. The observation was brought while hearing final arguments on the petition filed by ARG Outlier Media Pvt. Ltd. The petition was filed challenging the criminal proceedings against their channel and its employees in the TRP Scam case. Full Story
4. The implementation of an order stating sentencing of the Major General of Indian Army and Defence Estates officers to civil imprisonment has been stopped by the Supreme Court for two months. The order was passed while hearing a plea filed by the Union of India challenging the Telangana High Court's denial to stop the order. Full Story
---
17th March, 2021 (

Wednesday

)
1. The Lucknow Bench of the Allahabad High Court has held that the candidates who have passed B.Tech or BCA in computer subjects will be considered eligible, even if they do not have a CCC (Course on Computer Concept) certificate. The Court has rejected an order of January 15, 2020, whereby candidates attaining computer education same as the CCC certificates issued were not deemed to be eligible for the post of Sugarcane Supervisor. Full Story
2. A notice has been issued by the Supreme Court on a PIL asking the government to mandatorily provide general utility ducts for all public utilities in the Construction plan of highways and other roadways and to execute guidelines of 2016 issued by the Ministry of Road Transport and Highways (MoRTH). The Supreme Court has also instructed the Centre to file its reply on a plea. The Court has listed the matter to be heard after four weeks. Full Story
3. Yesterday, the Punjab and Haryana High Court ordered the District and Sessions Judge in Faridabad to investigate allegations that Dalit labour activist Shiv Kumar, arrested along with Nodeep Kaur, was illegally detained and was tortured in custody. The Court has not stopped the ongoing investigation in the case, which is now being governed by a Special Investigation Team (SIT). Full Story
---
16th March, 2021 (

Tuesday

)
1. Rouse Avenue Court of Delhi has called for the medical records of businessman Anoop Kumar Gupta as he had asked the Court for a home-cooked, gluten-free, vegetarian diet in jail. He is an accused in the AgustaWestland VVIP chopper deal case and was arrested in January 2021. Full Story
2. Bail has been granted to four North-east accused of Delhi riots that took place in the last week of February 2020 by the High Court of Delhi today. They were charged for robbing and burning vehicles at Bharat Vihar marriage hall, and the marriage was to be taken place the next day in the hall. Full Story
3. The Central Government, in its counter-affidavit in the Supreme Court to a PIL, has stated that giving priority to Covid-19 vaccination based on professions will be discriminatory. The PIL contended that priority must be given to judges, lawyers, and other members of the legal fraternity. Full Story
---
15th March, 2021 (

Monday

)
1. One female judge left after Justice Indu Malhotra's retirement is a worrying fact for the system, said Justice Chandrachud. In a diverse country, the judiciary must be diversified too. Diversity in the judiciary has both intrinsic and instrumental values because that is how diverse views and perspectives are fairly remarked and considered in the decision-making process. Full Story
2. Do not use Article 32 of the Constitution for recovery of lawyer's fee! If you are appearing as a friend of the court, i.e., Amicus Curiae, then do it as a service to the institution, Justice DY Chandrachud told a lawyer. Full Story
3. Bombay HC held that Section 51 of the Copyright Act does not require prior registration of copyright. This particular section has to be read in light of section 45(1) of the Act, which states that the copyright owner may apply for registration of copyright. Therefore, to seek an injunction against infringement, it is not necessary that copyright must be registered. Full Story
4. Delhi court Convict Ariz Khan Alias Junaid awarded death penalty in Batla House Encounter, 2008. The court observed the case as the rarest of the rare case. Along with the sentence, the court has also imposed a fine of Rs. 11 lacs. Full Story
5. It is quite disturbing when fake and malicious complaints result in wrongful prosecution and to the extent that a person was wrongfully imprisoned for 20 years in jail on allegations of rape. This incident has created a "Blackhole in the criminal jurisprudence of our country." BJP leader Kapil Mishra seeks compensation for the accused turned acquittal. Full Story
---
13th March, 2021 (

Saturday

)
1. To expedite the disposal of cases related to cheque bounce across India, the Supreme Court has formed a committee under the chairmanship of Justice (Retd) R.C. Chauhan. The Court has also instructed the committee to submit its recommendation stating the steps to be taken after analyzing all the filings made by the stakeholders within three months. Full Story
2. The High Court of Delhi has ordered a young man, Mohammed Umair, to do community service at the Gurdwara Bangla Sahib. The man was facing charges under Section 307 (attempt to murder) of the Indian Penal Code (IPC). A fine of Rs 1 lakh has also been imposed on him. Full Story
3. Speaking at a farewell ceremony organized by the Supreme Court Bar Association, Justice Malhotra stated that "there will be enough women in the judiciary when the distinction between male and female judges no longer exists". She is the only woman from the bar to be directly promoted to the Supreme Court. Full Story
4. Yesterday, the Supreme Court expressed its displeasure to the state government for its failure to arrest Govind Singh, the husband of BSP MLA Rambai Prajapati, in the case of the murder of Congress leader Devendra Chaurasia in Damoh, Madhya Pradesh. Full Story
5. An interim order instructing MakeMyTrip and Go-Ibibo to allow FabHotels and Treebo to be listed on their online portals has been passed by the Competition Commission of India (CCI). The order has been passed after viewing that the delisting of FabHotels and Treebo, as well as other budget hotels, has affected competition in the market by restricting access to a significant channel of distribution through foreclosure. Full Story
---
12th March, 2021 (

Friday

)
1. The Supreme Court has admitted that a government official serving in the state government cannot be appointed as the state election commissioner of that state. The directions have been issued under the guidance of Article 142 of the Indian Constitution to ensure that "all states and territories in India shall henceforth ensure that it has an independent State Election Commissioner as mandated under Article 243(4)." The Court made the above ruling in a case of Goa where the law secretary was appointed as the State Election Commissioner. Full Story
2. While hearing a petition that was filed requesting the Centre to give equal opportunities to transgender people in employment, the Supreme Court has instructed the petitioner to write an application and implead the transgender associations within 2 weeks. The petition also looks for guidelines to the Centre to provide an equal opportunity to transgender for participating in the examination for appointments to the Post of Intelligence Bureau Assistant Central Intelligence Officer (IB ACIO) Grade-II/Executive. Full Story
3. The Supreme Court has observed that while hearing the transfer petition, its single bench cannot summon the power under Article 142 of the Constitution to enact an order for dissolving a marriage by mutual consent. Full Story
---
11th March, 2021 (

Thursday

)
1. A Public Interest Litigation requesting the immediate release of Rohingya refugees who have been detained in Jammu has been filed in the Supreme Court. Full Story
2. Prime Minister Narendra Modi's photo will no longer be carried on the certificates of the COVID-19 vaccination in the poll-bound states of Tamil Nadu, West Bengal, Assam, Kerala and also the Union Territory of Puducherry. The decision has been taken by the Union Health Ministry under the advice of the Election Commission. And, the decision has been taken after the Trinamool Congress has cited that it was an infringement of the model code of conduct in place of elections. Full Story
3. The Aurangabad Bench of High Court of Bombay has pulled up an Additional Sessions Judge because he used vulgar language and unpleasant words 'utterly disrespectful to women' at the time of recording rape survivor's statement and then in the Judgement written by him. Full Story
---
10th March, 2021 (

Wednesday

)
1. The Supreme Court has stated that the period of restriction for filing an application under Section 11 of the Arbitration and Reconciliation Act shall be governed by Article 137 of the First Schedule of the Limitation Act and shall commence from the date of failure to appoint an arbitrator. The Court further suggested the amendment of Section 11 of the Act. Full Story
2. The Supreme Court restated that the special leave petition filed against the High Court's order in review petition alone is not maintainable. Full Story
3. It has been observed by the High Court of Delhi that "an adult woman cannot be forced to stay with her marital or parental family against her wishes". The Court has also instructed the Delhi Police to give protection to a lesbian woman, who was married against her will and was being compelled to live with her husband. Full Story
---
9th March, 2021 (

Tuesday

)
1. Yesterday, the Supreme Court has observed that as the highest court of this land, the Magistrates and Trial Judges have as much, if not more than that, the responsibility for the protection of the fundamental rights of the citizens of India. The observation was made in an order in which it emphasised the lower Judiciary's role in preventing misuse of the criminal court process. Full Story
2. The Supreme Court has contemplated that several complaints by the same party against the same accused about the same incident are not permitted. Full Story
3. The Supreme Court has observed that where a cause of action has accrued, a criminal case should be interrogated and tried ordinarily. The following observation was made while rejecting the transfer petition by the accused requesting for the transfer of the criminal case from the Metropolitan Magistrate's Court in New Delhi to the Metropolitan Magistrate's Court in Allahabad (Prayagraj), Uttar Pradesh. Full Story
4. Justice DY Chandrachud stated "I have never thought twice about my choice (of moving to the bench from the bar). You see the kind of work that we do, it is mostly routine work, especially on Mondays and Fridays. But in the life of a judge, it is about the tremendous satisfaction that we get from the job". The statement was made while hearing a case related to the allowance of Permanent Commission to women in the Armed Forces. Full Story
5. A petition that was filed looking for the direction of the Election Commission of India to discontinue conducting eight-phase elections in West Bengal has been rejected by the Supreme Court today. Full Story
---
1. Goa Bench of the High Court of Bombay has held that the Goa State Co-operative Bank Ltd is not a 'state' nor does it come under the purview of 'any other authority' for Article 12 of the Constitution of India. The bench further observed that the said bank do not discharge any public function which would warrant issuing a writ like a mandamus. Full Story
2. The High Court of Bombay has repeated that non-IPC offences are punishable with "up to three years" and would be recognized as cognizable and non-bailable. The Court made the observation while it was hearing an anticipatory bail filed by Piyush Ranipa, who was accused of manufacturing, transporting and selling irrigation pipes under the trademark of the complainant's company unauthorizedly. Full Story
3. The High Court of Bombay has recently denied permitting anticipatory bail to a judicial officer. The officer is accused of acknowledging a bribe for delivering an order in favour of a litigant. Full Story
4. The Supreme Court has recited that once the anticipatory bail is granted, it does not end itself on the filing of the charge sheet. Following observation was made by the Court while hearing a case in which the accused have challenged the Allahabad High Court order whereby it held that anticipatory bail permitted to the accused by the Trial Court came to an end with the filing of a charge­sheet. Full Story
5. As 8th March is marked as International Women's Day, it is a day to appreciate the dual quality of a woman in managing indoor and outdoor chores with the same dedication (home and work). Here is a list of some of the important landmark judgements of the Supreme Court on gender justice and women rights:
The Secretary, Ministry of Defence vs Babita Puniya & Ors. (2020)
Federation of Obstetric and Gynecological Societies of India (FOGSI) vs Union of India& Ors. (2019)
Joseph Shine vs Union of India (2018)
Danamma @ Suman Surpur vs Amar (2018)
Roxann Sharma vs Arun Sharma (2015)
Shamima Farooqui vs Shahid Khan (2015)
Kakali Ghosh vs Chief Secy. A&NAdministration (2014)
D. Velusamy vs D. Patchaiammal (2010)
Suchita Srivastava & Anr. vs Chandigarh Administration (2009)
Anuj Garg & Ors vs Hotel Association of India & Ors. (2007)
Vijay Lakshmi vs Punjab University & Ors. (2003)
Centre for Enquiry into Health and Allied Themes (CEHAT) vs Union of India (2003)
Daniel Latifi vs Union of India (2001)
"It is a race of equality and not of special privileges. Remember, two hands will always coordinate, but alone it either attacks or defends." Full Story
---
6th March, 2021 (

Saturday

)
1. The petition stating that the Quwwat-Ul-Islam Masjid located within the Qutub Minar complex in Mehrauli was constructed in place of a temple complex has been adjourned by the local court till April 27. The petition was filed seeking the restoration of the temple complex, consisting of as many as 27 temples. Full Story
2. 3499 under-trial prisoners, who were permitted interim bail under numerous norms at the time of the uprising of COVID-19, have been instructed to surrender after the expiry of that period by the High Court of Delhi. Full Story
3. The invention of a nationwide online mechanism to support road accident victims and their families to get compensation within the quick time of the accident is being analyzed by the Supreme Court. Full Story
---
1. Justice DY Chandrachud asserted that "One of the problems of the computer-age is copying and pasting of orders! I am fed-up of seeing cut-copy-paste orders of High Courts". He also said that there should be independent reasons that are presented for acknowledging an order. The statement was made while considering the special leave petition of the UPSC arising out of the Orissa High Court's judgment while maintaining the order of CAT, Cuttack Bench on the issue if the defendant can be denied a place in the IAS for disciplinary punishment that was imposed in 2011. Full Story
2. The Supreme Court has instructed the States to ensure that the priority is given to the senior citizens in the hospitals, both private and governmental. The instruction was made in response to a plea filed by former Union Minister Dr. Ashwani Kumar requesting the protection of the rights of the elderly. Further, the response has been sought by the states within three weeks. Full Story
3. The Supreme Court has refused to entertain the petition filed by a lady Civil Judge from Uttarakhand, challenging her removal from service for seizing a minor girl who worked as a domestic helper at her residence and mistreating her. The petitioner has also been given the freedom to withdraw the petition and reach the High Court. Full Story
4. Dissatisfaction regarding the Central Government's new rules under the Information Technology Act to govern Over The Top (OTT) platforms like Netflix, Prime Video etc., social media platforms and digital news portals have been expressed by the Supreme Court today. SC said that the rules 'Lack Teeth' (Lack teeth roughly means 'lacking the ability to punish for a given situation'.) Full Story
5. The Supreme Court has refused from hearing the PIL that was filed looking for the directions to assert the action of Centre, states and union territories for non-implementation of The Banning of Unregulated Deposit Schemes Act, 2019 as illegal, unconstitutional and opposing to Article 14 and 21 of the Constitution of India. Full Story
---
4th March, 2021 (

Thursday

)
1. The High Court of Delhi has instructed the Uttar Pradesh police to provide the X-ray plate and video of the post-mortem of the farmer Navreet Singh, who died due to his tractor overturning during the tractor parade of the farmer on Republic Day, until tomorrow. The order was made while hearing a petition filed by Hardeep Singh, grandfather of the deceased farmer looking for the court-monitored SIT probe into the incident. The matter is listed to be heard on March 17. Full Story
2. A notice in a plea filed by a law graduate has been issued by the High Court of Delhi. The plea was filed requesting directions to the Bar Council of Delhi to enroll him as an advocate. Rakesh Kumar filed the plea through advocate Raj Mani Mishra. Full Story
3. The Supreme Court has reserved its order on a petition filed by Uttar Pradesh's government to shift BSP MLA Mukhtar Ansari from Ropar Jail in Punjab to Ghazipur Jail in Uttar Pradesh. Full Story
4. The Center has sought refusal of the petition for recognition of same-sex marriage under the Special Marriage Act. Opposing a set of petitions conferring legal recognition to same-sex marriages, the Center told the Delhi High Court in an affidavit that the decriminalization of Section 377 of the Indian Penal Code does not itself interpret into the fundamental right to marry for same-sex partners. Full Story
---
3rd March, 2021 (

Wednesday

)
1. It has been held by the Supreme Court that the duration of restriction for filing a petition under Section 34 of the Arbitration and Conciliation Act shall initiate from the date on which the signed copy of the award was made accessible to the parties. Full Story
2. The Supreme Court has stated that false explanation or non-explanation of the accused to the questions that the court asks under Section 313 of the Criminal Procedure Code cannot be used as a link to complete the series. The statement was made in the hearing of a case where the accused was condemned by the Trial Court for the murder of his wife. Full Story
3. The High Court of Bombay at Goa has suppressed the reservations made in Municipal Councils of Sanguem, Mormugao, Mapusa, Margao and Quepem in Goa. The Court on Monday has also instructed the state to publish a fresh notification assuring reservations for women and other communities. Full Story
4. The Supreme Court has expressed its view that it is the duty of the Union Government to establish additional courts for the better administration of the laws that the Parliament makes. The observation was made considering the Suo Moto case taken to improve measures to accelerate the hearing of check bounce cases under Section 138 of the Negotiable Instruments Act. Full Story
---
2nd March, 2021 (

Tuesday

)
1. A bail petition filed by an advocate, Vijaysingh Yadav, who was imprisoned for sending birthday wishes to a Judge, will be heard tomorrow by the High Court of Madhya Pradesh. It has been stated in the complaint that he had downloaded the photo of the judge without any approval and has sent the email to her official account. Full Story
2. The High Court of Delhi has stated that to invest in the learning and experience received during the COVID-19 epidemic, the filing of digital pleadings and documents in all the courts, including family courts, should be encouraged. The statement was given by the Court while dealing with a petition that was filed requesting the family courts to permit the recording of evidence through video conferencing. Full Story
3. Expressing their concern over the brutal killing, the Karnataka State Bar Council (KSBC) has forced the government in a press note to pass a law for the protection of lawyers. Yesterday, the Karnataka State Bar Council (KSBC) has criticized the brutal and horrific murder of Advocate Tarihalli Venkatesh, who was killed on February 27 in the JMFC court premises at Hosapete, Vijayanagara district. Full Story
4. The Supreme Court has issued a notice to the Centre on a plea filed by a rape victim seeking the Court's approval to terminate her 26-week-old pregnancy medically. The Court has further set up a medical board to analyze whether it would be safe to medically terminate the 14-year-old rape victim's 26-week pregnancy. Full Story
---
1. The sitting and the retired judges of the Supreme Court will get a vaccine against COVID-19 from tomorrow. As per the guidelines issued by the Central Government, the families of the judges will also get the vaccine. Full Story
2. It has been observed by the Supreme Court that "a contract is void if prohibited by a statute under a penalty, even without an express declaration that the contract is void." The matter that is considered in this case was whether an agreement entered in contravention of Section 31 of the Foreign Exchange Regulation Act, 1973, is void or is only voidable and it can be voided at whose instance? Full Story
3. A defamation complaint filed against newspaper Business Standard, its editorial Director A.K. Bhattacharya and journalist Mitali Saran have been suppressed by the High Court of Delhi. They have made defamatory remarks against Rashtriya Swayamsevak Sangh (RSS) in an article. The Court has further held that the complainant has not brought any evidence to verify how his reputation was hurt or his moral or intellectual character was degraded in the said article. Full Story
4. Nikita Jacob, an accused in a toolkit case, filed a petition in a Delhi Court requesting to grant her anticipatory bail. Full Story
WritingLaw » Law News » March 2021 – Law News for Students and Advocates