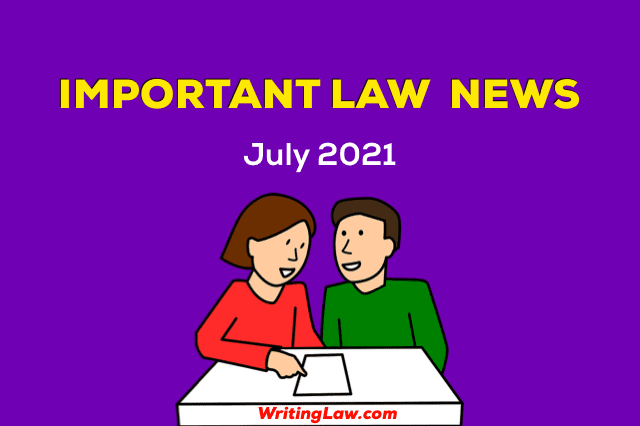 CLICK HERE TO READ THE LATEST LAW NEWS
31st July, 2021 (Saturday)
1. If there is an argument or contention on the points of rejection of the plaint enumerated under Order 7, Rule 11, then the defendant can be heard at the pre-summons stage also, says Delhi High Court. There is no bar on hearing the defendant without summons being served or appearing on caveat under section 148A. The court rejected the argument that summons has to be issued in every suit instituted in the court. Full Story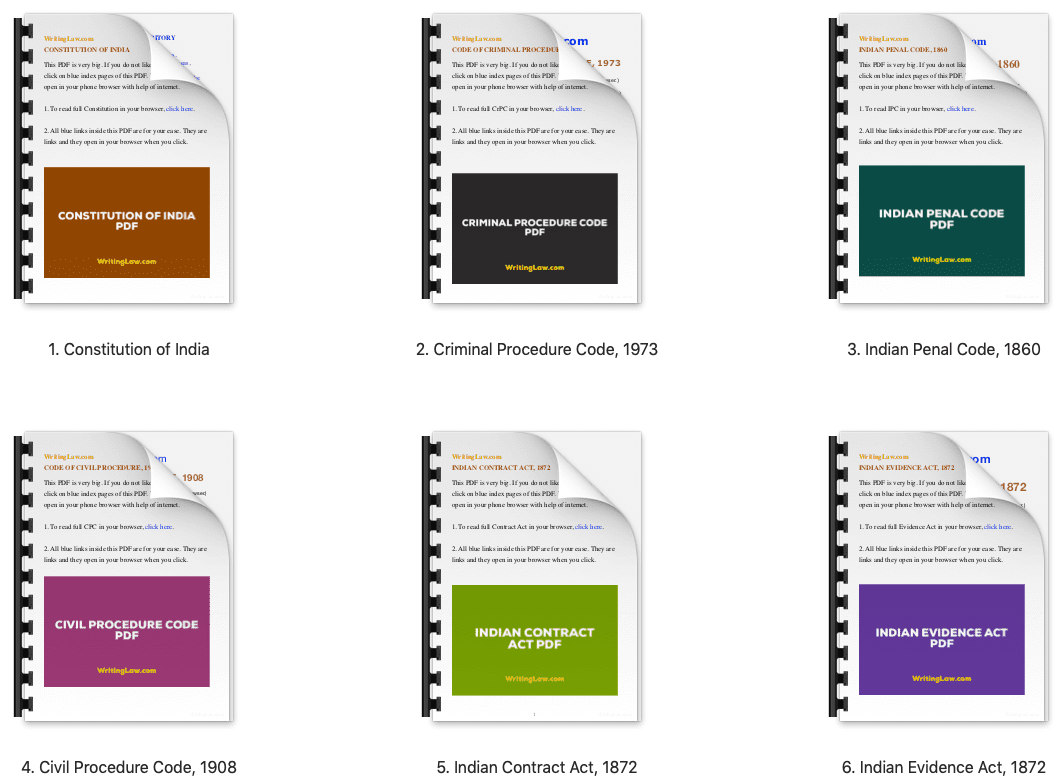 2. After the recent case of a judge murdered in Jharkhand by a vehicle, now a judge named Areeb Uddin Ahmed from UP has filed a complaint alleging that he has been attempted to be killed. He was intentionally hit by an SUV car, and as a result, he gained injuries. The statement given by the judge is that a few days back, he was threatened by a litigant for rejecting the bail application. UP police are now investigating the case. Full Story
3. On account of guidelines issued by the Supreme Court e-committee, Gujarat High Court has established an e-Sewa Kendra to provide all facilities that are digitally available and possible. Services like present case status, future updates, inquiries, e-filing of petitions and so on. The e-Sewa Kendra shall be operative from 2 August 2021. Full Story
4. There are very rare chances to hope for an eyewitness in cases of sexual assault, rape etc. Therefore the testimony of the victim in such cases becomes essential. The Madras High Court said that the victim's testimony can't be discarded unless found deceptive or exists any strong reason for doing so. If the testimony of the sole witness (victim) is cogent (clear, logical, convincing), credible, and trustworthy, it is sufficient to convict a person. Full Story
1. There must be a line of demarcation between the right to privacy and freedom of the press, and the same must be balanced, says Bombay High Court. If a person is a public figure, that does not mean that they have to sacrifice their right to privacy. The court ordered to remove all videos from media and news channels that are slanderous to Shilpa Shetty's reputation. Full Story
2. The Consortium of National Law Universities agreed to consider the grievance raised by the students of CLAT 2021 in Kerala High Court for a mandatory deposit of Rs. 50,000 as a counselling fee. The students contended that no such prerequisite had been mentioned in the prospectus of NLUs (National Law Universities) for the process of seat allotment. Full Story
3. After issuance of birth certificate clarifying that adopted parents are the parents of the adopted child, parents need not announce again and again that they are adoptive parents, said Madras High Court. Once the lawful adoption is made, the court said the adoptive parents would have to be treated like natural parents. Full Story
4. While granting a nativity certificate, the "Social belongingness" of a person to the state should also be considered, says Kerala High Court. Only because the person or his parents did not take birth in Kerala must not be a sole reason for not providing the nativity of a state. If a person is socially adapted to a state's norms and system for a long time, he shall be considered a person belonging to the state, said the court. Full Story
29th July, 2021 (Thursday)
1. Breaking: The murder of a judge in the daylight of Jharkhand is shocking news for the entire judicial fraternity. Justice Chandrachud called it a "brazen attack on the judiciary." Supreme Court Bar Association urges that the matter should go to the CBI. If a judge is killed like this after rejecting the gangster bail plea, there will be no judiciary in this country, said senior advocate Vikas Singh. Full Story
2. Before ordering to police for investigation under section 156(3) of CrPC, the magistrate need not examine the complainant under section 200 of CrPC, says Supreme Court. The court said section 156(3) CrPC is a pre cognizance stage, and there is no requirement of examining the complainant on oath because the court is not taking cognizance of any offence therein. Full Story
3. Ph.D. certificate is not valuable security as defined under section 467 of IPC, said Bombay High Court. The court, however, granted bail to a Mumbai doctor who was practising in a hospital in Bandra using a fake Ph.D. degree. Full Story
4. At present, there are a total of 66,692 manual scavengers identified across the country, said the Union Ministry of Social Justice and Empowerment. The data shows no death of manual scavengers in the past five years. Three High Courts, namely Karnataka, Orrisa and Madras, are hearing cases related to manual scavenging, says the recent parliament report of. Full Story
28th July, 2021 (Wednesday)
1. Supreme Court denies withdrawal of criminal prosecution against six CPI(M) members in Kerala Assembly Ruckus Case (2015). The court said that the purpose of conferring privileges and immunities to the legislature is for the system's proper functioning without any hindrance, fear or favour. The privileges are not gateways to claim protection from the general law of the land. These privileges are not marks of status, which makes legislature stand on an unequal pedestal. Full Story
2. As per the Constitutional bench decision in Muthuramalingam vs State, the court cannot direct the accused to undergo any other sentence after the expiration of the life sentence, says Supreme Court. It would amount to injustice to the accused. The court may direct the prisoner to undergo a term sentence first and then to a life sentence as per section 31 of CrPC, but vice-versa is not possible. Full Story
3. A protection plea was filed by the live-in couple in Jammu and Kashmir High Court. The court said that the right to exercise assertion of choice is an inseparable and intrinsic part of Article 21 of the Constitution, which is life and liberty by the procedure established by law. The court directed the police to act expeditiously in accordance with the law. Full Story
4. It is not against the law if the voice sample for investigation is taken after approval. The Punjab and Haryana High Court said that the right to privacy cannot be construed as an absolute right. It must bow down to compelling public interest. Collection of voice samples is not violative of Articles 21 and 20(3) of the Constitution. Full Story
27th July, 2021 (Tuesday)
1. While setting aside the order of acquittal passed by the High Court in a murder case, the Supreme Court said that ocular (connected with the eyes or vision) evidence should be considered the best evidence unless there exists any strong contradictory reason to make it improbable for testimony. Where there is no second probability arising out of the case or credibility of the witness is in doubt, there lies no reason not to accept the ocular evidence put before the court. Full Story
2. Merely on the ground that witness giving testimony is a close relative or friend of the victim or any enmity is found between the parties, even if proved, cannot be the basis to discard the evidence procured. If the evidence is reliable in the court's eyes, then it is the well-settled proposition of law that such witness cannot be disregarded, says Kerala High Court. Full Story
3. To establish the case under section 323 of IPC, the submission of an injury report is part of the process but not essential or Sine Qua Non, says Supreme Court. The accused were alleged to form an unlawful assembly to snatch the voter's list and cast bogus voting. And as hurt is defined under section 319 of IPC as causing bodily pain, disease or infirmity, so even bodily pain can be said to cause hurt. So the court has not committed any error in convicting the accused under section 323 of IPC without production of the injury report. Full Story
4. After getting arrested by the Crime Branch of Mumbai Police for selling obscene material under the Indian Penal Code and transmitting sexually explicit material under the Information Technology Act, now the Mumbai Court has remanded famous businessman Raj Kundra for two weeks judicial custody in an adult film case. Full Story
1. If a government functionary or a Chief Minister posts something on social media platforms, that can't be considered an administrative order or an instruction, says Madhya Pradesh High Court. Not every post of a government official is seen or read by the people in the administrative hierarchy, said the court. Full Story
2. Looking at the condition of the Kalkaji temple situated in Delhi, the High Court of Delhi has appointed a local commissioner to visit the temple and ascertain the donations offered in donation boxes and how they are utilised, cleanliness, hygiene other facilities for visitors. The court said the cleanliness of the temple and the provision of civic amenities for devotees is a major concern. Full Story
3. The Constitution of India, which is also called "Bhagavad Gita", contains the right to life which is guaranteed under Article 21 of the Constitution, and every state must protect it and prevent it from being violated. The Karnataka High Court showed no sympathy or leniency towards the acid attack accused and sentenced him to life imprisonment along with a fine of Rs. 10 lakh for throwing acid on a woman for refusal to marry. Great saint Swami Vivekananda once said that "the best thermometer to know the progress of a nation is its treatment of its women". Full Story
4. The Bombay High Court refused the apology made by a young lawyer for misbehaving in a virtual hearing. The lawyer did not know that his microphone is on, and he made a statement in Marathi that means, 'see the crowd in Kotwal's court'. Justice kotwal said that it is my prerogative that whom to permit or call in my courtroom. If you do not respect the court, you will not get respect. Along with the knowledge, you should learn conduct, decorum and etiquettes. Full Story
24th July, 2021 (Saturday)
1. Uttarakhand Roadways Karamchari Union vs the State of Uttarakhand: The Uttarakhand High Court said that depriving a worker of salary violates Articles 21, 23, and 300A of the Indian Constitution. The bench said, "Considering the fact that these employees do not belong to the upper echelon of the Corporation, and are mere workers, as most of them happen to be drivers, conductors, and other employees, it is surprising that both the Corporation and the State Government have abandoned them out in the cold. Needless to say, the deprivation of the salary is violative of Articles 21, 23 and 300A of the Constitution of India." The bench also talked about Kapila Hingorani vs the State of Bihar, in which the Supreme Court had said that the State cannot be allowed to violate the employee's fundamental and human rights. Full Story
2. The Lieutenant Governor of Delhi has conferred detaining powers to Delhi Police Commissioner under National Security Act (NSA) from 19th July 2021 to 18th October 2021 (three months). Full Story
3. The Madhya Pradesh High Court said that since January 2021, it has disposed of 51,565 cases! Out of these over fifty thousand cases, 23,172 cases were disposed of at Principal Seat Jabalpur, 13,060 cases at Indore Bench and 15,333 cases were disposed of at Gwalior Bench. Full Story
4. The Supreme Court of India quashes criminal proceedings against DMK leader RS Bharathi. The court said that no disrespect was shown to the judge, and it attracts no offence under the SC-ST Act, though what he said should have been avoided. Earlier, the Madras High Court had refused to quash criminal proceedings against RS Bharathi under the Scheduled Castes and Scheduled Tribes (Prevention of Atrocities) Act because of a speech made by him where he allegedly said that appointment of SC and ST persons is because of the alms of the Dravidian movement. He was specifically referring to the appointment of Justice Varadarajan as a High Court Judge after Late M. Karunanidhi came to power.
The apex court's exact words were, "A careful reading of the speech does not show that there is any attempt made by the appellant to promote or attempt to promote enmity, hatred or ill will against the members of Scheduled Caste and Scheduled Tribe community. On the other hand, the speech indicates that members of Scheduled Caste or Scheduled Tribes have been benefited due to the benevolence of Late M. Karunanidhi." Full Story
1. The Supreme Court of India upheld the National Green Tribunal's firecracker ban in Delhi and National Capital Territory (NCR) regions with poor air quality. The court said, "Do we need IIT to understand the impact of firecrackers on your lungs? This is common knowledge. We have come a long way since 2017, and we are in the middle of the pandemic now". Full Story
2. A division bench of the Karnataka High Court dismissed appeals by Amazon and Flipkart challenging an order that allowed the Competition Commission of India (CCI) to conduct investigations into their alleged anti-competitive practices. The bench said, "If the appellants are not involved in violation of any provisions of the Act of 2002, they should not feel shy in facing an inquiry by CCI". Full Story
3. Andhra Pradesh High Court issued various directions so that there is no delay in releasing persons after getting bail (but are not released due to delay in issuing certified order copy.) One direction included using verified web copies of the court's order downloaded from the High Court website to grant bail without unnecessary delay. Following were the court's words:
"It is the responsibility of all the stakeholders to uphold the public confidence in the justice delivery system by giving timely justice which includes furnishing the copies of orders/judgments".
"In cases, where the accused are entitled to statutory bail as they are languishing in jail for more than 60, 90 and 180 days, when default bail is granted, it was brought to the notice of the court that there was considerable delay in dispatching the copy of orders. Hence, this court feels that an alternative mechanism shall be evolved to address the plight of these undertrial prisoners/accused. Recently, the Hon'ble Apex Court has also taken a serious note of this issue". Full Story
4. Karnataka High Court said that "Provisions of the statute cannot be permitted to become tools of harassment". This was in the case of UP Police and Twitter India's Manish Maheshwari. The court further said, "Respondent (UP Police) has not placed even an iota of material to demonstrate even prima facie involvement of the petitioner (Manish Maheshwari)". Full Story
5. Chief Justice of India NV Ramana said that the future belongs to mediation, and justice does not always require black gowns, long arguments, and such. He said, "Not only did the British establish the framework for the modern Indian judicial system, but they were also instrumental in the creation of the myth that dispute resolution and justice, require black coats and gowns and elaborate arguments. It is time to dispel such myths and notions. The reality is most of the litigants in India suffer from many social and economic constraints. What they need is a quick, inexpensive and convenient method of dispute resolution". Full Story
22nd July, 2021 (Thursday)
1. A man named Rakesh shouted Tarikh par Tarikh (English: Date and then next date and next date…) – the famous Sunny Deol dialogue from the Hindi movie Damini, and allegedly broke computers and furniture in Karkardooma court as his case was pending in the court since 2016. Delhi Police booked him under sections 186, 353, 427, and 506. Full Story
2. Venkatachalam vs the Inspector of Police: The Madras High Court said that judges posted to deal with cases under the POCSO Act must be given special training and sensitisation to deal with such cases. Court's words were, "Before posting any Sessions Judge to the Special Court which deals with the cases under POCSO Act, have to necessarily sensitise and impart training to them through Tamil Nadu State Judicial Academy". Full Story
3. The Supreme Court mentioned that it is vital to ensure the independence and impartiality of the district judiciary as it is the first line of defence. The court said, "There cannot be two parallel legal systems, one for rich and powerful and the other for common man, and that the existence of a dual system will only chip away the legitimacy of the law". Full Story
21st July, 2021 (Wednesday)
1. Breaking: Karnataka has become the first state to provide one percent reservation for transgender people in public employment. "We have perused the amendments made by the State government to Karnataka Civil Services General Recruitment (Rules), 1977 by the Karnataka Civil Services Recruitment Amendment (Rules), 2021 by incorporating sub-rule 1 (D) in rule 9. Clause 1 D provides for one percent horizontal reservation for transgender people." Full Story
2. Journalists Vineet Narain and Rajneesh Kapur have been granted interim protection by the Allahabad High Court. They were booked for making land-grabbing allegations against VHP leader Champat Rai and his brothers. Full Story
3. John Fletcher vs the State of Kerala: In this, a CBSE affiliated school run by a charitable institution denied access to all online classes to the petitioner's daughter for this academic year due to non-payment of fees. Later, the parent (petitioner) found that the school asked Rs. 26,400 extra as late payment of fees. The petitioner approached the court seeking remedy that his daughter is not further denied access to her classes. He also alleged that schools actions were violative of Article 21A and Articles 14, 19 and 21. Full Story
4. The Supreme Court of India upheld a citizen's right to challenge a constitutional amendment affecting states' power. "When a citizen of India challenges a constitutional amendment as being procedurally infirm, it is the court's duty to examine such challenge on merits", said the court. Full Story
5. The Supreme Court said that when a transport corporation hires a vehicle from the registered owner for use, the 3rd party insurance coverage will also be deemed transferred with the vehicle. Further, it observed that the one who has the vehicle's effective control and command would be regarded as the 'owner'. Thus the existing insurance policy will be treated to be transferred along with the vehicle for the period of hire. Full Story
20th July, 2021 (Tuesday)
1. Breaking: The Supreme Court of India has refused to postpone the CLAT exam. It will now be held on 23rd July as scheduled. The Bench directed that safety measures be followed, but students should not be insisted on taking vaccination before appearing in the exam. Full Story
2. Delhi Court acquits Suresh alias Bhatura, accused of Delhi riots case on the ground of contradictions in the witnesses' testimonies. The court said, 'Accused is acquitted of all charges. It is a clear-cut acquittal.' Full Story
3. Bombay High Court said that 'Public health is above religion' in reply to two writ petitions that sought space for the sacrifice of water buffaloes on Bakrid. The court further said that 'This has been done keeping in mind prevailing circumstances. This cannot be according to the wishes of people. Otherwise, the administration will not be able to manage.' Full Story
4. After the Kerala government announced 3-day relaxation for the Bakrid festival, the Supreme Court asked the state government to follow SC's order given in the Kanwar Yatra case. The Bench said, "We direct state of Kerala to give heed to Article 21 read with Article 144 of the Constitution of India and follow our orders given in the Kanwar Yatra case." Full Story
5. The Gauhati High Court stated that the classification of vaccinated and unvaccinated persons for issuing work permits prima facie violates fundamental rights under Articles 14, 19 (1) (d) and 21. Full Story
1. The Madras High Court expressed its anger for using shops inside the temple property to carry out trading activities for purposes other than religious use. They have virtually become shopping centres if not malls said the court. The concerned authorities are not understanding the heritage value of temples. The shops leased are selling things unrelated to temple and worship. Full Story
2. In Gore Lal Verma vs the State of UP, the Allahabad High Court set aside the order passed against the petitioner for removal from service merely on the ground that he was in a live-in relationship with a woman outside marriage. The court deemed the reason not reasonable and reinstated the man to his position at the workplace. Full Story
3. If the public servant is prosecuted under section 48 of the Water Act then he shall not be protected from embargo under sanction under section 197 of the CrPC, says Supreme Court. And if the offenders are not public servants or principal (primary) offender is a corporate entity in the private sector, then there is no question of consideration under section 197 of CrPC. Full Story
4. To avoid unnecessary delay in proceedings and ensure speedy justice, the state of Madhya Pradesh becomes the first to introduce a video conferencing facility at all high courts, district courts, district hospitals, railway hospitals and juvenile courts. The initiative has been taken to make the system user-friendly and to meet the situations when parties, witnesses, accused and counsels are unable to be present physically before the court. Full Story
17th July, 2021 (Saturday)
1. The minor must be represented by a guardian appointed for him as per procedure laid down under Order XXXII, Rule 3 of the Civil Procedure Code. Failure in the appointment of a guardian will ipso facto prejudice to the minor, says Supreme Court. Therefore, an ex-parte decree passed against a minor not represented by a guardian has to be set aside and is in the whole null. Full Story
2. Harassment and abuse, both mentally and physically, is increasing towards married women day by day for the demand of dowry. The matrimonial homes have become the most dangerous place for a woman to live. Despite stringent laws and punishments, society's attitude towards women has still not changed, said Kerala High Court. Full Story
3. Treat transgender people equally like other genders. The Bombay High Court directs state police to protect a transgender person forced and insisted by his parents to leave the city. The court directed the police to protect him. Transgender people are not offenders. They have not done any crime, then why should they leave the city, the court asked. If anything happens, then the police shall be responsible for it, the court said. Full Story
4. While denying bail application of Anand Teltumbde, who is charged under the Unlawful Activities (Prevention) Act, the NIA (National Investigation Agency) court observed that according to the criminal jurisprudence, a fine balance between the interests of the society and personal liberty of the accused need to be maintained. Some factors like education and social background need to be considered before granting bail. Full Story
1. Important: Despite releasing orders of prisoners, they were not released and the prison authorities contend that they have not received the orders, is the height of dysfunctioning, said CJI. There were instances of fake orders in the past, so there should be a system where we can receive authentic copies of orders, says prison authorities. CJI Ramana said that we are evolving an electronic scheme called FASTER (Fast and Secure Transmission of Electronic Records) for transmitting bail orders directly to the prison. Secretary-General of Supreme Court is directed to report within two weeks to implement this scheme in a month. Full Story
2. Section 91 of the Criminal Procedure Code gives the court power to issue summons to the person possessing a document or a thing. But this right has to be exercised by the court without delay and during the trial and not after completion of the trial. The effectiveness of the trial should not be undermined or whittled down by such a belated application, said Supreme Court. Full Story
3. It is provided under Section 311 of the Criminal Procedure Code that the court may at any stage of the proceedings summon any person as a witness to examine or to re-examine a person already examined. But such summoning shall not be done when arguments were advanced, and written submissions were filed. Merely because the alleged memory card was not placed on record earlier, the witness for examination can't be recalled at the fag end of the trial as it will cause serious prejudice to the parties, said Bombay High Court. Full Story
4. Supreme Court took suo motu cognizance of the case after the Uttar Pradesh government granted permission for Kanwar Yatra Pilgrimage. The court said that religious sentiments are secondary to the health of the citizens of India. When the Union government has said that such yatras should not be allowed then why is the UP government granting permission for the same. The court directed the state to reconsider its decision. Full Story
15th July, 2021 (Thursday)
1. Breaking: Supreme Court sets aside the blanket ban imposed by Allahabad High Court on the use of DJ (Disc Jockey) services in the state of UP. The court said that DJ services can be resumed if one obtains a license required for it from the concerned authority. If the application aligns with the law, then permission may be granted. Full Story
2. The law of sedition is a colonial law. Do we need it even after 73 years of independence, asked Chief Justice of India NV Ramana to the Centre? This law was meant to suppress the freedom movement in the ancient period, and at present, it is the most misused law. The CJI said that our concern is a misuse of law and no accountability of executive agencies. Full Story
3. Welfare schemes for minorities do not contradict the Principle of Equality said Union of India to the Supreme Court. The schemes are meant only for the economically weaker sections, women, underprivileged sections of minority communities and not for everyone. The schemes in any manner do not violate the rights of other communities or sections of society. Full Story
4. It is a well-established rule that every breach of contract does not constitute an offence of cheating. Where there is no allegation of deception, false promise or inducement at the time of transaction and the accused person has breached the undertaking to repay the loan in the prescribed manner; it cannot be the basis to hold the accused liable under section 420 of the IPC said Jharkhand High Court. Full Story
14th July, 2021 (Wednesday)
1. Instead of "My Lord" and "Your Lordship" the lawyer may address the judge as "Sir" says Madras High Court. Recently, Justice Jyoti Mulimani also insisted the bar members of Karnataka High Court address her as "Madam" and not "Your Lordship". Full Story
2. Madhya Pradesh has become the first state to launch a pilot project to use the Online Dispute Resolution Platform to settle disputes through mediation. The process involved shall be completely confidential, said the court. The platform will deal in matters relating to domestic violence, property disputes, family matters and so on. The matter will be resolved within 7 days of information received and can be extended to a period of 30 days and not more than that. Full Story
You may like to read: Mediation in European Union
3. Justice Shampa Sarkar of Calcutta High Court issued notice to Suvendu Adhikari, a BJP candidate, in response to an election petition filed by West Bengal Chief Minister Mamata Banerjee challenging his election from Nandigram. The notice is to reserve the records, papers, documents in connection to the election with the concerned authority. Full Story
4. Police stand fails in investigating Delhi Riots Case. They did not file a separate FIR on the complaint lodged by Nasir Mohammad. The police have overlooked the mandate of filing FIR on receiving information as held in the Lalita Kumari case. The Delhi Court imposed costs of Rs. 25000 for not adhering to statutory duties. Full Story
13th July, 2021 (Tuesday)
1. In the absence of penetration, taking off own and victim's trouser pants is not an attempt to rape as per sections 375/376 of the Indian Penal Code. A person cannot be made liable for an attempt to rape under section 511 of IPC but may be held liable for sexual assault under section 7 of the POCSO Act, said Jammu and Kashmir High Court. Full Story
2. Gujarat High Court directs and helps understand an 18-year-old girl's parents not to harass her and let her live life the way she wants. To harass a major girl because she wants to marry a boy aged 19 years old after attaining marriageable age is not appropriate. The court found the girl's decision quite mature. Full Story
3. In a conference named 'New challenges and shared interests between the US and India', Justice Chandrachud said that India and the US have formed a strategic bilateral partnership in areas of defence, science and technology, trade and so on. He emphasised that our courts must ensure that they continue to remain the first line of defence against deprivation of citizens' liberty. Deprivation of liberty for a single day is one too many. The Indian Supreme Court and Supreme Court of the US both have been termed as powerful courts in terms of their right. Full Story
4. Non-payment of entry tax not appreciated. Reputed persons of this great nation should realise that the money which reaches them is from poor man's blood, not from the sky. The taxation system is the backbone of the economy of the nation. Madras High Court imposes Rs. 1 lakh fine on Tamil actor Vijay for evading tax on "Rolls Royce Ghost' car to submit within two weeks. Full Story
1. Priority is to be given to the place of practice of an advocate and not his place of residence. The Delhi High Court declares that to avail benefits of the CM welfare scheme, an advocate must be enrolled with the Bar Council of Delhi irrespective of his voter ID address. The voter ID is of Delhi or not is immaterial, says Delhi High Court. Full Story
2. The Supreme Court finds the decision of the High Court erroneous in law. The Supreme Court says that a compromise decree in which parties have entered which is not the subject matter of the suit but is a part of family settlement, then there is no requirement of compulsory registration as per Section 17 of the Registration Act. The principle finds its roots in the fact that family settlement only declares the rights which are possessed already by the parties. Full Story
3. A factum of disability in a person does not make him or her unfit for giving testimony. The evidence adduced by a differently-abled person is not inferior to that of an able-bodied person. The Madras High Court upheld the conviction given by the lower court to an auto-rickshaw driver for abducting and sexually molesting a visually challenged woman. Full Story
4. While giving protection to the female petitioner staying in a live-in relationship, the Punjab and Haryana High Court observed that the live-in partners who don't legally end their existing matrimonial relations or ties seem mala fide on their part. Giving water to bloom new relation without ending the previous tie does not appear to be appropriate. Full Story
10th July, 2021 (Saturday)
1. Questioning on the amount of compensation awarded by the High Court only because the person compensated is a driver and Rs. 5 lakhs is too much is a baseless remark by the state, said Supreme Court. The liberty of every individual is equally important. Even a person of humble means is the same as and at par with an affluent person with more resources when the concern is 'liberty'. Therefore, the amount decided by the High Court of Patna in Sumit Kumar vs State of Bihar & Ors. is reasonable and just. Full Story
2. While speaking in a virtual court of the International Mediation Conference, Justice Chandrachud highlighted the importance of mediation as a source of attaining social justice. He said that mediation can help establish long-lasting peace without sacrificing concerns of justice, fair play and equity. The important factor that needs to be ensured in mediation cases is that a weaker person does not get dominated while balancing social power. Full Story
3. Not standing up for National Anthem or singing may amount to disrespect, but it is not an offence as per Section 3 of Prevention of Insult to National Honour Act, 1871, said J&K High Court. It is a fundamental duty of every citizen to abide by the Constitutional Ideals, National Flag and National Anthem in high esteem. Full Story
4. An inadequate number of Public Prosecutors is one of the major reasons for the increase in pendency of the cases, opined Karnataka High Court. The court has directed the state government to fill the vacant seats as immediately as possible. The non-availability of Public Prosecutors has direct nexus with the criminal justice system resulting in violation of the rights of the accused provided under Article 21 of the Constitution. Full Story
1. Nowadays, it has become a matter of competence as to who argues for a long time! The one who contents and contradicts more can't always be the best, says Supreme Court. Counsels must be clear with their submissions. It is the need of the hour to write short and precise judgments that litigants can easily understand. Judges are responsible equally for both sides of the bench. The Wren and Martin principles of precise writing must be followed. Full Story
2. Uniform Civil Code should not remain a mere possibility or hope, says Delhi High Court. There must be a code common to all that shall govern all aspects like marriage, divorce, inheritance, etc. After uniform law, there shall be no contradiction in various personal laws. Society is slowly becoming homogenous. The traditional norms and barriers are dispersing. The court has directed a present copy of the judgment (Satprakash Meena vs Alka Meena) to be sent to the secretary, Ministry of Law and Government of India to take necessary steps in this direction. Full Story
3. The information procured through the Right to Information Act may not always be credible or trustworthy, said Supreme Court in Ashish Kumar Saxena vs the State of UP. The court urged counsels not to cite RTI documents as reference or authoritative base in proceedings. Full Story
4. Without any reason or just cause, the public officers must not be called to court unnecessarily, says Supreme Court. A practice has developed in certain High Courts to call officers at the drop of a hat and to exert direct or indirect pressure on them. Judges must have modesty and humility. Judges should not behave like emperors. Full Story
8th July, 2021 (Thursday)
1. After the resignation of Ravi Shankar Prasad, Kiren Rijiju has been appointed as the new Union Minister for the Ministry of Law and Justice. He has been three times Lok Sabha MP from the state of Arunachal Pradesh. Before this, he was junior minister for Youth Affairs, Minority Affairs and AYUSH. Full Story
2. Madhya Pradesh High Court relied on Supreme Court judgment Lavesh vs State (NCT of Delhi) and said that for the issue of anticipatory bail, there is no difference between Section 82(1) and 82(4) of the Criminal Procedure Code. Both are similar. An absconding offender can be proclaimed under any of these Sections. Full Story
3. Supreme Court grants interim bail to 13 convicts. Despite clear and unchallenged judgment of the juvenile board declaring petitioners as a juvenile at the time of the commission of the offence, the offenders were kept in jail and were not released. They have spent time in jail, which is far beyond the punishment prescribed in Juvenile Act for juveniles. Full Story
4. Karnataka High Court bids farewell to Ashok G. Nijagannavar. On his last day, he addressed all the advocates and fellow judges and opined that the best judgments are nothing but a result of the finest submissions made by the advocates. He also said that "Difficulty lies not in the new ideas but escaping from the old ones." With the technological advancements, the judiciary should be ready to face all challenges in the future. Full Story
7th July, 2021 (Wednesday)
1. Non-availability of judges for hearing bail plea invades citizen's liberty, says Allahabad High Court. Whatever be the situation and circumstances, the doors of the court must always be open. Even in adverse circumstances, be it COVID-19, justice ought not to become inaccessible. Full Story
2. Filing of caveat petition under section 148A of the Civil Procedure Code does not make caveator ipso facto a party to the proceedings, said Supreme Court. The court allowed the application for impleading by five officers of Indian Police Services. Full Story
3. If the convict had not deposited a fine and is imprisoned in addition to a substantial sentence in default of payment of fine, then the convict is not entitled to remission of the sentence as per Delhi Prison Rules, said Delhi High Court. Granting emergency parole is like remitting a sentence. So it cannot be allowed. Full Story
4. Republic TV employees Shivendra Mundherkar, Ranjit Walter and Chief Financial officer Siva Subramaniam charged with Section 406, 409, 420, 465, 468, 120B, 179, 174, 201, 204 and 212 of IPC have been granted anticipatory bail in TRP Scam by Sessions Court of Bombay. Full Story
1. The State Law officers and central government counsel cannot use the name of the court in the name boards of their vehicle, said Kerala High Court. The act is violative of the Emblems and Names (Prevention of Improper Use) Act and also under the Motor Vehicles Act. Full Story
2. Denying custody of 6 years old child to a mother on an unproved or unfounded allegation of adultery is not reasonable, said Bombay High Court. The charges are not even proved and the trial court must allow parties to lead full evidence. The unwillingness of the child to go with the mother can be the child's ordinary intelligence, but that alone should not be considered. Full Story
3. There is no place for citizens in our society and country who, for the sake of family honour and prestige cross the limit of the derogatory act by eliminating a family member for choosing their life partner. Honour killing on account of false pride is unconstitutional, illegal and opposed to cherished values of society, says Allahabad High Court. Full Story
4. Violence is something a woman is born with, from the womb till the grave, says Madras High Court, while deciding a sentence for the men who were found to attempt rape on a deaf and mute widow. And a woman with a disability is discriminated against double. The court said there are harsh laws and punishments for committing offences against women, but society's attitude has not yet changed. Full Story
1. Restricting a person from earning a livelihood on the ground that he is not vaccinated is violative of Articles 14, 19 and 21 of the Constitution, says Gauhati High Court. Such unreasonable restriction is a kind of house arrest. There can be any reason for moving out, like for necessities or supplies. The court declares government orders unreasonable. Full Story
3. The Bar Council of Delhi suspends the license of an advocate for using his chamber for conversion of religion and Nikah (marriage). The court said it is disgraceful and negates the dignity of the legal profession. The court termed the said activity as illegal and anti-social. It is against the conduct and pursuits of an advocate. Full Story
3. There is no bar on filing subsequent petitions under Section 482 of the Criminal Procedure Code if the earlier petition got dismissed, says Supreme Court. The subsequent petition shall be dealt with on its own merits irrespective of the grounds or reasons for dismissal of the previous writ petition. Full Story
4. "Justice, it is well settled, has to be tempered with mercy and compassion. Justice to which mercy is alien is no justice at all," said Delhi High Court while dealing with the petition of a BSF jawan found to be HIV positive. Full Story
3rd July, 2021 (Saturday)
1. If for the investigation an accused is asked to give a voice sample by the Magistrate without his consent, then it won't attract the bar of Article 20(3) of the Constitution unless it prejudices the accused, said Madhya Pradesh High Court. The court said it does not violate the fundamental right of a person. The court also referred to the judgment given in the state of Bombay vs Kathi Kalu Oghad, AIR 1961. Full Story
2. Giving everything for free of cost to the homeless people is an invitation to people not to work, said Bombay High Court while hearing PIL for providing food, water and toilets to the homeless and beggars. The court said, "The homeless people should also work for the country. Everything cannot be provided by the state." Full Story
3. Depriving the inmate of contacting or seeing any other human being for extended hours is a type of Quasi Solitary Confinement observed by the Punjab and Haryana High Court. Such kind of isolated confinement in a private cell for long hours without any communication is extremely harsh and violative of human rights. Full Story
4. Kerala High Court takes a big step for the protection of animal rights. The court pays tribute to the dog killed by the cruelty of three youngsters and name the suo moto case as "In Re Bruno". The court orders the state government to take every possible step for encouraging people to adopt abandoned animals, ensuring their protection. Full Story
1. The cases concerning sexual offences shall not mention or reveal the victim's identity in proceedings, said Supreme Court. All the lower and subordinate courts must take note of it and be careful while dealing with trials of sexual offences. Disclosing the identity of the sexual offence victim is also punishable under Section 228A of the IPC, which prescribes punishment up to two years and also fine. Full Story
2. The central government has amended the Tribunal Rules of 2020. Now the advocates who have practising experience of 10 years can be appointed as judicial members in various tribunals on the basis that to be a High Court judge, an advocate requires 10 years experience. So for the tribunals also they are deemed to be eligible. Full Story
3. Right to practice religion is subservient to the right to life of a person, said Madras High Court. The court said when a person's life is under threat or danger; then the right to practice religion has to take a backseat. Things are unlocking, but states need to take baby steps in this pandemic. Full Story
4. A plea has been filed in the Supreme Court to impose President Rule in West Bengal due to post-poll violence. The court has agreed to entertain the plea. The plea also demands the central government deploy armed forces in the state to normalise the situation and internal disturbances. Full Story
1st July, 2021 (Thursday)
1. If the Joint Hindu Family has partitioned, then they can reunite to continue and enjoy the status of joint Hindu family again, said Supreme Court. There must be an intention at the end of the parties to reunite in the estate and interest. Only male members can reunite if they wish to. Full Story
2. After going through statements of rape victim recorded under section 164 of CrPC, the court, while granting bail to the accused, cannot take cognizance of any such statements which are against the mandate of "fair justice". The court cannot consider the compromising statement of the accused to marry the victim said Allahabad High Court. Full Story
3. Stray or street dogs also have the right to food. It is the duty of every Resident Welfare Associations or Municipal Corporations to ensure that stray dogs are getting proper food and water. If anyone wants to feed dogs privately at their premises or even at doorsteps, no one can restrict them from doing so unless it is causing harm to others. Full Story
4. After the failure of NGT (National Green Tribunal) in preventing the Baghjan oil well outburst of Oil India Ltd., which resulted in an unredeemable loss to biodiversity, the court said NGT could be a remedial step for restoration. Being the highest protecting body for the environment, it must have some enthusiasm and concern for the environment said Supreme Court. Full Story
---
WritingLaw » Law News »